Argentina Tourism Roadshow Presents Rich Tourism Resources to Chinese Travel Trade
Argentina Tourism Roadshow 2016 was successfully held in Hongkong, Shanghai and Beijing in October.
Argentina Tourism Roadshow 2016 kicked off in Hong Kong on 24th October, followed by Shanghai on 26th October, with the last stop in Beijing on 28th October. Planned and executed by CBN Travel and Mice and supported by World Travel Online, this successful Roadshow attracted more than 300 Chinese outbound tour operators, airlines representatives, media and decision makers in travel trade.
Mr. Roberto Palais, Executive Secretary of
the National Institute of Tourism Promotion of Argentina
(INPROTUR), and Mrs. Maria Nazareth Vilardo, Market Coordinator of INPROTUR, presented at the Roadshow in all of these three cities to promote the diverse and rich tourism resources of Argentina, including some new destinations which are less known by Chinese market.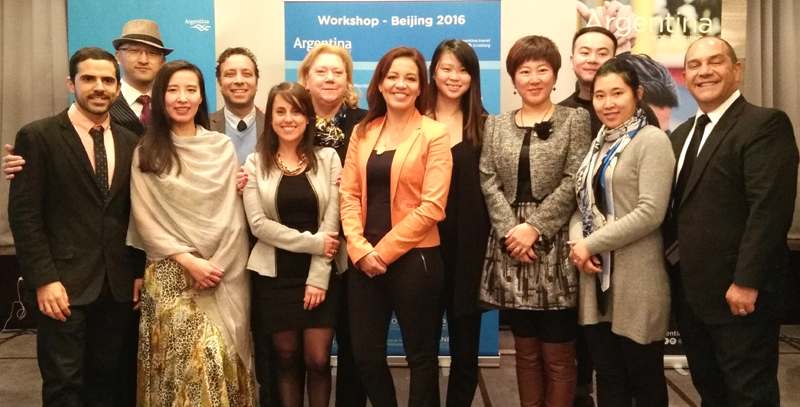 Photo group of the organizers who are very satisfied with this roadshow.
Mr. Juan Carlos Paz, Minister of Embassy of Argentina in Beijing, Mr. Martin Rivolta, Consul General of the Argentina Republic in Shanghai, and Mr. Gustavo H. L. Fazzari, Consul General of the Argentina Republic in Hong Kong, attended the Roadshow in person in respective cities, showing their supports in the promotion of Argentina.

| | |
| --- | --- |
| | |
| Mr. Martin Rivolta, Consul General of Argentina in Shanghai is explaining Argentina's new visa policies. | Attendees are happy to learn so much about Argentina. |

The Argentine delegation of inbound tour operators, DMCs and airlines including LATAM Airlines, Aerolíneas Argentinas, Turkish Airlines, Antarpply Expeditions, Quimbaya Incoming Services, Viva Terra, etc. attended the Roadshow to present various latest touristic offers about Argentina, aiming to find good partners in China.

Both Argentine and Chinese travel trades benefited from the workshop during the Roadshow, as the Chinese tourism needs and Argentine touristic offers became well known after lively discussion between both parties, thus facilitating the launch of Argentine favorable and sought-after tour products and packages in Chinese market.
From left to right: Mr. Roberto Palais, Executive Manager of INPROTUR,
Mrs. Maria Nazareth Vilardo, Market Coordinator of INPROTUR and
Mr. Gustavo H. L. Fazzar, Consul General of the Argentina Republic in Hong Kong


The exotic dance show jazzed up an exciting ambiance, while the wine cocktail presented a great chance to taste authentic Argentina wines and delicacies. Some Argentine traditional products also shared with enthusiastic participants of the event, showing the diverse culture and nature of Argentina.

| | |
| --- | --- |
| | |
| Active B2B meetings by Chinese tour operators and Argentina incoming service providers | The Tango was added to the List of Intangible Cultural Heritage of Humanity by UNESCO. |

This informative Roadshow will help Chinese travel trade learn more about this amazing country. Argentina has many peculiarities that have traveled the world by word of mouth with the people who have visited the country. Iguazu Falls, one of the new seven wonders of the world, Perito Moreno Glacie, the second biggest piece of ice in the world after Antarctica, Tango dance in the big entertainment cosmopolitan city Buenos Aires, etc. are new and very attractive to Chinese tourists.

With the theme being "Argentina by you", this wonderful Roadshow is the first large-scale promotional activities of INPROTUR after the announcement of Argentina's new visa policy. Chinese tourists, already owning an valid tourism visa for the United States or the European Union will no longer need a separate tourist visa for Argentina. Instead, Chinese travelers will apply for an Electronic Travel Authorization, a document which is easier to obtain than a visa. With this long-awaited policy, it's not an issue to tour Argentina as past. The number of Chinese tourists visiting Argentina is expected to increase significantly.
Related News in Chinese: