Chinese Tourists Descend on Oxfordshire Village 'To Feel Closer to the Simplicity Of Their Original Selves'
Coach loads of Chinese tourists have been visiting an ordinary English village to get a "true sense" of the UK.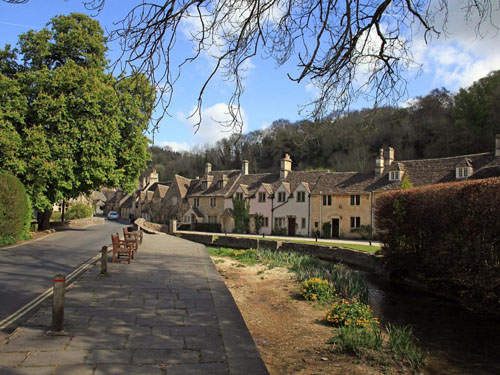 Castle Combe, a Cotswold village near to Kidlington
Coach loads of Chinese tourists have been visiting an ordinary English village to get a "true sense" of the UK.

The visitors are reportedly being taken to Kidlington in Oxfordshire by tour guides because the quiet houses and gardens are different to anything in China.

Curious locals were left confounded by the first group, who descended on the village during the summer, posed for photographs in front gardens and against parked cars, before leaving a few hours later.
The BBC eventually helped to unravel the mystery by supplying a bilingual questionnaire for residents to hand out to the tourists, asking them to explain why Kidlington held such appeal.

A tour guide leading the group explained that villages like Kidlington do not exist in China and the settlement - which has a population of around 14,000 - gave a "true sense of this country".

She added: "The environment makes you feel you are closer to the simplicity of your original self".

The tourists have frequented an area a short walk from thatched cottages and a church, but prefer to take photos outside modern houses, the BBC reported.

They were first seen in June, when a post on Facebook asked: "Who's idea was it to turn Benmead road into a tourist attraction? Coachloads of Japanese tourists [sic] with their usual multiple cameras seem to weekly be turning up in Benmead road and proceed to pose for photos in people's front gardens and against people's cars parked in their drives?
"I must say I do find it hilarious but I am at a loss to understand it all".

Since then the tour groups have visited on a regular basis, usually at the weekend.

Anne Clifton, from Kidlington, handed out the BBC's question sheet when the visitors reappeared on 23 October.

She said: "I asked a woman standing at the door of the coach if she would be good enough to complete the form.

"She was not actually one of the tourists, but was leading the party."

The questionnaire began: "We are happy to have you here but why have you come?"
Baz Daniels, who has lived in Kidlington for more than 20 years, told the BBC he had contacted a friend in China to try to get to the bottom of the tourist influx.

"Kidlington is apparently being marketed by Chinese tourist agencies as a beautiful English village on the way to Bicester Village shopping centre," he said.

"Many of the visitors live in cities and love to see things like the hanging baskets and little flowers in people's gardens."