Kerala Tourism met with tour operators in Chengdu to promote its tourism.
On 21, November, co-organized by
CBN Travel & MICE
and
World Travel Online
,
Kerala Tourism
held a promotion event in Chengdu, the capital city of Sichuan Province, to promote its tourist destinations in a bid to attract tourists from Southwestern China. Mr. Jafar Malik IAS, Additional Director of Kerala Tourism, is the leader of the Karela delegation that inludes tour companies, hotels and Ayurveda centre.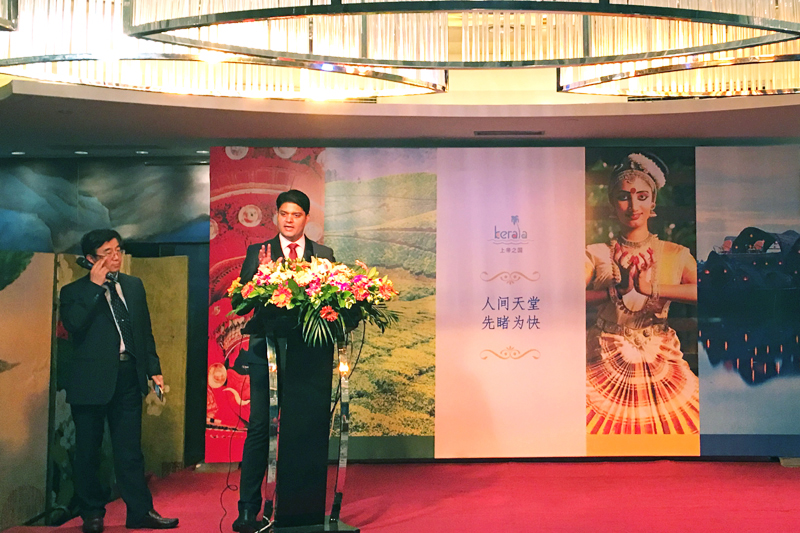 Mr. Jafar Malik IAS, Additional Director of Kerala Tourism, shared the attractiveness of Kerala with participants
Mr. Jafar Malik IAS presented the tourism resources to the participated tour operators from Chengdu. Kerala, regarded as 'God's Own Country', is South India's most serenely beautiful state. Besides its famous backwaters, elegant houseboats, Ayurvedic treatments and delicately spiced, Kerala is home to wildlife, and vibrant traditions such as Kathakali plays, temple festivals and snake-boat races frequently bring even the smallest villages to life.
Kerala witnessed a 42% surge in international tourist arrivals from 2011 to 2016, and for Chinese tourists, it was 26%. "China is the world's largest outbound tourism source market, but it only ranked No. 31 in international tourist arrivals to Kerala in 2016. There're lot of things we can do to make a difference." Mr. Jafar Malik IAS added: "Kerala has an incredible potential and we have confidence that we can attract more Chinese tourists to enjoy the wonderful experience in Kerala!"
Tour operators showed great interest in Kerala

and wanted to know more

while communicating with Mr. Jafar Malik IAS

Over 10 reporters from local media and travel bloggers interviewed Mr. Jafar Malik IAS
In fact, Kerala is an easier accessible place than most of Chinese think. As for tourists from Chengdu, they can take a direct flight to Singapore and take the connection flight to Calicut, Cochin and Trivandrum in Kerala. In terms of visa, e-tourist visa facility has been rolled out to Chinese nationals since 2015.
"It's easy for Chinese to apply Indian visa," Dr. Adam Wu, CEO of CBN Travel & MICE and World Travel Online said: "And we're glad to assist Kerala Tourism to hold the marketing activities in China, which has achieved its initial success. For example, we share the Kerala Tourism information on
World Travel Online
, a leading Outbound Travel Portal in China, so that more Chinese tour operators can get a better understanding of the God's Own Country."
The presentation was followed by a B2B section,

in which delegation from Kerala and Chinese tour operators could took detailed communications.

Mr. Jafar Malik IAS pesented the gift to the winner
This promotion event was highly efficient and practical as it attracted the great attention of many Chinese tour operators. Kerala will keep seeking the best promotion opportunities, continue to promote the continuous and stable development of the Kerala inbound tourism market.