Main creators to the Sharjah Tourism Roadshow
gathered for a group photo in Shanghai
H.E. Khalid Jasim Al Midfa, Chairman of SCTDA
made a welcome speech at the beginning of the roadshow
Mr. Khalid Al Mansoori, Manager of Overseas Promotion
Department of SCTDA gave a speech at the event
Ms. Amber Gao, Head of Asian Market of SCTDA delivered
the destination presentationabout Sharjah to the participants
This groundbreaking event brought together nearly 260 Chinese tour operators, who engaged in face-to-face meetings with Sharjah's tourism suppliers, injecting new vitality into the recovering Chinese outbound tourism market. Sharjah, with its authentic Arabic culture and immersive experiences, is catering to the evolving demands of Chinese travelers.
About 90 Chinese tour operators and airlines
attended the event in Guangzhou
Chinese tour operators actively asked for more information
about Sharjah
Upgrading and Innovating to Captivate Audiences
Sharjah already boasts a plethora of world-class attractions, from Al Noor Mosque, Central Souq, to the Sharjah Light Festival. Its offerings range from desert adventures to beach getaways, artistic explorations to modern technology, and unique shopping experiences to culinary delights.
However, Sharjah continues to seek innovation, particularly focusing on popular trends in the Chinese outbound tourism market, such as educational trips, family vacations, and traditional cultural experiences.
Ms. Amber Gao, Head of Asian Market of SCTDA, provided an exciting introduction to new attractions and resources during the roadshow. The Sharjah destination presentation encompasses new aspects such as educational tours, family-friendly excursions, cultural tourism, and immersive experiences. She highlighted over 20 diverse museums, the largest wildlife safari outside Africa - Sharjah Safari, the "House of Wisdom," often referred to as the "library of the future," the mesmerizing "Rain Room," and local clothing experiences in the "Heart of Sharjah" heritage area, as well as UAE dessert cooking classes.
Sharjah hosts at least one significant event almost every month, offering a diverse range of festivities and artistic activities. Events such as the Sharjah Biennial, Sharjah International Book Fair, Sharjah Light Festival, and the F1H2O UIM World Championship in powerboat racing fill the atmosphere with the essence of traditional culture. These celebrations are sure to delight and engage visitors from all walks of life.
Sharjah's Tourism Sector Implements Various Measures to Welcome Chinese Visitors
H.E. Khalid Jasim Al Midfa, Chairman of SCTDA, emphasized that Sharjah has managed to strike a balance between robust economic development and the preservation of its authentic culture. This careful equilibrium has endowed Sharjah with a unique identity that sets it apart from the other emirates of the UAE. Sharjah is adorned with cultural landmarks, including Sharjah Museum of Islamic Civilization, "Heart of Sharjah" heritage area, the prehistoric Mleiha Desert Archaeological Site, and ancient open-air markets, all of which are worth exploring.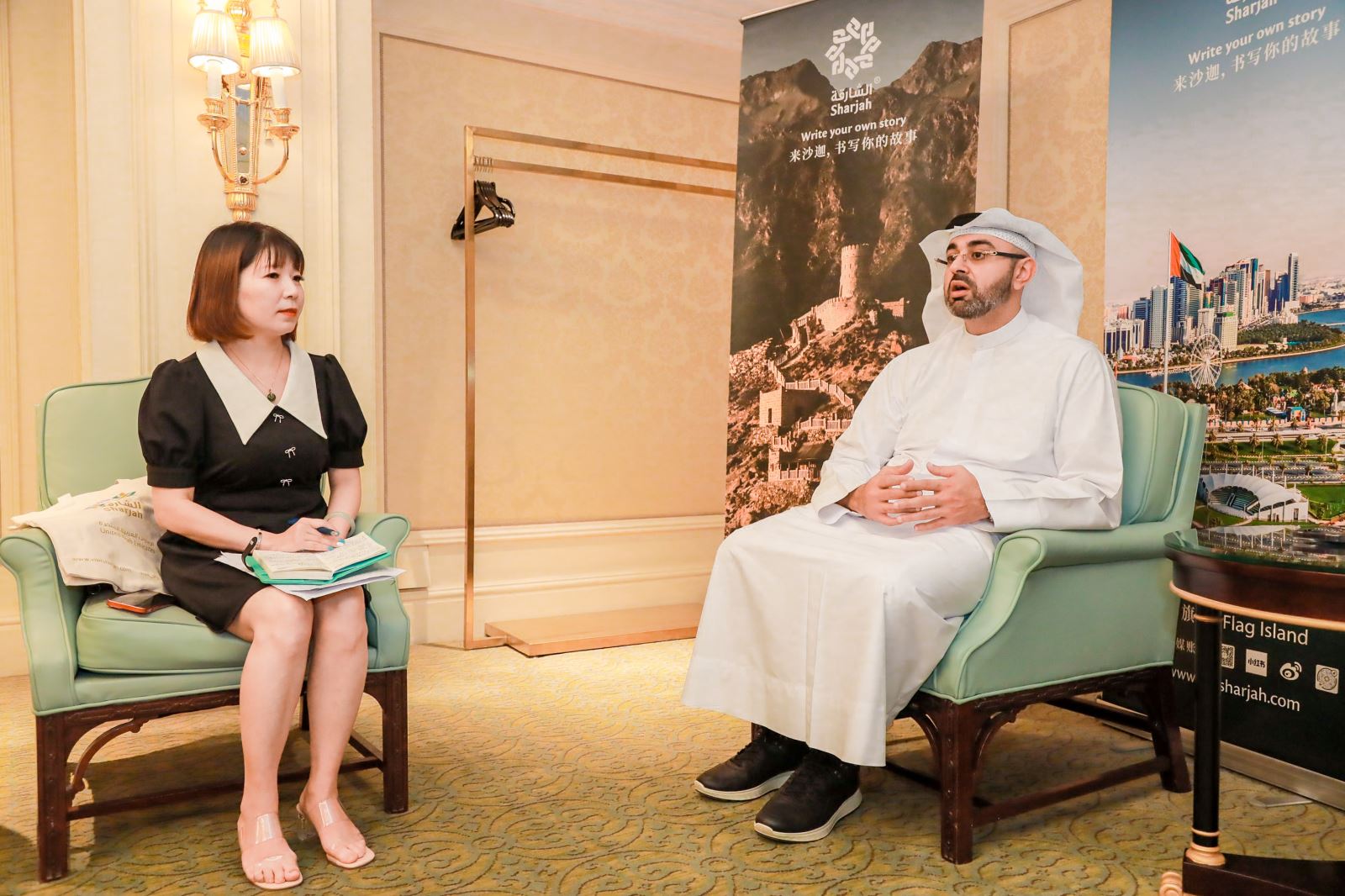 H.E. Khalid Jasim Al Midfa had interview
He also expressed that the return of Chinese tourists would strengthen cultural exchange between China and Sharjah, emphasizing that China remains a vast potential market for tourism. With the revival of the Chinese outbound tourism market, Sharjah is fully prepared to welcome Chinese visitors.
SCTDA has established Chinese accounts on various social media platforms, including Little Red Book, TikTok, WeChat, and Weibo, in addition to launching a Chinese website. These initiatives collectively create a "China-friendly" destination, making it easier for Chinese visitors to explore Sharjah and enjoy memorable experiences.
Sharjah Tourism Resources Receives Unanimous Acclaim from Chinese Travel Trade
Sharjah's tourism resources encompass a blend of desert and sea, offering a wide range of activities, while its historic sites and more than 20 unique museums recreate a world reminiscent of "One Thousand and One Nights." Artistic innovation and modern technology showcase the destination's vibrancy.
The roadshow not only helped Chinese travel trade understand the unique aspects of Sharjah but also provided on-the-spot training on how to customize the most engaging tour packages. Participants expressed their enthusiasm, saying, "Today, we've learned that everything about Sharjah is incredibly attractive. We will vigorously promote it to our clients, so they can also experience something unique and special in Sharjah."
Special B2B events between the providers of Sharjah and
Chinese tour operators achieved high satisfaction of both sides

Sharjah Collection



| | |
| --- | --- |
| | |
| Sharjah National Hotels | Golden Sands Hotel |
| | |
| --- | --- |
| | |
| Shurooq | Emirates Airline |
| | |
| --- | --- |
| | |
| Sumptuous banquets | The tea break created a relaxed atmosphere for networking |
Looking back at the Sharjah tourism roadshow in Beijing, Shanghai and Guangzhou, each promotional event had a full house, confirming Sharjah's unique charm once again. The events featured generous giveaways, creating an atmosphere of excitement, and attendees engaged in relaxed discussions during sumptuous banquets. It is believed that the upcoming Chinese National Day and Mid-Autumn Festival holidays will be an opportunity to attract Chinese visitors to Sharjah, with hopes for more Chinese visitors in the future!