Sharjah Launches Numerous Initiatives and Promotional Activities to Attract Chinese Tourists

With meticulous planning and executing by
CBN Travel and MICE
and supported by the
World Travel Online
, Sharjah Tourism Roadshow kicked off in
Guangzhou
on 27th September, followed by
Chengdu
on 28th September, with last leg in Hong Kong on 30th September, attracted more than 200 Chinese outbound tour operators, corporate travel organisers as well as airlines, and more than 40 media in three cities.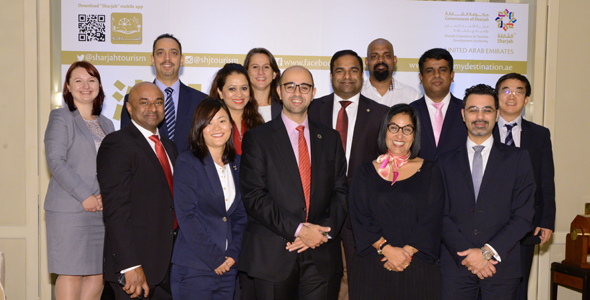 Group photo of the representatives from SCTDA


The Chairman of Sharjah Commerce and Tourism Development Authority (SCTDA), H.E. Khalid Jasim Al Midfa (in the middle of the front row) flew to Hong Kong in person to lead the delegation of over 10 trade partners consisting of incoming tour operators, hotels and resorts and other suppliers showing the rich tourism products and resources of Sharjah that are eager to find good partners in China to cater for more Chinese visitors. The Consul General of the United Arab Emirates in Hong Kong, H. E. Ms Nabila Alshamsi (2nd from right of the front row) attended the event in person to show her support for promoting Sharjah as a favourite destination for Chinese visitors.
| | |
| --- | --- |
| | |
| H.E. Khalid Jasim Al Midfa, Chairman of SCTDA delivered a welcome speech | Ms. Xiuhuan Gao, the Asian Markets Manager of SCTDA |

The emirate of Sharjah is becoming increasingly popular among Chinese tourists; in fact, the number of Chinese visitors to Sharjah increased by a staggering 73.2% between the first half of 2015 and the same period in 2016, reaching total 53,589 visitors.
However, Sharjah is constantly diversifying its touristic offering and the roadshows demonstrated Sharjah as a year-round tourist destination for family holidays as well as a favourite MICE destination.
Interestingly the well-known Sharjah Light Festival which lasts 9 days each February matches the Lantern Festival during Chinese New Year therefore, many more Chinese will feel at home when visiting Sharjah during the forthcoming Chinese New Year but in much warmer climate while enjoying three-dimensional light displays demonstrating traditional Arabian culture and Islamic architecture that Sharjah is adamant to preserve.
To better cater for the Chinese speaking marketing SCTDA appointed Amber, Ms. Xiuhuan Gao who lives and works in Sharjah as the Asian Markets Manager.
| | |
| --- | --- |
| | |
| Chinese tour operators are keen on talking with the incoming tour operators from Sharjah | Chinese tour operators would like to find good partners to take Chinese tourists to Sharjah |

Hundreds of outbound tour operators in Guangzhou, Chengdu and Hong Kong were very impressed by the presentation of Sharjah during the roadshows. They enjoyed the Sharjah hospitality and many lucky ones won free flights and free accommodation to travel to experience Sharjah courtesy of SCTDA and local suppliers of Hilton Hotel, Ramada and Sharjah National Hotel Group as well as Sharjah Airport Travel Agency and Cosmos Incoming Tour Operator.

The lucky Chinese tour operator got a big prize at the

Sharjah Tourism Roadshow 2016



H.E. Khalid Jasim Al Midfa, Chairman of Sharjah with

Dr. Adam Wu, CEO of CBN Travel & MICE and World Travel Online
With no visa requirement for visitors from Hong Kong already and visa on arrival for Chinese visitors from mainland who can fly directly to UAE from all the main gateway cities of China i.e. Beijing, Shanghai, Guangzhou by major airlines like Emirates, Etihad, Ethiopian Airlines as well as direct flight by Air Arabia from Urumqi to Sharjah. So all left for the Chinese travel trade and visitors is to pack the language and go to Sharjah only few hours away one will experience a very different world with also long history of 6000 years.
Relevant Chinese News:
沙迦旅游推介路演首站告捷 爱尝鲜的广东人有新去处啦!
沙迦要打开华西市场 凭这些就能办到!
沙迦旅游推介路演收官 MICE和购物天堂诱惑大