"God's Own Country" – Kerala Roadshow 2019 took place successfully in Shanghai and Beijing
2019 Kerala Tourism Roadshow took place in Shanghai on 19th November and concludes successfully in Beijing on 21st, to promote its tourist destinations and Ayurveda treatment. The fruitful event
was hosted by the Kerala Tourism Department,
attracting over 160 Chinese outbound tour operators in both cities.
H.E. Shri. Anil Kumar Rai, the Consul General of India in Shanghai gave a welcome speech at the event in Shanghai, and Deputy Chief of Mission of India Embassy to China, Dr. Acquino Vimal addressed in Beijing.
Dr. Acquino Vimal said, "2020 is declared as China-India Year of Exchange, and tourism is made one of the focus areas of practical cooperation. Tourists can experience all kinds of novel attractions in Kerala at affordable prices."
Mr. H.E. Shri. Anil Kumar Rai,

the Consul General of India in Shanghai gave a welcome speech in Shanghai.

Dr. Acquino Vimal, Deputy Chief of Mission of India Embassy to China delivered opening speech at the roadshow in Beijing.
During the event, the director of Kerala Tourism, Ms. Rani George presented the tourism resources to the participated tour operators. "Besides its tranquil beaches, famous backwaters, mist-covered hills, thick forests, elegant houseboats, Ayurvedic treatments, Kerala is home to rare wildlife, and vibrant traditions such as Kathakali plays, Kalaripayattu martial arts. "
| | |
| --- | --- |
| | |
| Mrs Reni George, Secretary of Kerala Tourism delivered the destination presentation of God's Own Country. | Over 80 Chinese tour operators attended the event in Beijing. |
Near 1.1 million international tourists, including 9,630 Chinese tourists, visited Kerala in 2018, with an increase of 35.06% and enormous upside potential. "Kerala is the cleanest, safest and most educated state in India. You don't need to worry about safety whether you are FIT or GIT." During the interview, Ms. Rani George added, "We actively put up various initiatives to facilitate Chinese tourists, such as launching Chinese websites, developing Chinese applications, training Chinese tour guides, providing Chinese food and hotel services for Chinese preference, promoting UnionPay, WeChat, Alipay and so on."
| | |
| --- | --- |
| | |
| Handcraft souvenir from Kerala Tourism to Consul General H.E. Shri Anil Kumar Rai. | Ms. Rani George presented the gift to Dr. Acquino Vimal. |
First Secretary (E&C) Embessy of india, Mr. Rajesh Pari said, "E-Tourism Visa for multiple entry in 5 years has been implemented in India and visa charge has also been reduced, which provide enough flexibility to Chinese tour operators to design their itineraries."
| | |
| --- | --- |
| | |
| Ms. Rani George and Mr. Biju George from Somatheeram Ayurveda Group presented scroll painting"Chinese tradition of fishing net in Kerala" to Ms. Wei from Beijing Municipal Bureau of Culture and Tourism. | Ms. Rani George and Mr. Rajesh Pari had interview in Beijing. |
During the B2B negotiation process, the delegation, which included well-known resort operators, tourism operators and Ayurveda service providers had reached abundant business cooperation with Chinese counterparts, and Chinese tour operators learned more about their offerings which help them to design localized tailor-made tour packages better.
Special B2B events between the providers of Kerala and Chinese tour operators achieved high satisfaction of both sides.
The roadshow, which was supported by CBN Travel & MICE and World Travel Online ended with the a lucky draw session after enjoying the sumptuous buffet meal, creating a delightful business atmosphere as well.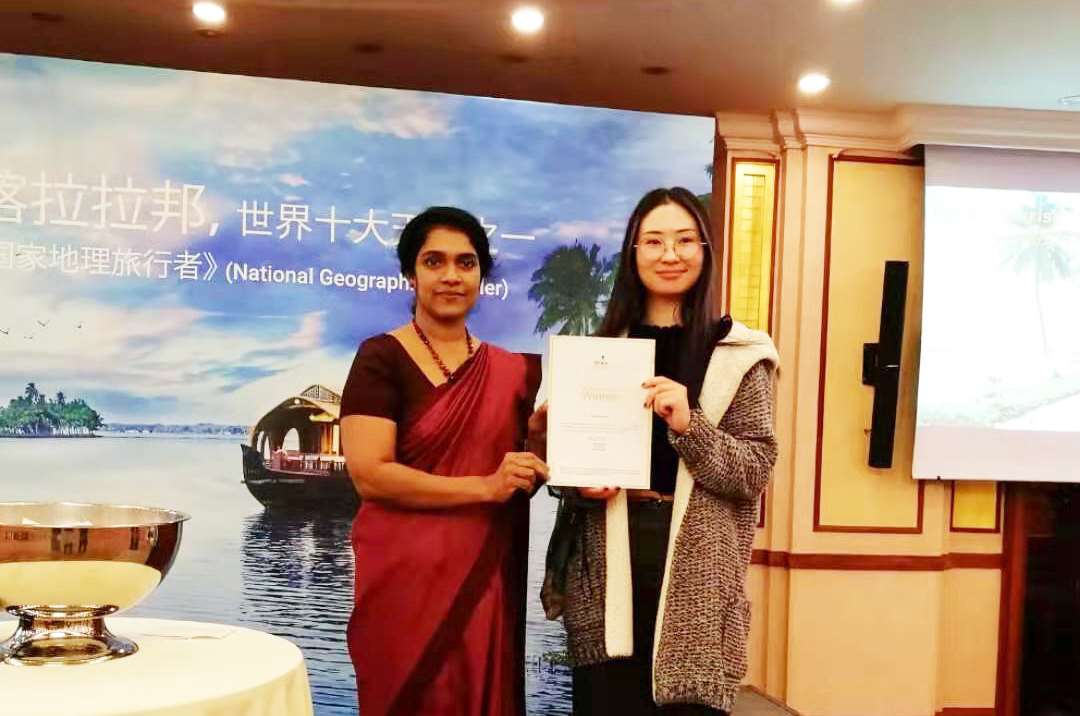 Ms Ellin Huang, Product Development Manager of outbound wholeseller Zanadu, won the top prize of a "7 days Fam tour to Kerala" presented by Mrs Reni George.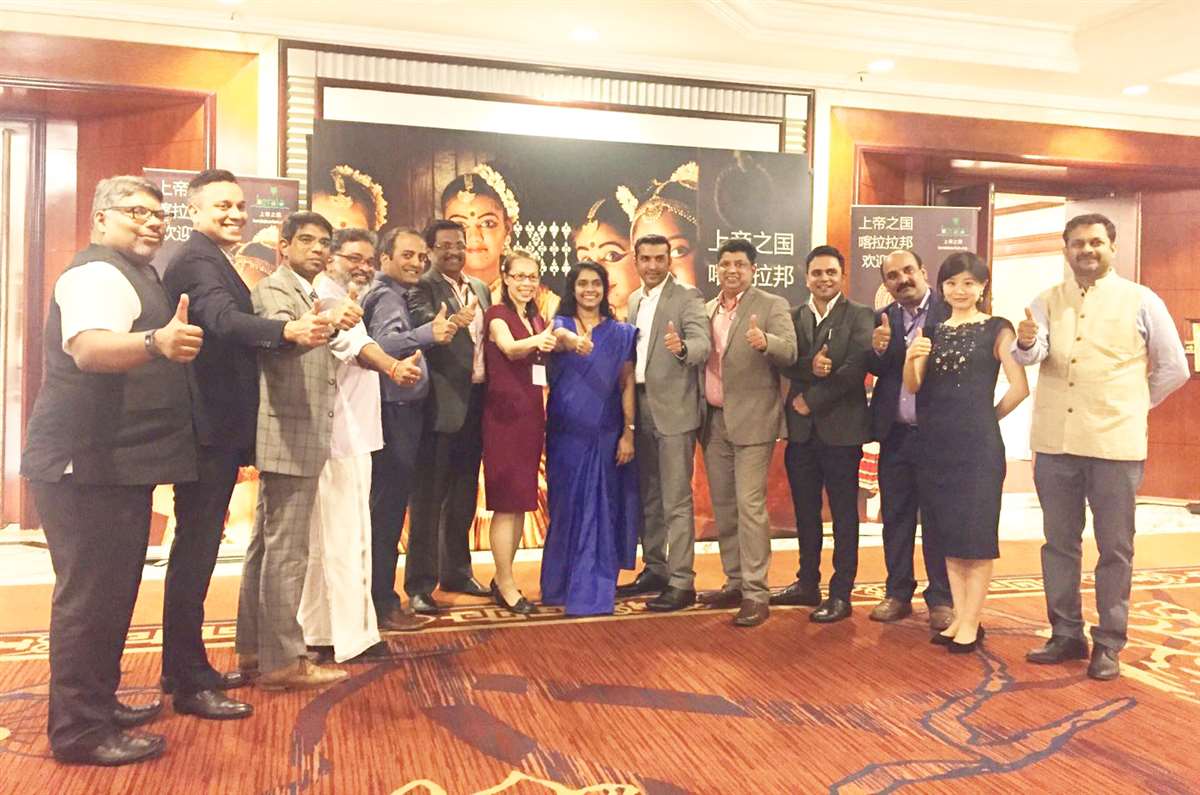 Group photo of the Kerala main creators was taken in Beijing.