Addressing delegates at
Arabian Travel Market 2021
at the Dubai World Trade Centre, Dr Adam Wu, CEO,
CBN Travel & MICE
, which has offices in Beijing and London, said that China was ready for international travel – 66 countries have put China in their Green List to welcome Chinese visitors.
Dr Wu was speaking during a conference panel session on the opening day of the show (16 May) and confirmed that according to China's civil aviation administration, a total of 105 airlines including 19 Chinese carriers, are now flying to 55 different countries, culminating in 294 round trip flights per week.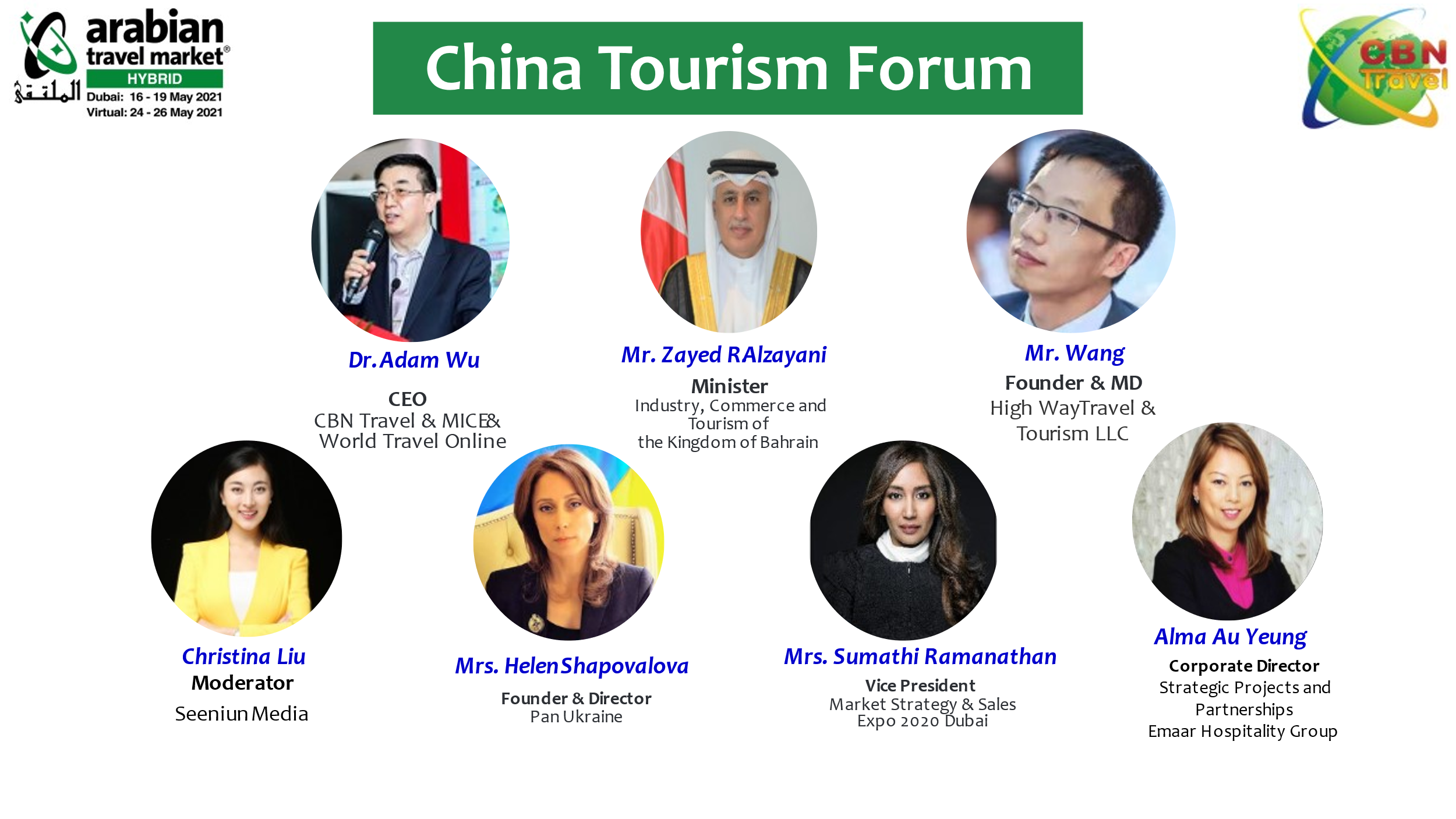 H.E. Mr. Zayed R. Alzayani, Minister of Industry, Commerce and Tourism for the Kingdom of Bahrain and Chairman of Bahrain Tourism and Exhibitions Authority, revealed that it was a part of Bahrain's international strategy to encourage more inbound tourists from China.
"Our initial strategy was to concentrate on local and regional travel first and then focus on international travel. At the end of 2019 we were ready and committed to start a campaign to bring Chinese visitors to Bahrain. We were planning a direct flight with Gulf Air, but then the pandemic hit and all of our plans were put on hold. China remains a priority," he said.
About marketing to Chinese consumers, Helen Shapovalova, Ex Chairwoman of the State Agency of Ukraine for Tourism and Resorts and Founder of
Pan Ukraine
, shared the success of Pan Ukraine by partnering with CBN Travel & MICE by "having Chinese language website on the China Wide Web and also established Chinese social media accounts such as Wechat, Weibo, Youku etc." , backed up by offline support in China with roadshows and attending exhibitions as well as organising Chinese tour operators for Fam trips.
Sumathi Ramanathan, Vice President for Market Strategy & Sales at Expo 2020 Dubai, enlightened the audience with the latest development of the Expo Dubai by confirming that Expo 2020 Dubai is ready to welcome over 20,000 media and millions of visitors from all around the world. It will be the first mega event during such unprecedented time that will surely lift peoples confidence in travelling again. Many national pavilions have brought many unique attractions and own culture to the Expo 2020 where people from Africa can meet with people from Australia, Asia meet the Americas etc.
Alma Au Yeung Corporate Director – Strategic Projects and Partnerships of Emaar Hospitality Group which is the Strategic and Hospitality Partner for Expo 2020 Dubai, echoed their readiness in welcoming Chinese and other visitors with specially developed Hospitality Package and Expo 2020 Club catering for both corporate groups as well as FIT visitors.
Mr. Yuan-sheng Wang, Founder and MD of High Way Travel & Tourism which is a leading DMC based in Dubai used to received hundred thousands of Chinese visitors each year to UAE shared the eagerness of Chinese outbound tour operators and corporate travel organisers who are keen on sending more visitors from China to UAE and also neighboring countries prior to, during and after the Expo 2020 Dubai. Hence they are keen on finding local suppliers and partners. ATM China Tourism Forum surely provided such ideal platform.
ATM 2021's show theme is appropriately 'A New Dawn for Travel & Tourism' and spread across nine halls.
This year, for the first time in ATM history, a new hybrid format will mean a virtual ATM running a week later, from 24-26 May, to complement and reach a wider audience than ever before. ATM Virtual, which made its debut last year, proved to be a resounding success attracting 12,000 online attendees from 140 countries.