Nostalgia for Communist past as well as capitalist bargain-hunting draw more Chinese visitors.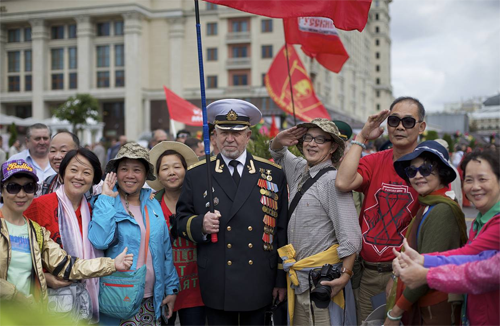 Chinese tourists posing with a former Soviet navy officer in Moscow on
Sept. 2, the 71st anniversary of the victory over Japan in World War II.
To see how good relations are between Russia and China these days, check out Novodevichy Cemetery here.

Chinese tourists arrive by the busload each week to pay their respects to Wang Ming, a Chinese Communist leader buried here alongside some of Russia's most prominent writers, composers and politicians.

"We're learning about (Vladimir) Lenin and (Josef) Stalin, and how they created this country," said 39-year-old Cheng Ling, an accountant in Shanghai, as she slid ruble coins along the side of the red granite plinth, a tradition ensuring the dead have money in the afterlife.
Russia's relations with the West have deteriorated amid the conflicts in Ukraine and Syria and its economy has been battered by punitive sanctions and low oil prices. But the country is welcoming record numbers of Chinese visitors, who are taking advantage of a weak ruble, visa-free group travel, and the opportunity to retrace Communist history.

Red tourism—visiting sites relevant to the Communist Party of China—has flourished under President Xi Jinping, at home and abroad. In June 2015, Russia and China formally agreed on opening up red-tourism routes, a deal signed in Shaoshan, the birthplace of Mao Zedong.

"Travel to Russia is considered politically correct," said Wolfgang Arlt, director of the China Outbound Tourism Research Institute, which is based in Beijing and Hamburg.

In addition, terror attacks in France and Belgium have unnerved many Chinese travelers, he said. "Russia is seen as a very safe option."

More than 1.1 million Chinese tourists are expected to visit Russia this year, about 16% more than 2015, according to figures from market-research firm Euromonitor released in June. That puts Russia at No. 16 on the list of top destinations for Chinese tourists, behind the U.S. and France but ahead of the U.K.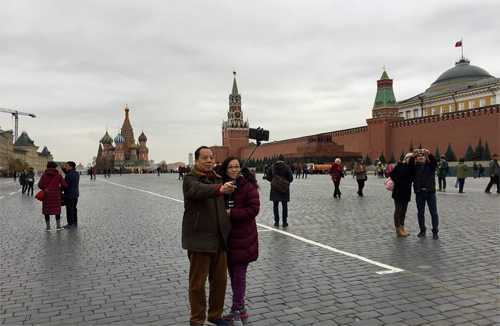 Chinese tourists taking a selfie on Red Square in Moscow in October.
As many as half of last year's visitors are estimated to have traveled to the European part of Russia, which includes the more affluent, history-soaked cities of Moscow and St. Petersburg.

Russian flagship carrier Aeroflot reported increases in trips to and from China of 15% and 14% in 2014 and 2015 respectively. Russian tourist officials say 2016 should see even more, matching at least the $1 billion they spent last year.

Senior citizens are particularly attracted by the country, Mr. Arlt said. "They remember singing Russian songs as children. The younger folks travel to Russia together with their parents as a way to sort of honor them."

Next year's centenary of the 1917 Bolshevik revolution is expected to bring a deluge of Chinese visitors to Russia, he said. The German birthplaces of Karl Marx and Friedrich Engels are also preparing for more tourists.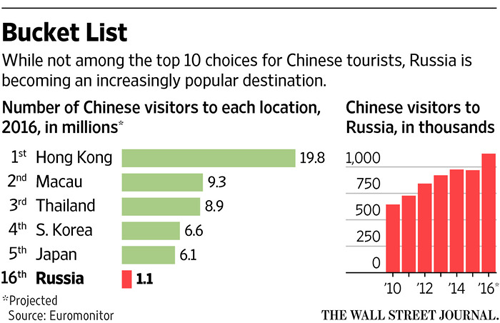 According to adventure tour company Russian Discovery, around 200,000 Chinese visited Russia last year on communist-inspired travel. This includes expeditions in Lenin's footsteps, beginning with his birthplace of Ulyanovsk in central Russia, followed by the city of Kazan where he studied, St. Petersburg for the October revolution and Moscow, where his embalmed body lies in a pool of red light in a mausoleum.

Russia and China, former Communist rivals that share a 2,500-mile border, have been steadily drawing closer as East-West ties strain. On Oct. 1, Russian President Vladimir Putin said relations were at an all-time high as he congratulated Mr. Xi on the 67th anniversary of the People's Republic. Mr. Xi in June described Russia and China as "friends forever."
At the G-20 summit last month , Mr. Putin gave a tub of Russian ice-cream to Mr. Xi. Now the dessert is flying off the shelves.

Along with Communist nostalgia, a dash of capitalist bargain-hunting is also proving a draw. In Moscow's flashier shopping malls, signs in Chinese boast of better prices than in Hong Kong.

Struggling with bags of merchandise at a shop in the center of Moscow, Qing Yue from Shandong province in eastern China said: "History is also good, but this is better."