According to industry insiders,the number of Chinese "red tourists" who visit Russia to retrace a shared communist history has been soaring in recent years.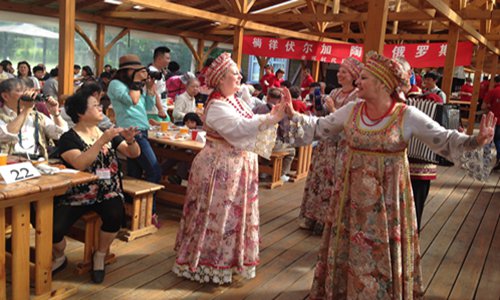 Chinese tourists watch traditional Russian dancing
at a sightseeing boat on the Volga River, Russia.
The number of Chinese "red tourists" who visit Russia to retrace a shared communist history has been soaring in recent years, contributing to the wave of Chinese visitors to Russia that has grown with the help of closer bilateral relations between the countries, according to industry insiders on Tuesday.

"There definitely is growing interest among Chinese tourists for Russia, especially the older generations, who are nostalgic about the history of Russia," Zeng Qingan, general manager of Beijing Global Travel Ltd, told the Global Times.

Zeng said that since his company started tour groups to Russia nine years ago, the number of participants has increased fast, especially after the company redesigned its tour routes in 2014 to cover historical Soviet Union era sites, including the Red Square and Victory Square in Moscow, the Lenin Memorial Museum in Ulyanovsk and Moscow State University. The travel firm called it the "Red Tourism" package.

The number of tourists choosing this package has increased by several thousand each year, according to Zeng. And this year, which marks the centenary of the 1917 Bolshevik revolution, the number of participates should be even bigger, he said, noting that over 2,000 to 3,000 people are expected to book the tour this summer.

Zeng attributed his rising business to the cooperation between the two countries on promoting tourism and exchange programs. In 2015, Chinese and Russian tourism officials signed an agreement to promote red tourism and created the China-Russia Red Tourism Cooperation and Exchange Program.

"Since the start of the Red Tourism program in 2014, an increasing number of people have signed up, indicating the huge potential for red tourism between China and Russia," Hu Chengjun, a deputy head for the Office National Red Tourism Coordination Group under the China National Tourism Administration, was quoted as saying in a press release on Friday. "Red tourism has become a bright spot for bilateral cooperation on tourism."

The rise in red tourism is due to the close relationship between China and Russia and their long history of cultural and people-to-people exchanges, according to Wang Fude, a professor specializing in tourism at Beijing International Studies University.

"In fact, as the two countries become closer, there will only be increased exchanges," Wang told the Global Times on Tuesday.

The total number of Chinese tourists to Russia has been rising in recent years as well. In 2016, about 2.6 million Chinese visited Russia, an increase of more than 70 percent from the previous year, Zeng said, citing industry data. He noted that though Russia is not a top destination for Chinese tourists yet, it's a fast rising one.

Experts attributed the increase to the strengthened bilateral relationship and the enhanced cooperation on tourism, which has resulted in convenient visa arrangements for tour groups.

"I think the main contributing factor is the increasingly close relationship," Jiang Yiyi, director of international tourism development at the Beijing-based China Tourism Academy, told the Global Times on Tuesday, adding that there are more direct flights between China and Russia and a group visa waiver program.

More than 760,000 Chinese nationals took advantage of the group visa waiver program in 2016, increasing 41 percent from the previous year, according to data from Russia's Federal Tourism Agency in February.

Also, facing a tough period in its economy, there has been an increased interest from the Russian government in attracting Chinese visitors with more promotions, according to Jiang.