In order to introduce its tourism and investment environment, Ministry of Tourism of Cambodia held a promotion event in Xi'an during XSRITE on August 4.
Ministry of Tourism of Cambodia showcased Cambodian tourism resources to China at the
Xi'an Silk Road International Tourism Expo
(XSRITE). As Cambodia was featured as the Guest of Honor of this event, Ministry of Tourism of Cambodia, led by H.E. Dr. Thong Khon, Minister of Tourism of Cambodia, held a splendid tourism and investment promotion named Cambodian Night on August, 4.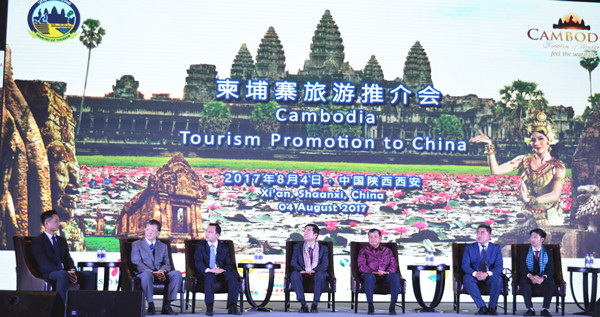 Many distinguished guests from Cambodia and China were invited to the Cambodian Night
Mr. Hoy Pichravuth, Consul-General of the Kingdom of Cambodia in Xi'an said in his welcome remarks that since the Royal Consulate-General of Cambodia in Xi'an had been set up in January last year, the bilateral cooperation between Shaanxi and Cambodia was strengthened and expanded with an unprecedented speed. And he also highlighted the significance of the Belt and Road Initiative, saying that the Initiative had an objective to promote regional integration between China and the countries along the ancient Silk Road, including Cambodia.
Last but not least, H.E. Dr. Thong Khon expressed his profound appreciation to the team of
China Business Network
for the active and hard work in organising this and previous roadshows for promoting Cambodia sucessfully in China.
| | |
| --- | --- |
| | |
| Mr. Hoy Pichravuth were making the welcome speech at the event | Dr. Thong Khon shared the data and facts of Cambodia tourism |
Cambodia received 5 million foreign tourists, including 830,000 from China in 2016, earning total revenue of 3.4 billion USD. And the latest statistics showed that Cambodia welcomed 2.66 million international tourists in January-June, up 12.8 percent against the same period last year, with about 20 percent from China. That is to say, nearly 530,000 Chinese visitors arrived in Cambodia in the first half of 2017, a year-on-year increase of 40 percent.
Dr. Thong Khon said that excellent ties between Cambodia and China, Cambodia's attractive tourist sites, direct flights between the two countries, along with the Visa-on-Arrival and E-visa policy for Chinese visitors were the key factors luring more Chinese tourists and business people to Cambodia. "Now there are 12 airlines operating about 150 flights per week between Cambodian and Chinese cities," he added, "The country expects to welcome one million Chinese visitors in 2017 and aims to draw two million annually by 2020!"
H.E. So Visothy, Under Secretary of State, Ministry of Tourism of Cambodia

introduced the tourism resources with details

H.E. Mr. Gao Zhongyin, Director-General of Shaanxi Provincial Tourism Development Commission,

showed strong support for the event
Tourism is regarded as an economic pillar of Cambodia, and foreign direct investment is the key driving force of Cambodia's economic development. China is one of the main sources of the foreign direct investment inflow to the kingdom, and its private firms concentrate their investments on the garment industry and the tourism sector. With the Business Center of Cambodia in Xi'an being available, it is believed that there will be more opportunities for Cambodia and China to expand cooperation in tourism, investment, trade, and other fields.
Guests from Union Development Group, Canadian Group, Yee Jia Tourism Development, Sokha Hotels, Cambodia Airport SCA, and Naga World were also invited to the event. And over 20 tour operators from Xi'an took this opportunity to discuss further cooperation with tour companies and hotels from Cambodia.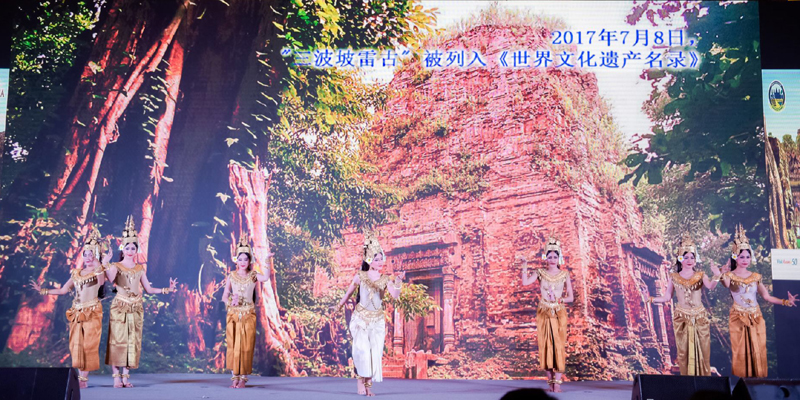 Performers were dancing traditional Cambodian dance on the stage