The 4th 2007 Shanghai World Travel Fair was held on 22nd – 25th March in Shanghai Exhibition Center. China Business Network and its unique World Travel Online (www.lvyou168.cn) project, together with Jamaica Tourist Board and Puerto Rico Tourism Company, attended the big event as exhibitors, demonstrating "Unique Caribbean Travel".
| | |
| --- | --- |
| | |
| 2007 WTF Opening Ceremony on the morning of 22nd March | Mrs. Hyatt, Minister Counselor/Deputy Head of Jamaica Embassy, attends the opening ceremony as VIP guest |
2007 WTF continued the success of former editions and could be characterized into three unique points:
I. Unique Caribbean Show
During WTF, Not only professionals from Chinese tour operators came to the beautiful Caribbean stand to talk business and set up cooperation in trade days, great amount of audience were attracted to consult Caribbean tourism resources in public days.
The attractive Caribbean stand received consultancy
and enquiries from thousands of audience

Mrs. Hyatt, Minister Counselor/Deputy Head of Jamaica Embassy, is talking with Mr. Ding from CBN Travel
Mrs. Hyatt, Minister Counselor/Deputy Head of Jamaica Embassy, and Mrs. Yolanda Figueroa and Mr. Jose Iturregui from Puerto Rico Tourism Company, with the assistance of World Travel Online, had in-depth discussion, with nearly 30 tour operators from Shanghai or near regions and main cities of China, on some important issues like programs, infrastructure and visa application.
Mrs. Yolanda Figueroa, who is from Puerto Rico Tourism Company, told the reporter that Puerto Rico could be regarded as the first stop for Chinese travelers to travel in Caribbean area as its central location and transfer convenience to other Caribbean destinations.
Officials from Puerto Rico Tourism Company is discussing business with Chinese tour operators
Regarding to the Chinese visitors' great interests to Caribbean area, Jamaica Tourist Board, together with several professional incoming service providers such as
Jamaica Tours Ltd.
and chain vacation villages like
Half Moon
,
Couple Resorts
and
SuperClubs
, which offer special honeymoon tour for couples, Caribbean Pirates tour, Jamaica coffee and music tour etc.
Mrs. Julia Hyatt, Minister Counselor/Deputy Head of Jamaica Embassy, said, as the expansion of Chinese market, Jamaica would dedicate to create more tourism programs and products with diversity and uniqueness. Jamaica local tourism companies also had the capacity to arrange the whole Caribbean tour besides Jamaica tour.
| | |
| --- | --- |
| | |
| Mrs. Hyatt is talking with an interested Chinese Tour Operator | Mrs. Hyatt is giving an interview with Xinhua News Agency |
On the other hand, China Business Network also met with lots of senior officials and travel professionals from tourism companies and established cooperation relationship with each other.
| | |
| --- | --- |
| | |
| Mr. Ding Shan from China Business Network is introducing World Travel Online to audience | Mr. Ding Shan from China Business Network is talking with hosted buyers |

II. Two Forums in One Fair, Professionalism enhanced
Since it is one of the programs of WTF, "Outbound Tourism Forum" was opened on March 22nd in Shanghai. The representatives of WTO, PATA, and AC Nielson get together in Shanghai Exhibition Center. They discuss and probe into the subject "China Outbound Travel Market Cooperation and Development". Professionals including important overseas exhibitors, Chinese main tour operators and media attended the forum. World Travel Online attended the forum as a supportive media, and Puerto Rico and Jamaica Tourist Board as VIP guests joined the discussion.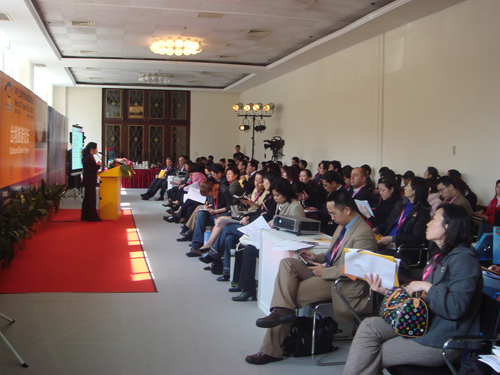 Outbound Tourism Forum of 2007 WTF
The second Insurance Forum was also held on March 23rd, the second day of WTF. The tourism and the Insurance professionals discussed the subject of Tourism safety. As a result, more and more professionals and unprofessional people realized the importance of Tourism Insurance and Tourism safety by establishing the concept of tourism risk elusion.

III. Five Continental Friends Come Together, Experience International Amorous Feelings

2007 WTF attracted more than 50 countries and near 450 exhibitors. Overseas exhibitor rate increased from 80 percent the year before to 85 percent. It is undoubted that internationalization trends, The exhibitors are separately from Spain, Turkey, Germany, Italy, Finland in Europe; Malaysia, Japan, Korea, Indonesia, Vietnam in Asia; USA, Jamaica, Puerto Rico, Cuba in America; Kenya, South Africa, Egypt in Africa; and Australia. It is almost including Five Continent.
| | |
| --- | --- |
| | |
| The attractive stand of Spain | The beautiful stand of Egypt Tourism Board |
Among them, the travel reso