Cabinet Director of Tourism Minister of DR-Congo was interviewed by World Travel Online at COTTM 2018
Director, Cabinet of Tourism Minister of DR-Congo said in the interview that they had plans to invite Chinese TOs and media for a Fam trip to DR-Congo.
The 3-day 2018
China Outbound Travel & Tourism Market
(COTTM) was successfully concluded on 18 April. Tourism Ministry of Democratic Republic of Congo (DR-Congo) participated in the event and met with many potential partners and Chinese tour operators.
As one of the support media of COTTM,
World Travel Online
took an interview with Mr. Constant Bopima Moelo Bokoto, Director of Cabinet of Tourism Minister of DR-Congo during the event.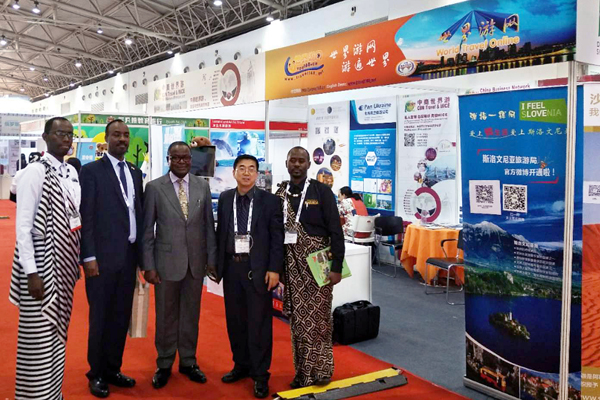 Mr. Constant Bopima Moelo Bokoto, Director of Cabinet of Tourism Minister of DR-Congo (left 3) and
Dr. Adam Wu, CEO of World Travel Online and CBN Travel & MICE (right 2),
met with H.E. Charles Kayonga, Ambassador of Rwanda to China (left 2) and other officials from Rwanda at the booth of World Travel Online and CBN Travel & MICE
What do you expect from participating in COTTM?
-
DR-Congo didn't have a stand at the COTTM, unfortunately, so we based our presence in contacts with potential partners, especially the
China Business Network
(the parent company of
World Travel Online
and
CBN Travel & MICE
) with which we have plans of partnership on the promotion of the DR-Congo destination in China.
-
We, by the way, were glad meeting the Ethiopian Minister of Tourism together with Ethiopian Airlines' Chief Representative in Greater China, because we have Ethiopian Airlines in our scopes with CBN.
-
It was luck as well meeting the South African Southern Cross delegation. We shall call them for collaboration in the development of luxury tourism in the DR-Congo.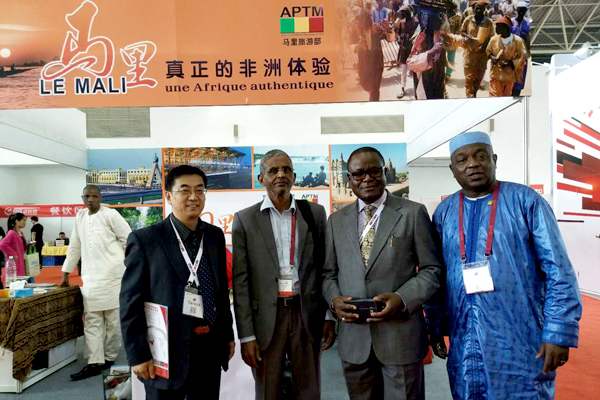 Mr. Bokoto and Dr. Adam Wu met with
Mr. Ibrahim Litny, Chief of Cabinet of Ministry of Craft and Tourism, Mali (left 2)
and
Mr. Moctar BA, Deputy Director General of Mali National Tourism Agency (right 1)
Why should Chinese come to visit DR-Congo?
-
As you might be aware of, trade and diplomatic exchanges between China and DR-Congo increased drastically in recent years. Hence, it becomes a necessity for the people of the two countries to know more about each other; the wonders of the respective natures, their cultures and social customs as well as some scientific and historical peculiarities.
What does DR-Congo offer that other countries do not have?
-
In addition to the warmth of the Congolese people's legendary hospitality and social cultures, DR-Congo shares the unicity of the Mountain Gorillas with the neighbouring Rwanda and Uganda with the particularity that bigger folks of them are in the greater part of the common forest situated in the DR-Congo, in the Virunga natural park [Note: there are 09 Unesco-registered natural parks in the DR-Congo,],
-
You have the active twin volcanoes of NYAMULAGIRA and NYIRAGONGO in the same Virunga Park but only in the DR-Congo,
-
The ever-snowy Marguerite Peak of the RUWENZORI Mount in eastern Congo,
-
The thermal water pool also close-by,
-
The unique black-and-white kind of Zebra called Okapi at the natural parks of MAIKO and EPULU,
-
White Rhinos and dompted elephants' at the YANGAMBI and GARAMBA parks,
-
The Plains gorillas also called the "stained-back gorillas" at the KAHUZI-BIEGA park,
-
You have the potentially biggest African electric power dam of INGA with 44,000 megawatts near the city of MATADI in the west of the country from where one can have canoe rides along the river towards its mouth in the Atlantic Ocean while observing the mangroves park,
-
There are wonderful rapids and falls along the Congo river, second biggest after the Brazilian Amazon, particularly the WAGENIA falls near Kisangani,
-
You have the unique chimpanzee species of BONOBOS, whose DNA is said to be 99.99% close to the human being, etc.
-
Game parks are developing in the vicinities of big cities like Kinshasa and Lubumbashi, where one can watch samples of several animals in nature; buffaloes, zebras, antelopes, etc. and you can dance the nicest African Rumba music.
-
Notwithstanding that, in 2017, the Malebo Park in Kinshasa and the Virunga natural park were amongst the 100 best Green Destinations Awards by GREEN DESTINATIONS INTERNATIONAL.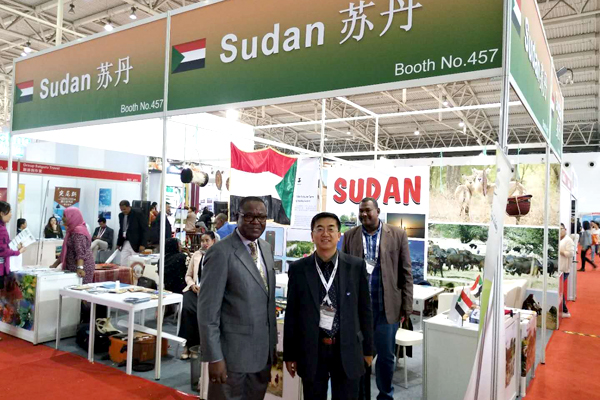 Mr. Bokoto and Dr. Adam Wu visited
the booth of Sudan to discuss the development of African tourism with the officials from Sudan
So what do you wish Chinese tour operators and visitors to associate DR-Congo with?
-
Okapi, Bonobos, Mountain gorillas, INGA electric dam, rain forests, Marguerite Peak, white rhinos, etc.
How about infrastructure? Are airports well prepared to attract direct flights from China?
-
DR-Congo has international standard airports in Kinshasa, Lubumbashi, Goma, Kisangani, Isiro, Bunia and Gbadolite. As at present, Ethiopian Airlines land at four of them, Kenya Airways at three, and light carriers link Entebbe and Kigali to Bunia and Goma for international travellers landing in those places with the intention of easy access to eastern DR-Congo.
How easily available is Chinese food or Chinese restaurant?
-
Chinese restaurants flourish in all big cities of the country.
Do incoming operators have easy access to Chinese speaking guides?
-
Despite a substantial presence of Chinese nationals all over the country, there are no statistics revealing their use as tourist guides. We need to assess this.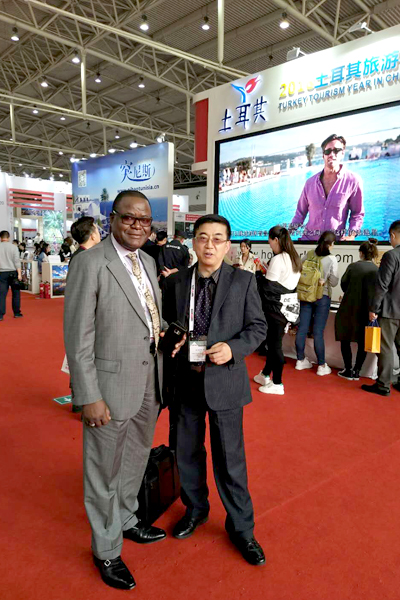 Mr. Bokoto and Dr. Adam Wu
walked around the venue to find more potential partners
How about VISA?
-
I had an interview with the DR-Congo's Chargé d'Affaires in Beijing during my current visit who said, due to the principle of diplomatic reciprocity, Chinese tourists can obtain DR-Congo visa in five days, whilst DR-Congo visitors await seven opening days at the Chinese Chancery in Kinshasa.
What marketing activities have you planned to carry out in China during 2018?
-
As said earlier, we have talks with CBN and eventually, they will create a website in the Chinese language to advertise the DR-Congo destination to the China outbound travellers and tourists.
Do you plan to invite Chinese tour operators and media for Fam trip to DR-Congo?
-
Of course, that's one of the purposes of my visit to Beijing.