Over the past decade, outbound Chinese travellers have remade the world tourism market. Currently worth US$ 168 billion and still on the rise, the 120 million and growing band of Chinese consumers travelling the world in search of local culture, experiences, food and shopping in 2016 is proving to be a tantalizing demographic: What are the opportunities for Middle east and North America.
The Middle East and North Africa (MENA) region has lagged in popularity, but is now witnessing a boom in Chinese visitors. Growth is being driven by local travel incentives introduced into the region, including visas on arrival for Chinese nationals visiting the UAE, and the rising sophistication of Chinese travellers who are seeking new destinations off the beaten path.
In addition, China's One Belt, One Road initiative, which cuts through the region, has the potential to put MENA on the map for travel savvy Chinese.
In this issue of The Luxury Conversation we look at the opportunities for brands and business in the region. How can they capture this growing tide of Chinese travellers?
1. TRAVEL AND TOURISM
The MENA region is seeing a tourism boom from China. In Abu Dhabi, plans to attract 600,000 Chinese tourists a year by 2021 would represent a 265 percent increase on the figures recorded for the first nine months of 2016.
In Dubai, 540,000 tourists arrived from China in 2016, up from 450,000 a year earlier and cementing the country's place as a top 10 source market for the emirate.
Thirteen Chinese cities, including Beijing, Guangzhou, Shanghai and Shenzhen, as well as Hong Kong and Taipei, are connected to Dubai with more than 100 weekly flights.
Sharjah, the third country in UAE, also underlined the Chinese travel market. In addition to participating for the first time in the China World Travel Market in Shanghai, Sharjah Commerce and Tourism Development Authority (SCTDA) hold a workshop in Shanghai.
Related News:
Meanwhile, even before
Morocco
's decision to drop visa requirements for Chinese visitors in July 2016, Chinese travel company, Ctrip, predicted a 3,500 percent increase in visa applications to the country. With 42,000 Chinese tourists in 2016 – a 300 percent year-on-year increase from 2015 – Morocco has announced a goal of 100,000 visitors from the Middle Kingdom this year. This would be a particularly impressive fact given no direct flights exist between the two countries.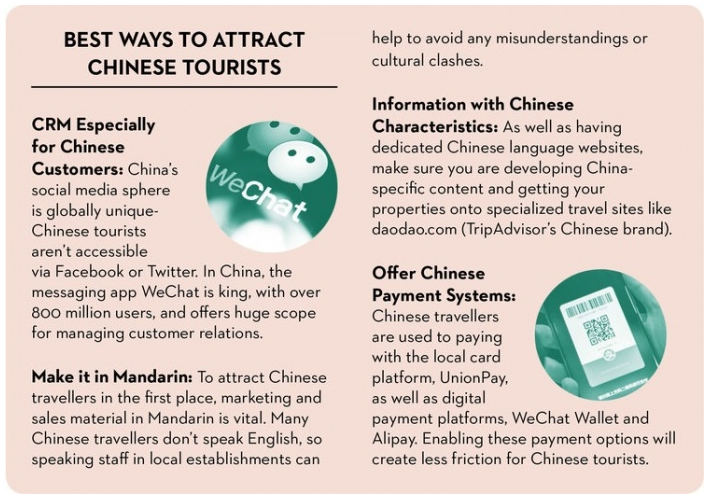 2. RETAIL
It's no secret that Chinese travellers are some of the most high-spending on earth. By 2019, Chinese tourists will spend $264 billion abroad - about the size of Finland's economy, and larger than Greece's.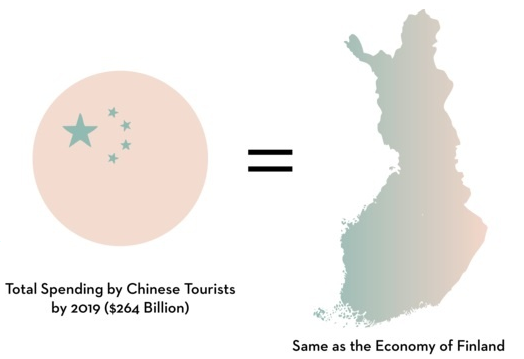 Shopping is vital to most Chinese tourists' plans, accounting more than half of their spending, and Chinese shoppers abroad are expected to buy more luxury goods this year than tourists from all other countries combined.
Up to 25 percent of luxury goods sold in Mall of the Emirates are purchased by Chinese tourists, according the Majid Al Futtaim Group, which has 11 malls across the Middle East including Mall of the Emirates.
Dubai's retail sector accounts for more than 40 percent of all tourism spending. This is expected to increase in the coming years with the introduction and development of quality retail offerings, including Muscat's Palm Mall and Riyadh's Mall of Saudi, which will include indoor indoor skiing when it opens its doors in 2022.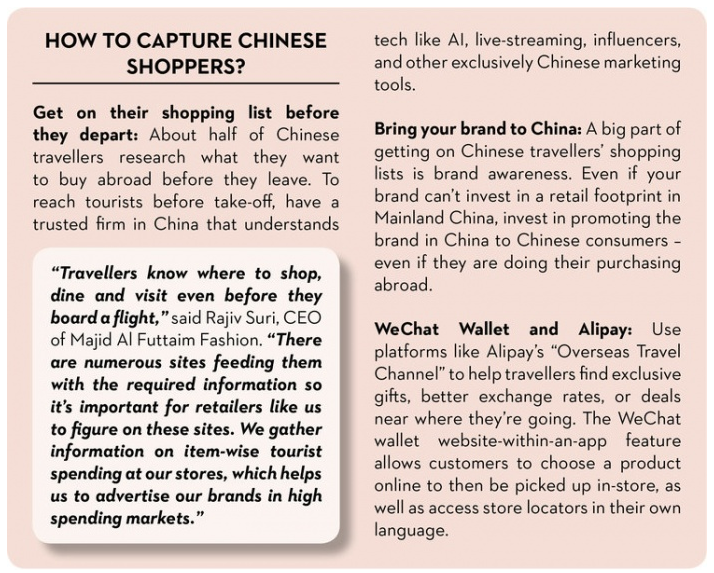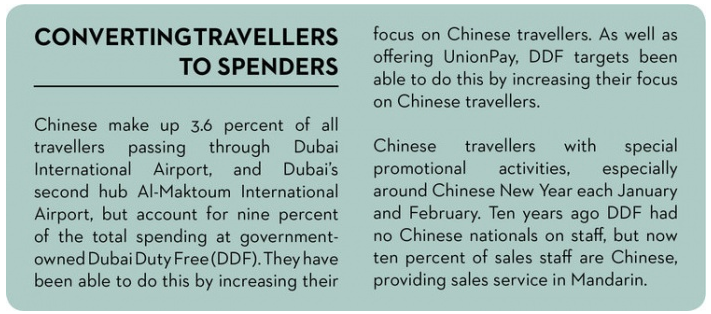 3. CULTURE
While shopping remains important, there is a shift away from the material to the experiential. According to a report by Airbnb Inc., Chinese tourists are searching for lesser known cities and villages when traveling to countries and regions related to the Belt and Road Initiative.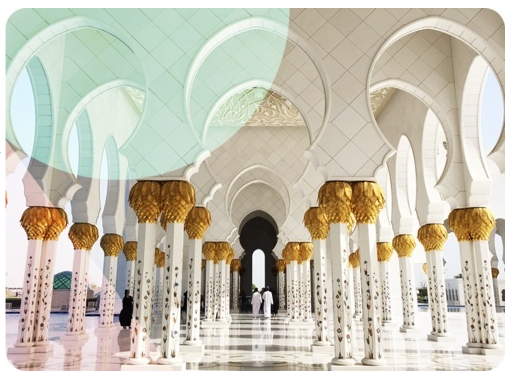 In conjunction with this rise of interest in cultural tourism from Chinese travelers- eager to one-up their friends with photos from far flung destinations posted to their WeChat Moments newsfeed- MENA countries such as Saudi Arabia have made culture a central pillar of their tourism strategy.
The country plans to increase the number of public and private museums from 155 to 241, increase the number of UNESCO listed world heritage sites from four to 10 and up the number of archaeological sites suitable to visit from 75 to 155 – all by 2030.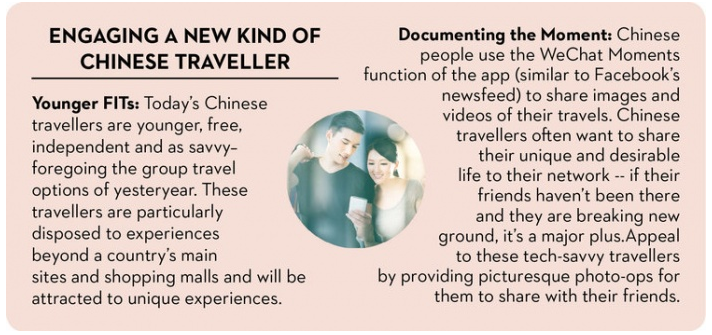 CONCLUSION
It's clear that the appeal of the MENA region among affluent Chinese will increase in coming years as travel habits mature and become more sophisticated. The combination of high quality accommodation options, retail and cultural elements all combine to make the region more and more attractive to Chinese travellers, and businesses have already found success by focusing on the needs of this particular group.
The business opportunity for brands in the region is exponential for those that understand the needs and aspirations of today's modern Chinese traveller, which include: