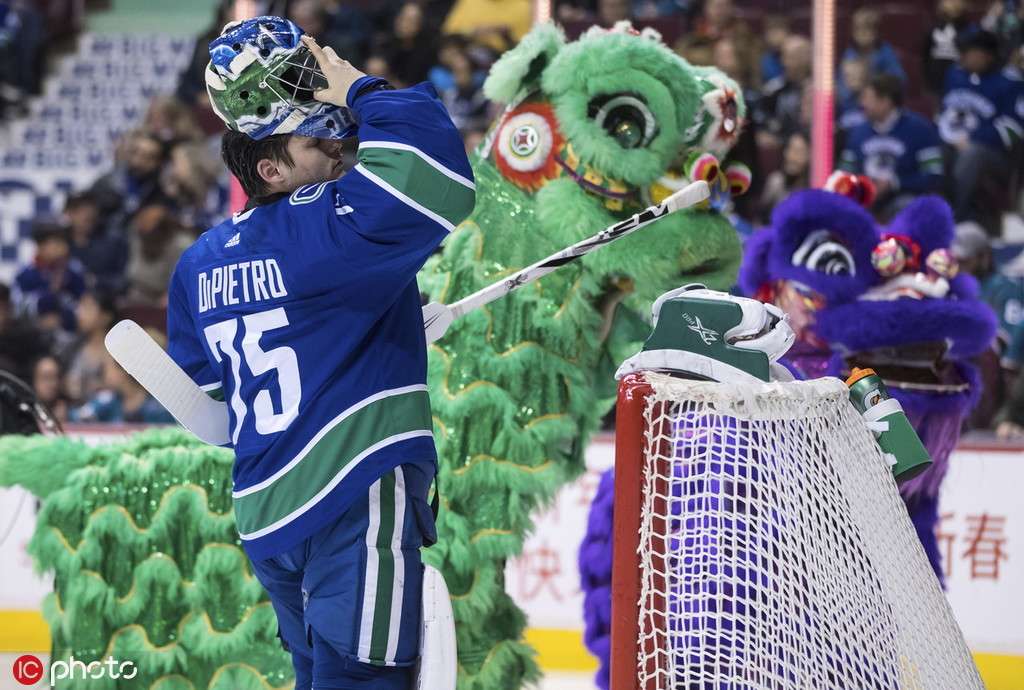 Chinese lion dancers leave the ice before an NHL hockey game in Vancouver, on Feb 11, 2019. [Photo/IC]
It's been suggested that Vancouver travel agencies are hurting from the growing diplomatic rift between the two countries, which has led to a significant drop off in interest from Chinese tourists in Canada, putting a billion-dollar industry at risk.
Tourism Vancouver, however, is remaining optimistic about the Chinese market by promoting their strengths and forging ahead with their strategies.
"China is our second-largest market internationally and has grown substantially over the last few years," Stephen Pearce, Tourism Vancouver's vice-president of marketing, told China Daily. "We still are a major gateway for China to North America, and we are also an important destination for more and more Chinese."
"People see governments having disagreements all the time, but I don't think that stops people from traveling," Pearce continued, "particularly for our customers from China, who are more sophisticated and more experienced as travelers, and we continue to expect to see growth this year."
According to Pearce, the tensions between the two countries resulted in them postponing some marketing activities in the first quarter, but now, along with their partners the British Colombia and Destination Canada, they are starting to reinvest and move the activities forward.
"We know that Europe, Australia and Southeast Asia are active in China in very aggressive ways, and we haven't been very active in the first quarter," said Pearce. "So we need to start increasing our presence in China, so that not only our travel agents are more engaged, but also consumers start to see more Canadian messages, which will translate into more interest to come and visit."
Last year, Tourism Vancouver signed a pioneering technology deal with Chinese internet giant Tencent to attract more tourists from China, the world's fastest-growing travel market.
The first-of-its-kind deal has seen Tencent Travel and its partner, Trip Advisor China, promote Vancouver as an international model for smart city tourism. Along with Tencent, Tourism Vancouver also launched Canada's first official WeChat city app in Chinese to provide real-time services to Chinese tourists.
"We continually work with our trade partners in China, particularly like Tencent Travel, because the mini program on social media is important for us," Pearce explained.
With the upcoming Beijing 2022 Winter Olympics, more Chinese people will pay attention to winter sports, which Pearce said gives them an opportunity to focus on the winter activities and products they can offer Chinese travelers in Vancouver, which hosted the 2010 Winter Olympics successfully, leaving behind a legacy of sporting facilities, housing and infrastructure.
"We welcome Chinese travelers to learn and experience winter sports like skating and skiing here, and we try to find a way to connect with more customers in China and increase our appeal," Pearce added.
China is now Canada's second-largest international travel market, after the United States, and Vancouver is expecting to have welcomed 333,191 overnight visitors from China in 2018.