Though each country in Latin America has its characteristics, yet when it comes to
Mexico
, it grabs the top spot, in terms of its history, culture, and society. The country was the home of many ancient civilizations including the Maya and Aztec cultures. Besides, the Day of the Dead, cumbia dancing, Mexican food, and tequila are famed worldwide.
All of these attract a surging number of visitors from around the world, including China, to Mexico. China is the largest source of tourists for Mexico in Asia, and three direct flights operate between the two countries. According to the Ministry of Tourism of Mexico, more than 168,000 Chinese tourists visited Mexico in 2018. This year, the number of Chinese tourists is expected to rise to 200,000.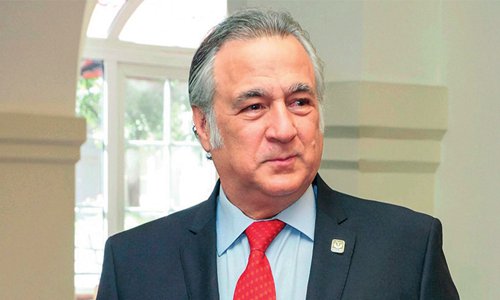 Mexican Minister of Tourism Miguel Torruco Marqués
During his recent visit to China, Mexican Minister of Tourism Miguel Torruco Marqués answered a range of questions that tourists might want to know when traveling to Mexico.

Mexico is one of the top choices for Chinese tourists traveling to Latin America. What are the changes that the Mexican government is adopting to cater to the increasing demand of Chinese tourists?

Mexico is already an attractive destination for Chinese travelers; however, we want to secure our top position among Chinese travelers to Latin America, and therefore, this visit has the purpose of continuing working with our Chinese partners, and to forge new partnerships to increase our market share among international Chinese travelers.

Last year, almost 168,000 Chinese citizens traveled to Mexico, this is 18.3 percent more than in 2017. We are positive about this two-digital growth as it shows the growing potential of the Chinese market in Mexico. Even more, in the last six years, Chinese tourists to Mexico increased from 47,810 in 2012 to 167,663 in 2018, a 250 percent increase with an annual growth average of 23.3 percent.

We are also aware that Chinese travelers have a specific taste, and therefore, we are working to create new touristic products that are attractive to this market and that meet their demands and expectations. More and more younger Mexicans are studying the Chinese language in Mexico aiming to be a part of this tourism industry and serve the growing market.

Apart from the traditional tourist attractions, what are the new places that the Mexican government plans to exploit in order to draw the world tourists?

In this visit of mine to China, I am accompanied by a delegation of top leaders of the tourism industry from 11 Mexican states, in order to introduce new destinations to Chinese tour operators, and outbound travel companies.

Our most famous destination is Cancun, which is the second most visited city among Chinese tourists, only behind Mexico City. Other top destinations for Chinese travelers are Tijuana, a border city with the US, and Guadalajara. This data also reflects that most Chinese travelers prefer to visit cities, not beaches, so we are developing a program called "Anchor Attractions" and we are sure that this program will be very interesting for international tourists, including Chinese travelers. You will soon have news about this program.

Meanwhile, people in the Mexican tourism business are continuing to work on developing premium products, including a luxury hotel for travelers who look for places where they can have new experiences.

During your visit to China in September, your meeting with the Minister of Culture and Tourism of China Luo Shugang was an important part of this trip. What are the cooperative elements that were discussed?

Mexico and China have been working together towards people-to-people exchanges, and touristic flows are one of the best ways to know each other better. With Luo Shugang, we both agreed on the importance of our political dialogue in order to continue supporting the growth of our touristic exchanges.

Currently, Aeroméxico, Hainan Airlines, and China Southern Airlines operate flights between Mexico City and Shanghai, Beijing, and Guangzhou, and each of them flies two or three times per week. This flight connectivity has made China the top country of origin among travelers from Asia to Mexico. In the past, Japan, Korea, India and Israel had more travelers to Mexico than China. Nowadays, a fourth of all travelers from Asia to Mexico are from China. But there is still immense potential for tourism exchanges between both countries, and that is the reason why we want to increase the frequency of flights.

We also want more Mexican citizens to visit China, and to continue increasing the trade exchanges between both countries. China is also among the 17 most visited countries among Mexican citizens. In 2017, there were 82,134 Mexican visitors to China, a 12 percent increase compared to 2016. These numbers are indicative of great potential for exchanges between our two countries.

In recent years, the public security situation in Mexico has been a concern for world travelers. Some tourists have become easy targets for criminal activities. What are the measures that the Mexican government is taking to guarantee the safety and security of foreign tourists?

Since December 1, 2018, the Government of Mexico has implemented new policies aimed at reducing poverty levels and thus preventing vulnerable groups from engaging in criminal activities as a means of making a living. We are also convinced that we can improve the safety in our country by providing more education opportunities and jobs to youngsters from lower-income groups, and by improving their living standards. We believe that this effort is also an effective tool for touristic promotion.

The new government is also supporting efforts to eradicate corruption and improving the judicial system, promoting peace, protecting human rights, and taking a new approach to drug trafficking. Even more, on June 30, the government deployed the National Guard, comprising 52,000 members across 150 regions of the country to protect the safety of all citizens.

Nonetheless, I also want to stress that insecurity is also an issue of misperception and incomplete information. Mexico is a huge country, in which criminal activities are limited to specific locations, and most of them are not in touristic areas. However, when a criminal event in Mexico is reported abroad, people think that this is happening all across the country. But this is not the case, these events only occur in very specific areas. Overall, I can state that Mexico is a safe destination for tourists from all around the world.

According to media reports, there were cases when tourists were fined for drinking alcohol on the streets of Mexico City. What are the local policies that tourists should pay special attention to, in order to adhere to the rules and regulations while traveling in the country?

The main feature of Mexican people is their warmth, kindness, politeness and great service to visitors, but that does not mean that it is allowed to break our rules. As you said, Mexico does not allow public drinking, and for safety reasons, most cities in the country have harsh policies against drunk driving. Travelers also need to be aware of the products banned in Mexico, including flowers, fresh fruits, and vegetables, seeds, grains, fresh meat, unpacked foods, live animals, except for cats and dogs, or dead animal products containing feathers, leather or bones.

If tourists go fishing at sea, they must obtain a fishing license for each person on board. And to stay out of trouble, tourists should not take out of the country relics, archeological pieces, and cultural goods of historical value. But the most important thing is that if they comply with our national regulations, tourists visiting our country can be sure that their trip to Mexico will be one of their best life experiences, something to remember forever, that will make them want to come back again.

If I am on a three-day holiday to Mexico, what would be the itinerary that you would recommend me to get a typical travel experience in Mexico?

Due to its ancient culture, excellent cuisine, bio-diversity, and modern life, Mexico can offer something different to each traveler depending on his or her interests. If you are interested in ancient history, you can visit archeological sites, some of the most famous are the Mayan ruins of Chichen Itzá, one of the seven wonders of the modern world, and Teotihuacán, close to Mexico City, you can visit other nine UNESCO Heritage sites that reveal the past and the greatness of Mexican ancient civilizations. If you are a nature lover, Mexico offers some of the best places in the world for spotting wildlife and natural landscape, such as the whale sanctuary at El Vizcaíno, our amazing coastline, including the Caribbean Sea, the monarch butterfly biosphere, the desert of El Pinacate, the jungle of Sian'Kaan, close to Cancun, in the Yucatán Peninsula. Some nature reserves also include remains of ancient civilizations such as Calakmul and Palenque. If you love food, Mexico offers diverse and unique cuisines that it is also recognized as UNESCO Intangible Heritage of Humanity.

City lovers will fall in love with historical settings and modern buildings of Mexico City, and the well-preserved architecture of colonial cities such as Puebla, Morelia, Oaxaca, Guanajuato, San Miguel de Allende, Campeche, and other authentic architectural jewels such as Mérida.

Even more, there are 121 Magical Towns all across Mexico that is a manifestation of the beauty, history, culture, and nature around the country. Three days is a very limited time to enjoy Mexico. It's up to each traveler but all of them can have a great time. Therefore, I invite everyone to visit one of the best countries in the world: Mexico.