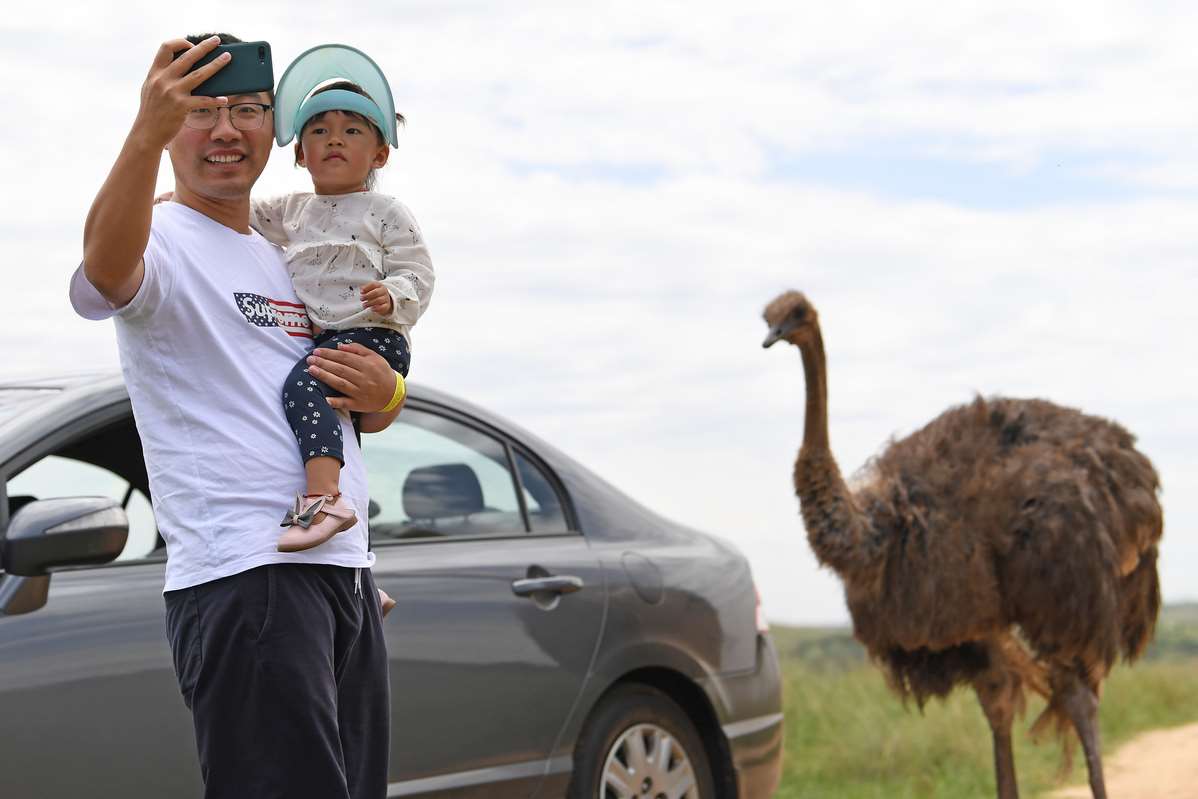 A Chinese tourist, holding a child in his arm, takes a selfie with an ostrich at a safari in South Africa. [Phtoto/Xinhua]
The government of
South Africa
is strengthening collaboration with key stakeholders to buoy tourist arrivals from China, India and Nigeria in this financial year.
While presenting her department's budget vote speech in parliament, Minister of Tourism, Mmamoloko Kubayi-Ngubane, said the government has launched innovative strategies to address challenges that have constrained arrivals, especially from China, which has been identified as a key market.
According to government data, the country welcomed 93,000 Chinese tourists last year. This is under one percent of China's total outbound visits in 2018, which stood at nearly 150 million, up 14.7 percent year-on-year, according to the China Tourism Academy and Ctrip.
"With our renewed focus in this market, we project that our efforts will generate an increase in the share of international arrivals to South Africa from China to over 9 percent of our total international tourist composition," said Kubayi-Ngubane.
She said South Africa will be positioned as a China friendly tourism destination through aggressive campaigns in popular social platforms and a comprehensive China readiness program developed in close partnership with the private sector. Technological platforms, such as WeChat and Alipay, will be also used to access the Chinese market.
Furthermore, the South African government plans to launch the new e-visa system this financial year.
Kubayi-Ngubane added that they are working on developing the National Tourism Safety strategy with the police, provinces, local government and the tourism sector to eliminate safety concerns.
In addition, she pointed out that they have engaged mobile network operators to make broadband access ubiquitous and increase access of SIM cards to tourists who do not wish to roam whilst in the country.
A South African independent consultant, Gillian Saunders, concurred that there is a great potential of increasing tourist arrivals from China. She said South Africa, which only received 0.068 percent of the Chinese market share can outdo Australia, which saw 1.4 million, about 1 percent, of Chinese tourists travel there.
Saunders noted that South Africa was under-performing in this important market and should instead prioritize it. "I think we have attractive offerings especially for older generations of Chinese travelers who are maturing as tourists and seeking new destinations with cultural, gastronomy, new experiences, looking at self-drive, doing independent and not group travel."
She opined that the Chinese millennial travelers are looking for similar adventurous destinations offering new experiences as they start to travel. South Africa offers various packages ranging from beach and coastal, Safari, vibrant cities, cultural and heritage experiences, scenic beauty, wine tasting among others.
Saunders, who is a former social advisor to the tourism ministry, observed that the country should ease visa application process. She explained that the slow processing via only nine visa Ffacilitation centers and two consulates located in China are not enough. The expert welcomed the e-visa system, which she said should be rolled out immediately, and advised that there should have an interface in Mandarin to simplify it.
Saunders said, "We also need to scale up our marketing and become smart and very targeted with our messaging. It is only worth doing this once we have e-visa system working effectively and efficiently for the Chinese market. We will then need more air connectivity – preferably direct to South Africa."
She revealed that the country has launched a new Tourism Monitoring program that is still in the piloting phase and located in key sites. This would boost security and bolster tourists' confidence. Signage in Mandarin language at these sites together with airports and popular sites would help.