SCTDA hosts a trip for Chinese tour operators from 22 to 26, October.
Aiming at promoting tourism in the emirate of Sharjah and positioning it as one of the leading family destinations for Chinese,
Sharjah Commerce and Tourism Department Authority
(SCTDA) hosts a familiarization (fam) trip for Chinese tour operators in October.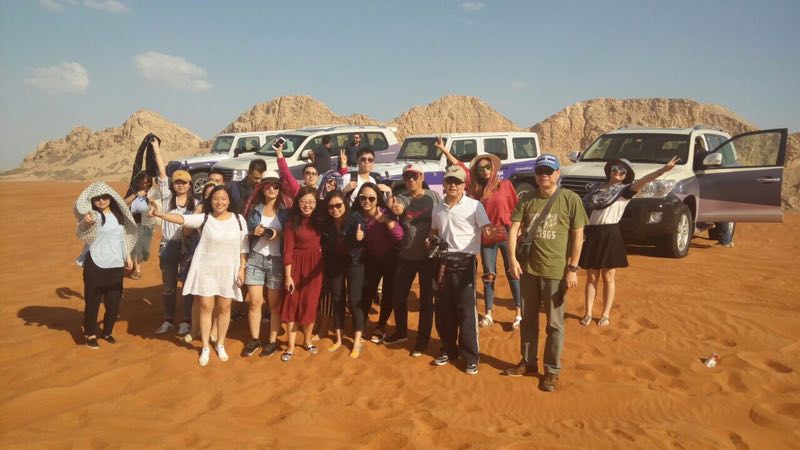 The delegation had a great time in Mleiha
The five-day fam trip, which ends on October 26, has given over 20 tour operators from different areas in China - Beijing, Shanghai, Guangdong, Xinjiang, and other areas – first hand insights into the unique and amazing experiences, attractions and activities offered by Sharjah.
The delegation visited a number of key attractions across Sharjah, including Al Noor Mosque, Museum of Islamic Civilization, Heart of Sharjah, Mleiha Archaeological Center, Al Noor Island, Sharjah Aquarium, Al Qasba, and Al Jubail Market. The fam trip also offers an opportunity for Chinese tour operators to learn more about the hospitality industry in Sharjah.
Amber Gao, Marketing Manager of SCTDA in Asia, noted: "Sharjah is an ideal family destination for Chinese visitors, and it is truly year-round travel consideration. As a part of our vision to achieve 200,000 Chinese guests in Sharjah by 2020, we will continue to work closely with our partners in China and encourage more Chinese visitors to come."
The SCTDA's participation in travel and tourism exhibitions and conferences in China has remarkably increased over the last years. It was even nominated to the 'Chinese Tourist Welcome Award 2017' as a recognition of its many contributions to the Chinese tourism market through its wide array of events, promotional activities, workshops, and tours.