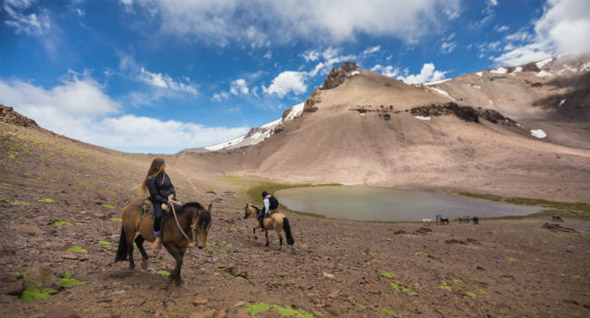 In summertime, the Valle Nevado Ski Center offers excursions that allow tourists and visitors to take in the views from the Cordillera de los Andes.
Mountain activities are an excellent choice for a day's outing from Santiago, the capital city of
Chile
.
One of the most attractive routes is the one up El Plomo Peak, along the amazing Inca trails, culminating in the beautiful view of Laguna Piuquenes.
The ride takes four and a half hours, guided by experts and along the way you can admire the flight of the Andean condor, appreciate the dimensions of the second largest mountain range in the world, and appreciate the various colors shown in the surrounding hills.
For those who would rather enjoy a shorter excursion, Valle Nevado offers a different horseback riding possibility, a 3 hours route that ends at the Matador Peak, with the return trip by ski-lift.
The first ski gondola in Chile has been in operation since the summer of 2013, allowing tourists to ride the gondola, along one kilometer to a half-way point up the ski runs, and take a walk in the surrounding area. In addition to all this, the Matador ski-lift reaches the top of the ski center, more than 3,200 m. above sea level: an excellent look-out to photograph the Santiago Valley.