Argentina & Chile Joint Tourism Roadshow was successfully held in Beijing, Shanghai and Hong Kong.
Argentina & Chile Joint Tourism Roadshow, hosted by
Argentina Inprotur
and
Chile Tourism Board
to further develop Chinese tourism market, achieved a complete success in Beijing on Oct 20, in Shanghai on Oct 22 and in Hong Kong on October 24, attracted over 100 travel professionals and renowned media respectively in three cities to meet over 10 leading local incoming tour service providers and airlines from Argentina and Chile.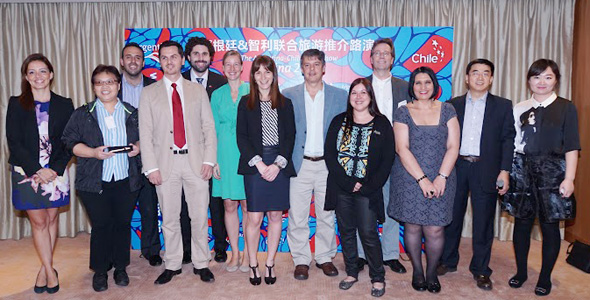 Group photo of all the representatives attending the roashow

Argentina and Chile are optimistic on the Chinese market
Statistics show that about 25,000 Chinese tourists visited Argentina in 2013, 5 times as many as a decade ago. Mr. Pablo Cagnoni, the representative of Chinese market from Argentina Inprotur, mentioned "Recent years, Argentina sees an increasing number of Chinese visitors. This benefits from the rising status of China as the largest tourist source country in the world, as well as the constant promotion in China by the Argentina Inprotur."
| | |
| --- | --- |
| | |
| Mr. Pablo Cagnoni, the representative of Chinese market from Argentina Inprotur, introduced tourism resources and products. | Mr. Pablo Javier Retamal, Asia Pacific Markets Manager of Chile Tourism Board, delivered an exciting presentation for Chile tourism. |
Mr. Pablo Javier Retamal, Asia Pacific Markets Manager of Chile Tourism Board, quoted the statistics to describe the general situation of Chinese market "from 2008 to 2012, the number of Chinese visitors to Chile increased by 20%. The growth was slower than last year. Till August 2014, 750 Chinese tourists visited Chile monthly on average. At the same period, the consumption of Chinese tourists grew significantly in Chile, increasing by 261% from 2008 to 2013, with payment by credit cards up to 446 US dollars per capita on tourism products."
| | |
| --- | --- |
| | |
| A travel trade professional from Hong Kong won the famous wine of Argentina | Dr Adam Wu, COO of China Business Network, is presenting gift of Chinese painting to the representative of Chile Tourism Board |

It is the fourth year for the Argentina Inprotur and the Chile Tourism Board to promote their tourism sources in China. Both countries are full of confidence in the huge potential of the Chinese tourism market. The number of Chinese tour operators attending the roadshow also increase year by year, and the questions raised by them become more detailed and specific, which indicates South America tourism wins more popularity among Chinese travel professionals and visitors.
Simplification of visa procedure, Convenient and Fast Airlines
Complicated visa procedures, long waiting time and lack of direct flights are major problems for Chinese tourists to visit South American countries. In order to further develop the Chinese market, countries in South America are endeavoring to simplify the visa procedure and launch the direct flights, etc. It is reported that some South American countries are discussing the possibility to issue joint visa (similar with Schengen Visa), in order to attract more Chinese nationals wishing to visit South America.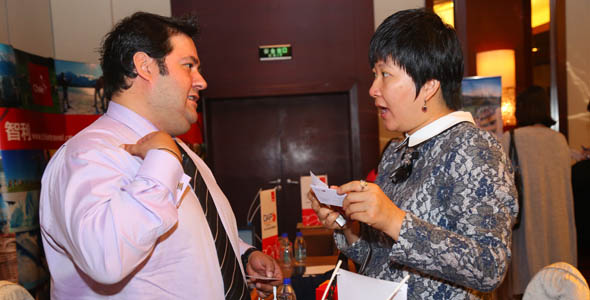 Mr.Carlos Ribeiro, the General Manager in China & Korea of LAN & TAM,
introduced their services and the most convenient flights to Chinese professional.
LAN&TAM
is one of the largest airlines in South America, with several offices in China, including Beijing, Shanghai, Guangzhou and Hong Kong. It regularly offers free South America specialists training for Chinese tour operators and travel trade professionals to market and develop the destinations in South America, and dedicates to provide best services to passengers.
| | |
| --- | --- |
| | |
| Chinese tour operators are very interested in the products of Argentina | A Chile incoming services provide face-to-face talked with Chinese travel professional |
The representatives both from Argentina Inprotur and Chile Tourism Board expressed that they must focus on develop Chinese tourism market because of its huge potential. China's position as one the world's biggest outbound tourism markets was consolidated last year. Over 98 million mainland tourists went overseas, and it will be up to 140million in 2015. After the roashow, Argentina and Chile plan to held more promotion events to attract more and more Chinese mainland and Hong Kong tourists.
Related News in Chinese:

阿根廷&智利联合旅游推介路演首战告捷 南美两国加大推广力度 深耕中国市场
阿根廷和智利来沪推广 得到上海同业积极响应
阿根廷和智利瞄准香港市场 开发多样产品 吸引香港游客