China is most likely to turn into the world No. 1 international tourism source market within the year 2012. Destinations all over the world are increasing their efforts to welcome Chinese visitors. Prof. Dr. Wolfgang Georg Arlt, director of COTRI China Outbound Tourism Research Institute, has recently given keynote speeches at China outbound tourism workshops in Wuppertal/
Germany
and Colombo/Sri Lanka and will give further advice during the
COTTM
fair in Beijing next week.
Wuppertal is a German city with three unique attractions: The birthplace of Friedrich Engels (partner and sponsor of Karl Marx), Pina Bausch Dance Theatre (the cradle of modern dance, recently highlighted by an Oscar-nominated documentary by the German filmmaker Wim Wenders), and the suspension railway, which is the only "floating tram" of its kind in the world. The possibilities to attract different niche markets in China with these offers were discussed during a workshop organized by Wuppertal Marketing in the historic rooms of the Engels Museum on March 28th. "Niche markets may be small, but in China even small niches can translate into thousands of highly-motivated and easy-to-contact visitors", Prof. Arlt concluded during the meeting.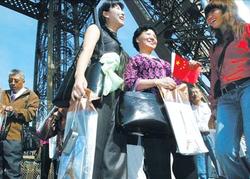 Only two days later, on April 30th, the UNWTO World Tourism Organisation and the Sri Lanka Tourism Promotion Bureau welcomed a hall full of tourism experts to a UNWTO Seminar on Chinese outbound tourism. In 2011, Sri Lanka received 16,000 Chinese visitors, a doubling of the number of 2009, but still a small figure compared to other destinations in the region. Given the proximity to China, the long-standing and intensive relations between the two countries and the many cultural and natural attractions of Ceylon, an increased focus on this source market will certainly bring more Chinese travellers to the island. Mr. Xu Jing, Regional Director UNWTO Asia-Pacific, and Prof. Arlt, Director COTRI, both agreed that offering quality, prestige and diversity will bring better results for the Sri Lankan tourism industry than competing on price only with other beach destinations like the
Maldives
islands.
Exhibitors and visitors of the COTTM China Outbound Travel and Tourism Market, which will take place in Beijing on April 18-20, will be able to profit further from workshops and panel discussions that COTRI is staging on behalf of the fair organizers Tarsus Co. During the fair, COTRI experts will be available also on the COTRI stand 2116 to give support to destinations and companies from all over the world, which are eager to cash in on the Chinese tourism wave.