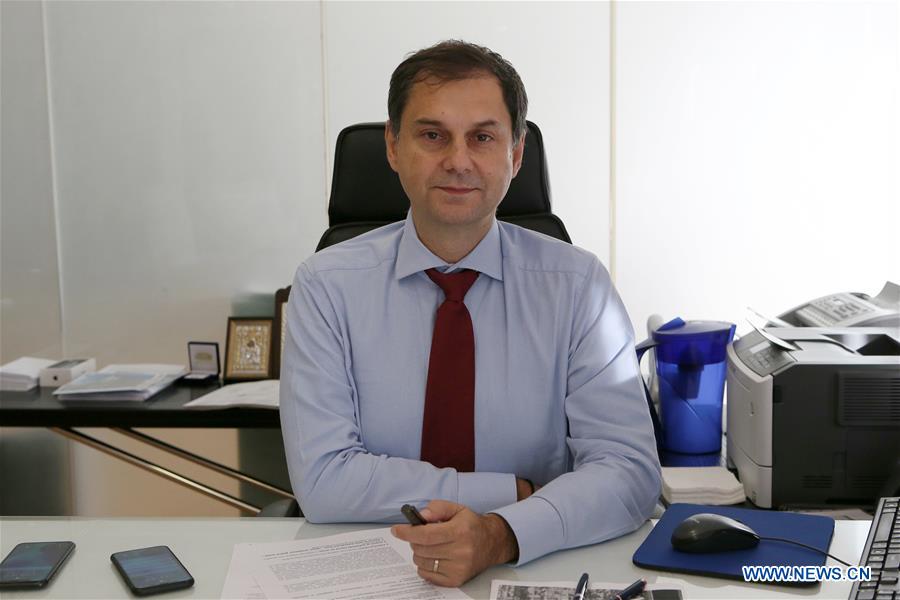 Greek Tourism Minister Harry Theoharis poses at his office for an interview in Athens, Greece, Nov. 28, 2019.
Chinese visitors hold a key role in the effort to keep Greece's tourism growing in the future, Greek Tourism minister Harry Theoharis told Xinhua in a recent interview in Athens.

China is a strategic partner for Greece in many areas, but tourism is what Athens considers a dynamic market, the Greek official said, explaining that it is important for Greece to attract more Chinese visitors.

"The immediate goal that we have set in the next two years is to increase the number of Chinese tourists to more than 500,000, which is an ambitious, but realistic target," Theoharis said.

Approximately 150,000 to 200,000 Chinese tourists visited Greece last year, marking a growth of over 20 percent from the year before, according to the Beijing Office of the Greek National Tourism Organization (GNTO).

The tourism industry accounts for 20.6 percent of the Greek GDP and a quarter of employment in 2018, according to the World Travel and Tourism Council.

"Greece has been blessed with a lot of advantages as far as tourism is concerned, cultural advantages environmental advantages, and also people that are naturally inclined to welcome foreigners and visitors," Theoharis noted.

To continue being successful and maintain its position in the global tourism industry Greece is looking at the trends, focusing on the younger generations that are becoming the affluent tourists today, he explained. Therefore, Greece invests in sustainability, authenticity and high-quality service.

In the planning for the future, Chinese visitors have a special place, and Greece aims to make its tourism infrastructure, from airports to hotels, Chinese friendly, Theoharis told Xinhua.

"We are currently in discussions with both the two big airports operators, the operator of Athens International Airport and the Fraport which operates 14 regional airports that accept a lot of tourists in the summer, in order to ensure that we initiate and help those initiatives that are already currently in place to make our airports Chinese friendly. This is very important for us," he said.

The Greek official also invited Chinese investors to explore investment opportunities in the Greek tourism sector, including the construction of new hotels, the upgrading of existing ones, projects in water management, energy initiatives and waste management.

"We have many needs in many places as I said that leads to a lot of investment opportunities for companies that have expertise in China in those kinds of projects," Theoharis said.