Interview: Director of GNTO China says Greece will continue to offer safe unique travel experiences to Chinese friends and tourists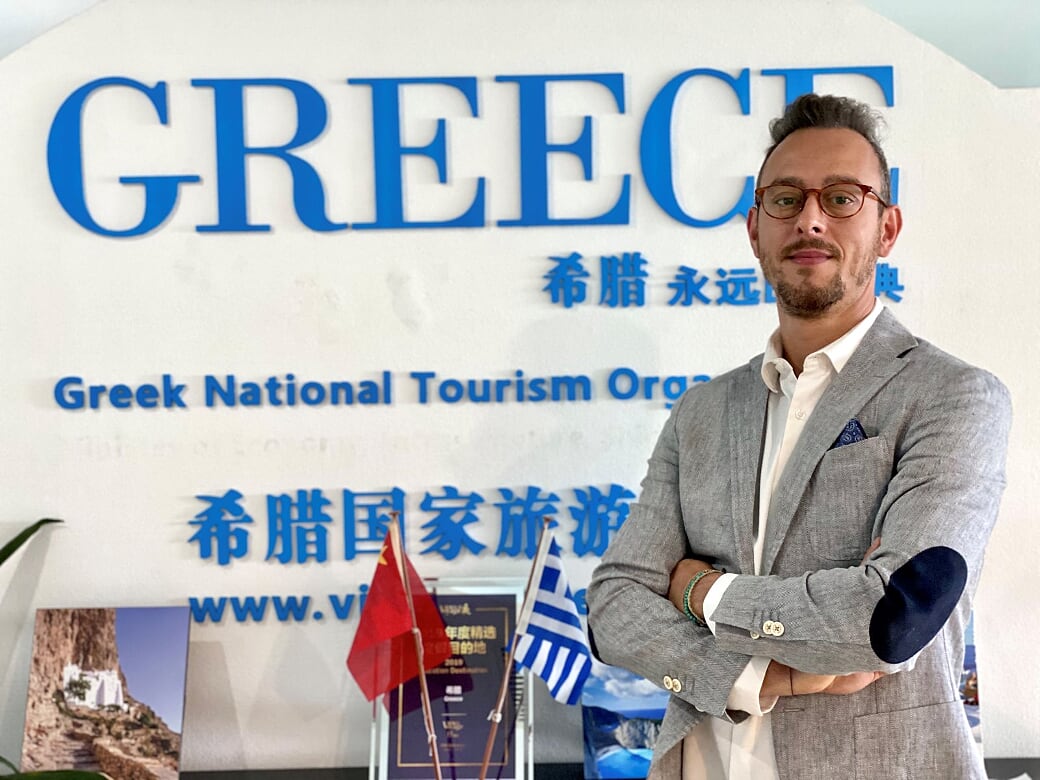 Mr Yannis Plexousakis, Director GNTO China
In preparation for 2021 Year of Culture and Tourism between China and Greece, the World Travel Online (WTO) had pleasure to interview the Director of Greek National Tourism Office (GNTO) in Beijing, Mr Yannis Plexousakis who provided the outbound travel trade and millions of Chinese travelers with his expecations and ideas for the fast approaching Year 2021.
WTO: First, sincere congratulation to Greek Ministry of Tourism/GNTO for winning the "World's Leading Tourist Board" at the World Travel Awards (WTA) 2020, the award reflects the vote of confidence for Greek tourism during the unprecedented Year 2020. Could you share some achievements of tourism recovery in Greece during 2020 with us please?
Mr. Plexousakis
: With great joy and pride, we received the highest distinction of the WTA awards, an award that our country wins for the first time. Greece was fully entitled to the title of Top Tourism Agency in the World. The international community recognizes our hard and methodical effort, the care for health and safety that we managed to offer to millions of tourists who were hosted this summer in Greece, the excellent work done by the private sector and employees and all those involved in the tourism process. The WTA award is a great distinction, which reflects the successful opening of Greece to tourism during the pandemic.
It shows that our country, with prudence, seriousness and a spirit of solidarity, dealt in the most effective way with the adventure of COVID-19, a phenomenon that is considered to be the biggest challenge for world tourism, at least during the last 20 years.
One example of Greece's achievement was the success of the checks of incoming travelers with the innovative system "EVA", the most innovative test distribution system, which improved the effectiveness of checks up to 4 times. With health as a top priority, even under the special circumstances imposed by COVID-19, Greece has taken steps towards one of our strategic goals, which is to extend the tourist season.
WTO
: We were pleased to release the news on November 18th, that a Memorandum of Understanding (MOU) about 2021 being designated as Year of Culture and Tourism between China and Greece, was signed by the Ambassador of Greece, H.E. Mr. Georgios Iliopoulos, and the Minister of Culture and Tourism of China, Mr. Hu Heping. What do you think will be the significance of the MOU on promoting Greece in China and how do you plan to combine tourism promotion focusing with Greek culture?
Mr. Plexousakis
: The "Year of Culture and Tourism of Greece-China 2021" will be an important milestone in the deepening of exchanges and cooperation between the two ancient civilizations and an important hub for deepening the understanding and strengthening of cooperation between Greece and China.
It is a great opportunity for us to promote Greece in China with activities and an action plan that will include cooperation and promotional activities for organizing archeological exhibitions and exhibitions of contemporary art, cooperation in the framework of the UNESCO Convention for the Protection of the World Cultural and Natural Heritage and in particular for the planning and implementation of activities related to the sustainability of cultural heritage, hosting Chinese film and television productions in Greece and organizing fam/press trips with emphasis on cultural heritage and thematic tourism.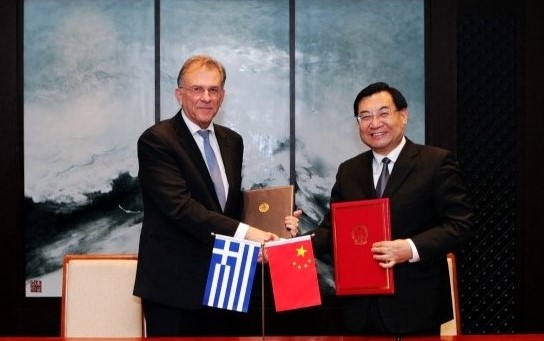 Source: www.mfa.gr/china/en/
WTO
: You may well have noted that China witnessed very strong rebound of domestic tourism since May Day holiday, further enhanced during the National Day Golden Week two months ago with more than 637 million trips made during the first week of October. A survey revealed more than 45% of Chinese were still keen on travelling overseas. Can you share with us what GNTO plans to roll out in China to attract more Chinese back to Greece and when do you think Greece will be re-open fully for foreign visitors? Will quarantine be exempt for visitors from China where local Covid infection dropped to single digit?
Mr. Plexousakis
: Adjusting to the current situation, GNTO is keep promoting Greece through various digital campaigns, participation in virtual tourism exhibitions and organizing B2B webinars. When travel restrictions will be lifted GNTO will also resume other promotional activities too including Fam/Press trips, Roadshows, hosting Film and TV productions in Greece and coadvertising programs with Tour Operators and OTAs.
I am confident that when the various vaccination programs start in EU and China, quarantine and travel restrictions will be lifted for both Chinese visitors to EU and EU visitors to China.
WTO
: The recent research reveals the new trends of Chinese travelling in smaller group like families or FITs and going to destinations with less visitors to avoid large crow and also to enjoy in-depth experience of local culture and hospitality etc. How destination Greece plan to cater for such changing trend specially to attract more FITs, families and younger Chinese who are more likely to be influenced by social media and KOLs as well as KOC i.e. Key Opinion Customers?
Mr. Plexousakis
: I believe that Chinese tourists' behavior and trends had started to change even before the covid pandemic. There is an increasing demand for more authentic experiences, personalized tailor-made tourism products, a demand for greener sustainable tourism experiences, an increase in FIT tourism and decrease in large groups of tourism. The geography of Greece with hundreds of islands and its family-friendly destinations and infrastructure makes it an ideal destination to cater those changing trends. We plan to enrich our promotional activities targeting those specific groups by a combination of digital and social media campaigns, coadvertising programs with OTAs promoting FIT, Family and Luxury products and targeted activities with popular Chinese KOLs and influencers.

Source: www.lonelyplanet.com
WTO
: With more countries rolling out vaccination which brings more confidence in recovery of global economy and international travel. In light of that Ms. Angela Gerekou, the President of GNTO remarked recently "it is our responsibility to achieve tourism recovery as fast as possible and in a sustainable way". Could you indicate the expectation of GNTO in tourism recovery during 2021 and how do you intend to achieve such objective please?
Mr. Plexousakis
: We consider 2021 the year of the beginning of the tourist recovery. That is why the cooperation with the airlines will be expanded, in order to be supported dynamically, as well as the tour operators. Also, in addition to enhancing maritime tourism, we work purposefully to highlight thematic and other alternative forms.
Greek gastronomy, diving tourism, health and wellness tourism, mountain and climbing tourism, etc. are distinguished for their very important development prospects in Greece.
Remaining faithful to the strategic planning for a substantial improvement of the tourist services, we have given absolute priority to the execution of projects such as the quality upgrade of tourist accommodation with standards of sustainability, protection of the natural environment and accessibility, modernization of hundreds of tourist ports. etc.
As the Greek Minister of Tourism and the President of GNTO have recently stated, our strategic model shifts towards more green - more authentic - more secure experiences.
Several Greeks islands are already considered worldwide pioneers innovating in sustainability and energy autonomy. The island of Tilos, in the Dodecanese archipelago of Greece is the first 100% green island of the Mediterranean winning several awards for its innovative concept at the prestigious European Union Sustainable Energy Week. Another example is the recent project of the popular island of
Astypalaia and its cooperation with a well-known car industry, aiming at the energy autonomy of the island as a model of the sustainable tourism model that our country wants to develop.
WTO

:
Many thanks Mr. Plesousakis for your kind interview. As summing up what is your message
and that of GNTO to the outbound travel trade in China and to millions of potential Chinese travelers?
Mr. Plexousakis
: Greece and China hold strong and deep ties and they continue with unfaltering commitment to enhance cooperation in various fields including tourism and culture.
China remains important for the recovery of tourism in Greece and we would like to ensure our Chinese friends and travelers that Greece will continue to offer unique safe travel experiences.
We hope to see you back in Greece soon!