According to the China Travel Service,the number of Chinese visitors to overseas has doubled over the holiday period.
Increasing numbers of newly affluent Chinese people are choosing to enjoy their lunar new year holidays overseas. About 300,000 packed their bags this week despite prices being 20% higher than usual, reports the Malaysian Chinese-language newspaper Sin Chew Daily.

Shanghai Airport Authority told the newspaper that the number of passengers departing for foreign shores increased significantly this year. Shanghai's two international airports handled more than 20,000 passengers on Monday morning alone. Popular destinations included South Korea, Japan, New Zealand and Hawaii.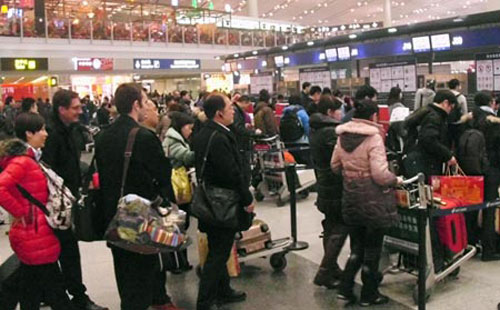 Passengers line up at Beijing airport
Guangzhou airport has also been crowded since Monday. GZL International Travel Service, a Guangzhou-based travel agency, said more than 200 tour groups are heading to countries in Southeast Asia over Chinese New Year, of which 60% will stay in five-star hotels and more than 30% of them paid more than 10,000 yuan (US$1,580) per person.
Nouvelles d'Europe, a state-run Chinese-language newspaper in Europe, said the number of Chinese visitors to Europe has doubled over the holiday period. According to the China Travel Service, many of the tourists love to buy luxury brands. Some media outlets in the
United Kingdom
have even dubbed the Chinese visitors a savior due to their penchant for flashing the cash.
A tour group of 1,000 people spent Chinese New Year's Eve at Disney World in Florida. The resort gathered Chinese-speaking staff to accommodate the group and arranged a fireworks show and Chinese cusine at US$100 a head.
A couple surnamed Fan from Shanghai said it was their first time to take an overseas vacation during the holiday period for over 60 years. An 80-year-old visitor surnamed Xu said the New Year's atmosphere in Florida was just as rich as at home.
Hua Mei, one of the organizers of the group, said it has become a fashion for Chinese people to travel aboard at Chinese New Year. They even had to turn people away as their bookings filled up.
According to unnamed travel agency, a Chinese tourist spends on average US$8,000 on a visit to the
US
, the highest amount compared to visitors from other countries.