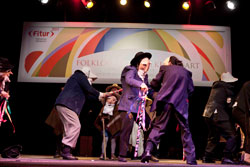 FITUR
2012 will, thus, stage the second edition of the Interactive Folklore Marathon, an initiative that is due to take place on the weekend of Saturday 21st and Sunday 22nd January. Members of the public will be able to take part in one of the workshops that have been organised so that they can discover the artistic and cultural heritage of different countries and regions, effectively enjoying the activities proposed by different destinations attending the fair at first hand.
Online registration for these activities, which are free and feature a limited number of places, is available through the web site,
www.fituronline.com
. The organisers will contact the members of the public who have been selected for each workshop, which will take place in a number of morning sessions.
In this sense, participants will be able to learn how to make themselves up, wear traditional headwear and dance to the rhythm of music from Gabon. Meanwhile,
Peru
will teach its participants a series of black rhythms, as well as a typical tap dance known as "zapateado," accompanied by the typical percussion instrument known as the "cajón peruano." Learning how to sing like a mariachi is the proposal made by the State of Jalisco in Mexico, whilst representatives of Azerbaijan will involve their participants in a series of choreographed movements. For its part, Tunisia will share the secrets of Oriental dance with its participants, in addition to teaching them a series of handicraft activities such as tapestry-making, mosaics and perfumes.
From
Spain
itself, La Gomera will teach participants the secrets of the famous whistle communication technique, "silbo gomero," which was the language used by the earliest inhabitants of the island. Meanwhile, Palencia, representing the Region of Castile-León, will stage a series of Ruedas, a typical dance accompanied by the music of the clarinet-like instrument known as the "dulzaina." Furthermore, different workshops will be organised for children between 7 and 15 years of age, in which they will be able to learn a series of traditional games, build percussion instruments and follow basic Castilian dance steps.
The Folklore Gala will take place in the afternoons, a show that combines a series of exhibitions by traditional music and dance groups representing different countries and Spanish regions with performances by members of the public who attend the workshops.