Marqués de Riscal
held a charity auction in Beijing (China) where the largest batch of wines from different vintages ever auctioned was put on sale, more specifically a batch of 100 wines by the Brand with vintages dating from 1862 to 2005, with a display cabinet used by Marqués de Riscal at the Brussels Universal Exhibition in 1910.
The result of the bids for this lot was a huge success, the highest amount ever offered for a collection of Spanish wines, more specifically the buyer offered a total of 1,450,000 Yuan, which converts to a total of €161,000, which, as mentioned previously, has been handed over to Aiyou Huaxia Charity Foundation to benefit children in need. Currently this organization has helped 10,000 children with congenital heart diseases and will focus their efforts on supporting children with leukemia in the next stage.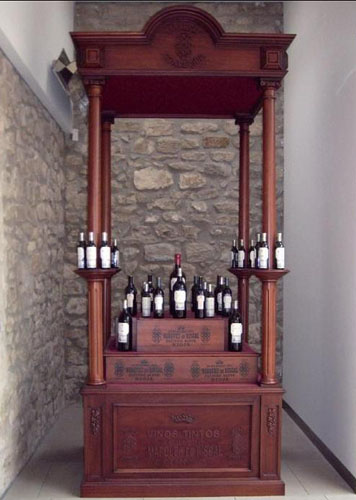 In addition to this historical lot, the auction also included other lots of wine, among which the following were particularly noteworthy:

- Lot of best vintages from the 19th century (vintages with high ratings awarded by the wine critic Robert Parker)
o 1870: 98 Parker points
o 1883: 96 Parker points
o 1889: 98 Parker points

- Lot of best vintages from the 20th century (vintages with high ratings awarded by the wine critic Robert Parker)
o 1945: 99+ Parker points
o 1964: 95 Parker points

- Lot of pot luck vintages (ending in 8, which is the lucky number in China):
o 1898
o 1908
o 1958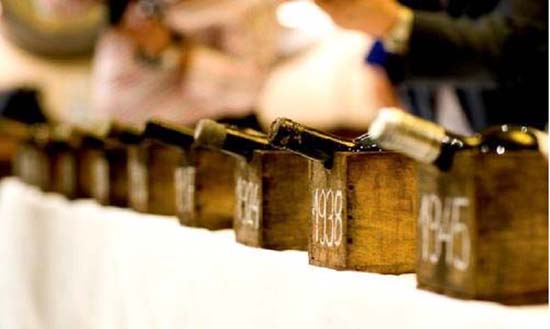 - Lot to celebrate the birth of the People's Republic of China:
o 1949

It is particularly noteworthy that Marqués de Risal keeps samples of all the vintages that have been made since 1862 in its cellar, known as The Cathedral, which represents the biggest collection in the world of wines of the same Brand.
| | |
| --- | --- |
| | |
| General Sales Manager Mr Jose Luis giving interview to Jounalist | President was being interviewed by Beijing TV |
In addition to the potential bidders attending the event, different representatives of the Chinese media were also present, Beijing Television being particularly noteworthy, who broadcast the event to the whole country, an unprecedented occurrence, since events of this kind are not usually broadcast nationally.

Marqués de Riscal and the Chinese market
Marqués de Riscal has always been a pioneer company that is a reference in the industry. In 1858 it became the first winemaker in La Rioja to make its wines using Bordeaux methods. In 1972 it became the first winemaker to promote the "Rueda" appellation of origin, where the highly rated white wines are made. And more recently, it officially opened "Ciudad del Vino" (City of Wine) with a building designed by the architect Frank O. Gehry, which is the most avant-garde building to date used by a Spanish wine maker. Marqués de Riscal markets its products in over 100 countries and its wines have been awarded the most acclaimed international prizes, and other awards and mentions in specialised press.

Marqués de Riscal exports to over 100 countries, icluding China. Trade relations with the company in China date back to over 20 years ago. The idea of holding this auction was conceived in 2008, when the company celebrated its 150th anniversary and China held its first Olympic Games. That year, Marqués de Riscal organised an event to communicate that it was the official wine of the Spanish Olympic Committee in China, and there, before the Chinese and Spanish press, the General Sales Manager at Marqués de Riscal, Mr. Jose Luis Muguiro, referred to this historical collection of vintage wines when talking to the press. His comments led to such interest that organising this auction was proposed in order to promote the brand name on the Chinese market.

Three years later, Marqués de Riscal is still commited to the potential of the Chinese market with events of this kind that help to promote the brand and consolidate sales. During his stay in China, the CEO of Marqués de Riscal and ASC will bring a new era tothe Chinese wine market. We choose ASC for its innovative foresight and position as the leader in Chinese wine distributors over the last 15 years.
"We appreciate Marqués de Riscal for giving us thispportunity to host the first ever auction for their grandiose collection of vintage wines," said the CEO of ASC Fine Wines. "The most discerning win collectors and spectators in China gather and participate in this event. It's a great honor of us and we'll soon be dedicated to exploring market opportunities for Marqués de Riscal."
Related Videos:
Marqués De Riscal Holds an Historical Auction in Beijing

Related News in Chinese:
西班牙-瑞格尔侯爵葡萄酒庄在京举办慈善拍卖会