Many Chinese people may be not familiar with
Galicia
but they must hear of Santiago in Spain. It is the place with the Way of Lord for devoted Christian, which located in Galicia in the northwest of Spain. A large number of devoted Christian from France, Poland, Italy and Holland come to visit the Holy City for the purpose of pilgrimage every year. In order to enhance the communication with China and get more Chinese people to know more about this beautiful area, the delegation of Galician Regional Council of Culture and Tourism came to Shanghai to share with the culture, natural spots and delicious food of Galicia during World Expo 2010.
| | |
| --- | --- |
| | |
| Beautiful buildings on the long beach of Galicia | The Way of Lord in Santiago, Galicia |
On May 17th, Ms. Carmen Pardo Lopez, Secretary-General of General Secretariat for Tourism from Regional Council of Culture and Tourism in Galicia, presented at the Galicia Tourism Prmotion Event at Spanish Pavilion in World Expo Park. This event has attracted more than 30 Chinese tour operators and journalists to attend and received very good comments with the support of
China Business Network
(CBN) and
World Travel Online
.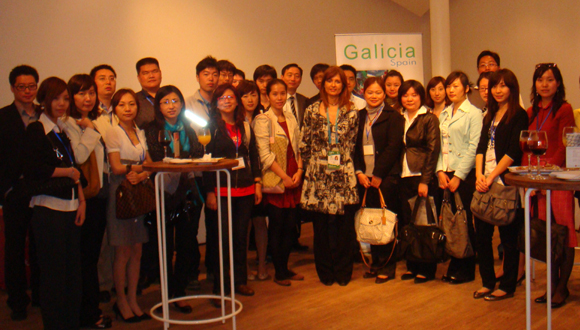 The group picture of Ms. Carmen Pardo Lopez (M) with Chinese tour operators
"The visitors can not only feel the wonderful humanistic environment, but also experience the historical atmosphere and the charming natural sceneries in Galicia," Ms. Carmen Pardo Lopez indicated, "we have the hottest mineral spring in Europe, we have a long coastline where provides unique diving and swimming chances to all travellers, what is more, we also have the most delicious cuisine in Spain, and our wine is well known in the whole Europe."
| | |
| --- | --- |
| | |
| The popular traditional food: fried rice with seafood | Well known grape wine from Galicia |
"The tourism resources in Galicia are very attractive, the food is delicious as well!" Ms. Weng Yifang, Vice General Manger from CITIC Travel (Shanghai) expressed, "It is good for us to make some special travel products and I think it will be popular once we start promoting them to our clients." Mr. Qian Li, Manager of Business Travel Department from Shanghai Orient International Travel Service, expressed his feeling at the same time that perhaps Galicia was not a familiar destination for some Chinese tour operators, and it would be a little hard to promote this travel itinerary when you first heard of this place. However, once you know Galicia well, you will find that Galicia is famous for many products, such as culture, cuisine, wine and the well-known city Santiago which are very attractive to the Chinese visitors.
During the event, Chinese tour operators were invited to taste the Galician flavour while enjoying the traditional dance, which became another climax of the whole event.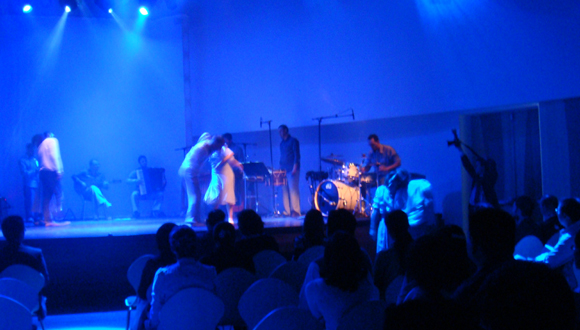 All the invited Chinese tour operators were attracted by the wonderful Galician traditional dance
In order to get Chinese travel trade professionals and Chinese travellers to know Galicia well, Galicia Tourist Board launched its official Chinese website with the cooperation of Word Travel Online. For more information on Galicia, please visit
http://lvyou168.cn/travel/Galicia
.
Relevant News in Chinese:

西班牙-加利西亚 与中国游客相约上海世博