"Zanzibar is the most beautiful island in the planet I have ever met!"
——David Livingstone

There is an island always on Dr. Livingstone's (British famous explorer) mind which locates in Indian Ocean. There are cloves covered mountains and lands, soft white sand, magic spice, charming diving areas and endangered species. That is Zanzibar, which is only about 30 km away from his mainland country Tanzania.


| | |
| --- | --- |
| | |
| Cruising in Zanzibar | The best diving area |
| | |
| Charming spot of Zanzibar | Typical city in Zanzibar —— The Stone Town |
As Africa become one of the most popular travel destinations in China, Mr. Ali Khalil Mirza, the Executive Secretary, Mr. Said A. Othman, the Senior Planning Officer and Mr. Maabad J. Muhiddin, the Senior Marketing Officer who are from Zanzibar Commission Tourism brought the relevant local tourism resources to China as road show, which would be a definitely new experience for Chinese tour operators. China Business Network (CBN) and World Travel Online provided full support and facilitated ZCT achieving the successful promotion during the work shops in China.
The road show consisted of two stations: Guangzhou (Nov. 24th) and Beijing (Nov. 25th). "The total number expected to exceed 50 million Chinese traveling overseas by 2010 and it will reach 100 million Chinese passengers by 2020 in expectation. China will be the forth outbound travel market in the world. Guangzhou has the direct flight to Kenya, which provides convenient transportation for the people travel to Zanzibar. As for Beijing, there is always an active travel market in China which has the huge potential." Expressed by Mr. Ali, and for this time, he brought plenty of tourism resources which are below:
• World Heritage——The Stone Town
• Spice Island—— Cloves Island
• Rewarded as one of the three destinations you should go in East Africa by Travel
• Diving Paradise
• The most favorite destination for Bill Gate, Naomi Campbell and Denzel Washington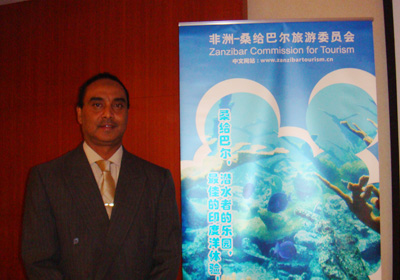 Mr. Ali Khalil Mirza, the Executive Secretary from
Zanzibar Commission Tourism
This promotion also got big support from H.E Omar R. Mapuri, the Ambassador of Tanzania. "I have never expected that will have so many people join this work shop. There are more and more communication between China and Tanzania which make our relation much tighter than ever before. I am from Zanzibar and welcome to Zanzibar. Your visit to Zanzibar is the visit to my hometown!" At the end of the show, Ambassador gave the lucky draw and the winner will be given a 6-day free trip to visit Zanzibar. The lucky draw brought the atmosphere to the climax.

H.E Omar R. Mapuri was delivering the brief speech
"It will be my second time to Zanzibar. Zanzibar is so beautiful that I felt that I was in a paradise," Ms. Wang Di, the winner from China Ocean International Travel Service said, "it will be a very charming destination for Chinese visitors and will definitely get big success if Zanzibar continue to enhance the promotion in China."
About Zanzibar:
Zanzibar is a semi-autonomous part of the United Republic of Tanzania, in East Africa. It comprises the Zanzibar Archipelago in the Indian Ocean, 25–50 kilometers (16–31 mi) off the coast of the mainland, and consists of numerous small islands and two large ones: Unguja (the main island, informally referred to as Zanzibar), and Pemba. Other nearby island countries and territories include ,Comoros and Mayotte to the south, Mauritius and Réunion to the far East, and the Seychelles Islands about 1500km.

Zanzibar was once a separate state with a long trading history within the Arab world; it united with Tanganyika to form Tanzania in 1964 and still enjoys a high degree of autonomy within the union. The capital of Zanzibar, located on the island of Unguja, is Zanzibar City, and its historic center, known as Stone Town, is a World Heritage Site. Zanzibar's main industries are spices, raffia, and tourism. In particular, the islands produce cloves, nutmeg, cinnamon and pepper. For this reason, the islands, together with Tanzania's Mafia Island, are sometimes called the Spice Islands (a term also associated with the Maluku Islands in Indonesia). Zanzibar's ecology is of note for being the home of the endemic Zanzibar Red Colobus and the (possibly extinct) Zanzibar Leopard.


"We will prepare the Zanzibar program with more attractions to meet Chinese market after getting many useful information from the work shop. Africa travel is getting more and more popular which generate a big benefit for our company. We really wish to have good local incoming agencies to cooperate with us. We also wish to have more travel activities to rich our program then it would be perfect." Ms. Yang Zhe, the manager of outbound travel center from Beijing Diaoyutai International Travel Center expressed.
Mr. Ali Khalil Mirza
is giving the presentation

Hon. Ambassador, Mr. Ali Khalil Mirza and winner are taking picture together

Mr. Ali Khalil Mirza is communicating with outbound tour operators

Mr. Ali Khalil Mirza,Mr. Said A. Othman,Mr. Maabad J. Muhiddin and Ms. Susan LV from CBN are taking picture together
Relevant Chinese News:
桑给巴尔旅游推介会——欢迎到世界最美的地方旅游