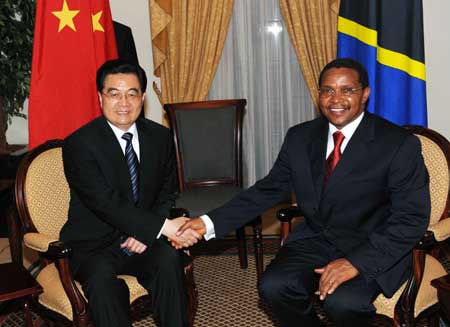 Visiting Chinese President Hu Jintao (L) meets with his Tanzanian counterpart
Jakaya Mrisho Kikwete in Dar es Salaam, Tanzania, Feb. 15, 2009.
Chinese President Hu Jintao and his Tanzanian counterpart Jakaya Mrisho Kikwete met here Sunday to boost the traditional friendship between China and the East African nation.

"Despite changes in the international arena, China-Tanzania ties have developed in a sound and smooth way since the two countries forged diplomatic ties in 1964," Hu told Kikwete.

"It can be viewed as an exemplary relationship of sincerity, solidarity and cooperation between China and an African country and between two developing countries," he said.

Kikwete said Tanzania and China enjoy a special relationship, which was initiated by the previous leaderships of both nations.

Kikwete said Tanzania would carry forward the traditional relationship and foster solidarity with China.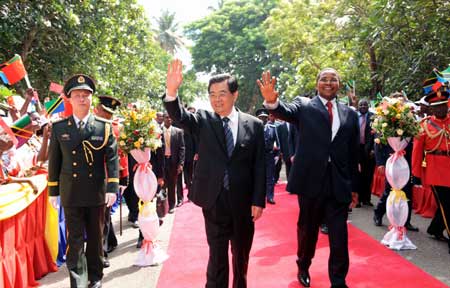 Visiting Chinese President Hu Jintao (C, front) is welcomed by his Tanzanian counterpart
Jakaya Mrisho Kikwete (R, front) during a welcome ceremony on his arrival
in Dar es Salaam, Tanzania, Feb. 15, 2009.
Hu, making his first state visit to Tanzania, was accorded a 21-gun salute before inspecting a Tanzanian guard of honor at the welcoming ceremony earlier Sunday.

The ceremony was held in Karimjee Hall, thronged by a large number of Tanzanians who greeted the Chinese leader by playing drums and trumpets, clapping their hands and waving flags.

Major streets in the capital were also festooned with the national flags of both countries and banners that read "Welcome President Hu" and "Long Live China-Tanzania Friendship." Some local people wore costumes and shirts featuring Hu's pictures.

In the hour-long talk with Kikwete at the presidential palace, Hu said the relations between China and Tanzania had demonstrated a new vitality in recent years, citing frequent high-level visits, stronger political trust, and cooperation in trade and culture.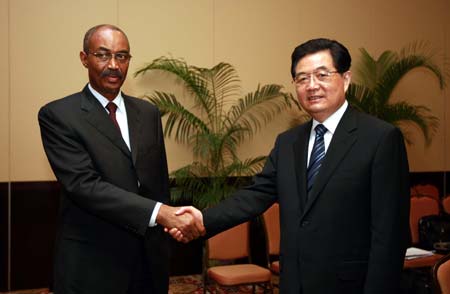 Visiting Chinese President Hu Jintao (R) meets with
Zanzibar President Amani Abeid Karume in Dar es Salaam, Feb. 15, 2009.
He appreciated Tanzania's efforts to ensure the smooth relay of the Olympic torch in Dar es Salaam last year as well as its adherence to the "one-China" policy.

Hu suggested that both countries enhance political exchange, deepen political trust and step up cooperation in trade, culture, education and public health.

He called for an early implementation of the agreed cooperative programs and the measures announced at the Beijing Summit of the Forum on China-Africa Cooperation.

This is Hu's second African tour since the landmark China-Africa summit in November 2006 when he announced eight measures to promote China's ties with Africa, including massive tariff cuts and debt exemptions for scores of African countries, and doubling aid to Africa over a three-year period.

Hu said the Chinese government would invite young Tanzanians to visit China and offer more scholarships to the eastern African country.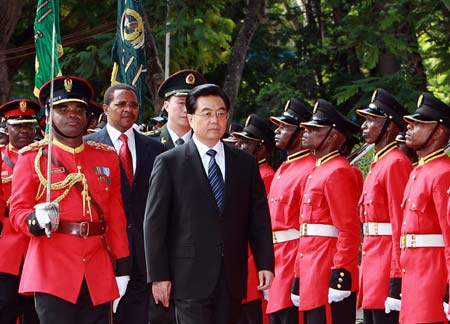 Visiting Chinese President Hu Jintao (C, front), accompanied by his Tanzanian counterpart
Jakaya Mrisho Kikwete, inpsects the honor guards during a welcome ceremony on his arrival
in Dar es Salaam, Tanzania, Feb. 15, 2009.
In response, Kikwete said his country appreciates the generous assistance and support offered by China for a long time.

He said Tanzania would like to work with China to cement cooperation in trade, investment, finance, agriculture, education, public health and infrastructure.


He reaffirmed that Tanzania would, as always, stick to the one-China policy and firmly support China's efforts to ensure its sovereignty and territorial integrity.

On the global financial crisis, Hu said China would like to enhance communication and coordination with Tanzania and other African countries with a view to minimize the impact of the crisis.

"China will keep its promise, not reduce aid to Africa and urge the international community to honor their aid commitment to the continent," he said.

China would take a comprehensive, balanced, progressive and pragmatic approach to reform the international financial system, including increasing African and developing countries' representation and voice in this reform, Hu added.

Kikwete said the global financial crisis and economic downturn were taking a toll on his country.

Noting Tanzania was taking action to tackle the difficulties, Kikwete called for joint action with China to address the effects of the downturn.

Hu said China would like to work with the international community to play a constructive role in ensuring Africa's peace and security.

Several cooperation agreements were signed after the talks between the two leaders.


Later Sunday, Hu met with President Amani Abeid Karume of Zanzibar.

Hu said ties with Zanzibar constituted an important part of China-Tanzania relations.

The Chinese president lauded Zanzibar's economic and social progress, saying that China would continue to provide assistance to the region.

China will encourage businesses with strong capacities to invest in Zanzibar, and support efforts by the Zanzibar government to promote economic and social development and improve the livelihood of its people, he said.

Karume said Zanzibar values its relations with China and appreciates its assistance in public health, education and culture.

Inspired by China's achievements, Zanzibar would like to learn from China and boost bilateral pragmatic cooperation in economy, trade, tourism and infrastructure, Karume said.

On Sunday afternoon, Hu would attend the completion ceremony of Tanzania's state stadium and visit a cemetery for Chinese experts. He is also scheduled to deliver a keynote speech at a welcome meeting on Monday.

Dar es Salaam is the fourth stop on Hu's weeklong trip. He arrived here Saturday night from the Senegalese capital of Dakar, after concluding a visit to that country.


XinhuaNews
Please
contact us
in case of Copyright Infringement of the photo sourced from the internet, we will remove it within 24 hours.