State Minister for Foreign Affairs and Foreign Trade, Senator Dr Ronald Robinson, has expressed appreciation to China, for that country's recent contribution to the relief effort in Jamaica, in the aftermath of Tropical Storm Gustav.

"That we can rely on each other in times of need, is a mark of the close friendship we enjoy at all levels. Our ties of friendship and co-operation are underpinned by the mutual respect we have accorded each other since we established diplomatic relations in 1972," the minister said.

"Since that time, Jamaica has consistently supported the One China Policy, which has set the foundation for the vibrant and mutually beneficial bilateral co-operation programme that exists between our countries. There is also a high degree of technical co-operation that includes technical and financial assistance, training opportunities, equipment donation, and disaster relief contribution," he added.

Robinson was speaking at the Chinese National Day Reception on Tuesday, to celebrate the 59th anniversary of the founding of the People's Republic of China.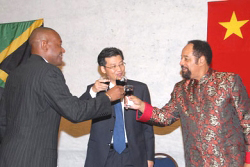 State Minister for Foreign Affairs and Foreign Trade, Senator Dr Ronald Robinson (left); new Charge d'Affaires at the Embassy of the People's Republic of China, Liu Kan (centre) and President of the Senate, Dr Oswald Harding, celebrate the 59th anniversary of the founding of the People's Republic of China.
He noted that Jamaica and China had also collaborated through the China-Caribbean Economic and Trade Co-operation Forum, which was first held in Kingston in February 2005. The second Forum was held in Xiamen, China in September 2007, where an Agreement on Economic and Technical Co-operation, valued at 20 million Yuan (J$197 million), was signed between Jamaica and China.

In addition, he pointed out that a new dimension to Jamaica-China relations was initiated in April of this year, when the two countries held the inaugural Foreign Ministry Consultations in Beijing. "Both countries held fruitful discussions on bilateral co-operation activities, and regional and multilateral affairs. This mechanism provides us with an opportunity of discussing ongoing and potential areas for co-operation and engaging in beneficial exchanges on important developments that affect the international scene, where we have developed a tradition of collaboration at the multilateral level," the minister said.

He argued that there are exciting prospects for the continued deepening and expansion of Jamaica-Sino relations, within the spirit of the Friendly Partnership for Common Development, which was formally established in February, 2005.

"It is this spirit of partnership which will guide the development of our relations in the future, and which will bring our peoples closer together in friendship and unity," Senator Robinson said.

In his address, new Chinese Charge d'Affaires, Liu Kan, said China had successfully made the transition from a highly centralised planned economy, to a vibrant socialist market economy, and from a semi-closed country to one that is fully open to the world.

"China has enjoyed fast growth, with its Gross Domestic Product (GDP) in 2007 reaching US$3.5 trillion, and ranking fourth in the world. Over the past 30 years, the livelihood of the Chinese people has been improved as evidenced by the nearly six-fold increase in per capita income and reduction of the poor population by over 200 million," he pointed out.

Kan noted that in 2007, China accounted for about 8 per cent of global trade, with an average annual import of 16.7 per cent , and has become the world's third largest import market, increasing about 10 million jobs in relevant countries and regions since 2001.

"Meanwhile, as an important player in the international system, China is firmly committed to peaceful development and pursuing an independent foreign policy of peace and a win-win strategy of opening up. We are willing to share development opportunities with other countries, and work with them to meet challenges and build a harmonious world of durable peace and common prosperity," he told the gathering.

The Charge d'Affaires pointed out that the Chinese and Jamaican people have been engaged in friendly exchanges for over a century and a half, and in the long course of history, both peoples have learnt from each other. "I am confident that under the joint efforts of our two Governments and peoples, and with the promotion of brand Jamaica during the Beijing Olympic Games, China-Jamaica relations will continuously develop in the all-round way and will enjoy an even brighter future," has said.

The reception was attended by officials of the Chinese Embassy, Government officials, and representatives of various state agencies.