Shopkeepers in the old city of Jerusalem seem to be upset about the day-long silence after a hot summer, awaiting for another round of crowded tourists that will bring about a profitable season.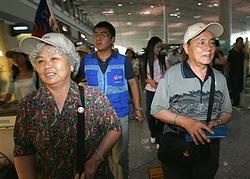 But there's good news for them: the first Israel-bound Chinese tour group will arrive in the biblical land later this month, as Israel is effecting the ADS agreement with China to welcome Chinese tourists.

Eighty Chinese tourists will leave in two batches on Sept. 25 and 28, heading for famous sites such as Jerusalem, the Dead Sea and the Red Sea city of Eilat in the 10-day trip, which will also include some scenic spots in Jordan, Israeli Tourism Minister Ruhama Avraham-Balila told a press conference earlier this month in China.

Meanwhile, Air China, China's largest airline, is re-examining the operability of commercial flights between Israel and China.

In the first seven months of year 2008, Israel experienced an increase of 45 percent of Chinese visitors over the same period in 2007 although mainly of officials and business visitors prior to the ADS agreement taking effect.

"Our target is to bring some 15,000 Chinese tourists by the end of 2008," said Foreign Press Adviser to Israel Tourism Ministry Lydia Weitzman.

The Israeli Tourism and Foreign ministries have been working in the last few years to get Chinese approval as a tourist destination.

"Every year, some 50 million Chinese visit the area close to Israel, and we need to prepare to absorb some of that," said Avraham, adding that the agreement would ease the issue of entrance visas to both countries.

Israel Tourism Ministry is expecting a significant increase in the number of Chinese tourists and is making appropriate preparations, said Lydia.

The preparations to receive the Chinese tourist and adapt the tourism product to meet their particular needs include translating informational material, maps, brochures into Chinese, training Chinese-speaking tour guides, as well as providing courses to employees in the tourism industry on the unique aspects of Chinese culture.

Aiming at investing in Chinese market, Israel Tourism Ministry will publish a training manual for Chinese tour operators and for Israeli tour operators who market tour packages in China. The ministry is also making efforts in organizing professional seminars, fact-finding tours to Israel for Chinese tour operators and journalists, and joint meetings for Israeli and Chinese tourism professionals.