Hot on the heels of Usain Bolt's phenomenal Olympic Gold and World Record in Saturday's 100m final, the Jamaican government has announced the first-ever 100m Beach Sprint event.

The invitational event, to be staged in November 2009, was announced at a press conference in Beijing's Westin Hotel as part of the Jamaican government's drive to promote "The Sprint Factory" as a leading lifestyle travel destination and a country of sporting excellence.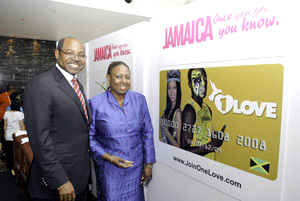 The Hon. Edmund Barlett, Minister for Tourism;
Olivia "Babsy" Grange, Minister of Information, Culture, Youth and Sport
Minister for Tourism the Hon. Edmund Bartlett launched Jamaica's World Beach Sprint by saying Bolt's job in Beijing had just started and that the nation of just 2.7 million expected much more from their first Olympic 100m champion and the rest of the team.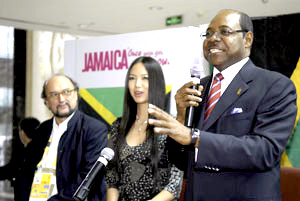 The Hon. Edmund Barlett, with Gianni Merlo, President AIPS
and Miss World, China's Zi Lin ZHANG
Minister Bartlett's couldn't have rung more true. The press conference came shortly before the women's 100m final where Jamaica took the one, two and three – Shelly-Ann Fraser took gold with Sherone Simpson and Kerron Stewart in a dead heat and both taking silver.

The inaugural 100m Beach Sprint is expected to take place on a track provided by Italian company Mondo and will coincide with the third World Athletics Awards.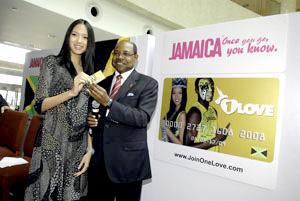 Minister for Tourism the Hon. Edmund Bartlett and Miss World, Zi Lin ZAHNG
The good news continued with Minister Bartlett also launching a Destination Loyalty Card, aimed at bringing tourists to the island nation.

Recipients of the 'One Love' membership card will be able to redeem US$1,000 towards the cost of a holiday on the beautiful holiday island of Jamaica.

The first card featuring Bolt and the current Miss World, China's Zi Lin ZHANG, was presented to Zhang at the conference.