Over the recent Chinese New Year holiday, 6.5 million Chinese residents traveled overseas, with a year-on-year growth of 5.7%; in addition, they spent $541.4 million, up 34.3 percent year-on-year.
A report on outbound travel by the China Tourism Academy and online travel agencies Ctrip and Mafengwo was released on Wednesday, which showcased the outbound travel trends of Chinese tourists during Chinese New Year Holiday 2018.
1. Chinese New Year holiday has become a golden week for global tourism
A growing number of Chinese tourists were willing to travel overseas to celebrate the traditional festival. This year, users of Mafengwo took visit to 3,944 cities and areas, covering over 120 countries. According to the report by Ctrip, Chinese tourists from 230 cities were traveling to 800 destinations in more than 70 countries.
The report showed that 10 foreign cities including Singapore, Bangkok, New York, Sydney, Nagasaki, Kuala Lumpur,
London
, Moscow, Paris and Manila were thought to have the strongest Chinese New Year atmosphere.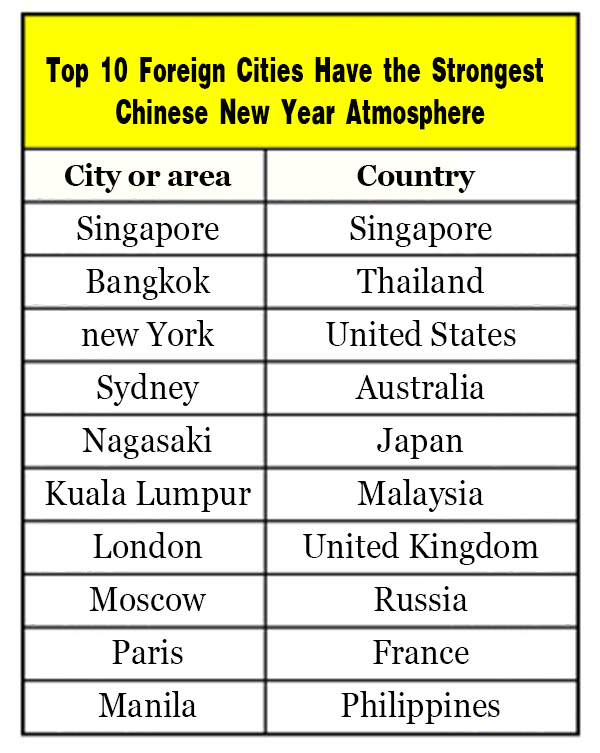 2. Southeast Asia tasted the biggest pie of Chinese outbound travel market
Chinese tourists were still looking for warm destinations to celebrate the festival; therefore, Southeast Asia has became an ideal option, because of its convenient transportation and relaxed visa policies. The top 5 holiday destinations for Chinese include Thailand, Japan, Singapore, Vietnam, and Malaysia; other destinations, such as Indonesia, the Philippines, Cambodia,
the US
,
Italy
, as well as Turkey, Sri Lanka, Australia, New Zealand were also considered as hot destinations for Chinese.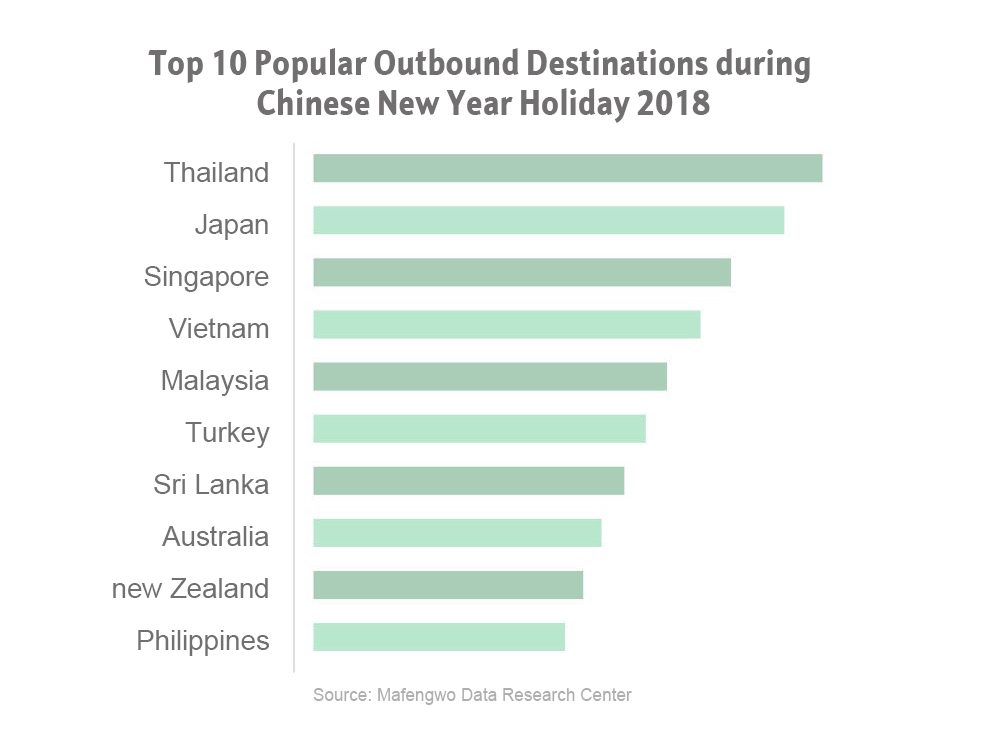 In terms of long-haul travel, Europe was the hottest destination for Chinese tourists. According to Mafengwo, Italy,
Spain
, Greece, Swiss,
the UK
and France were the most popular countries for Chinese tourists during the festival. And for individual travelers, they cared more about travel experience, and spent over 10 days in one country.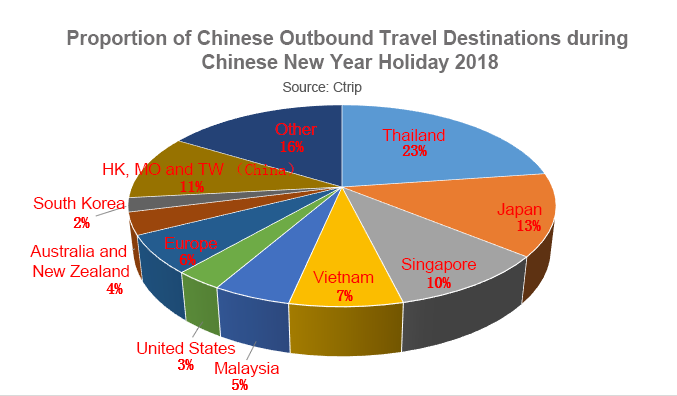 Some new destinations, including Antarctica, Poland, Belgium, Argentina, Iceland, Sweden, Jordan and
Portugal
also made their mark, the report said.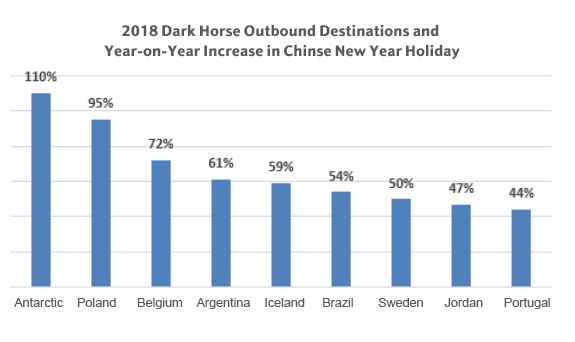 3. Chinese tourists showed a pronounced preference on islands
Vacations on islands is on the rise, especially during the Chinese New Year, as many tourists were finding a family destination for their holiday. Most of them chose Phuket, Bali, Nha Trang, Boracay, Sabah, Maldives, Koh Samui, Okinawa, and Krabi Island as their holiday destination.
4. "PinJia" and family holiday were common for the CNY holiday
"PinJia" (means piece together the holiday to make it last longer in Chinese) was very common for Chinese tourists who wanted to enjoy a longer holiday. The report said outbound travelers spent an average 8.5 days on vacation during this holiday. Nearly 60% of Chinese travelers chose tour packages of six to nine days to enjoy their break.
Chinese New Year Holiday also offers a chance for family gathering, and family holiday accounted for 34%. For these family holiday tourists, they were keen on themed parks and popular attractions.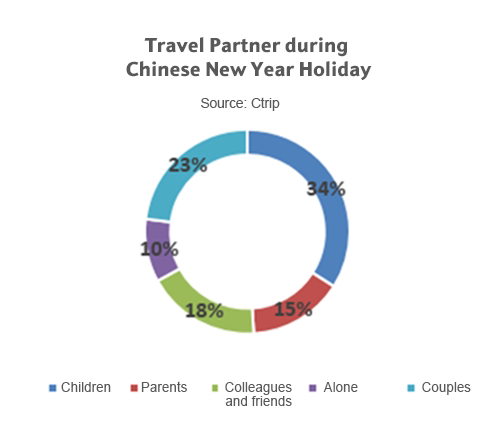 5. Second- and third-tier cities have seen great numbers in outbound travelers.
During the CNY festival, Shanghai, Beijing, Guangzhou, Chengdu, Shenzhen, Hangzhou, Nanjing, Tianjin, Xi 'An, Wuhan, Kunming, Zhengzhou, Jinan, Chongqing, Changsha, Sanya, Xiamen, Wuxi, Hefei, Harbin were the top source market for outbound travel. In addition, Suzhou, Wuxi, Hangzhou, and Nanjing were dark horses and have witnessed a surge in outbound spending.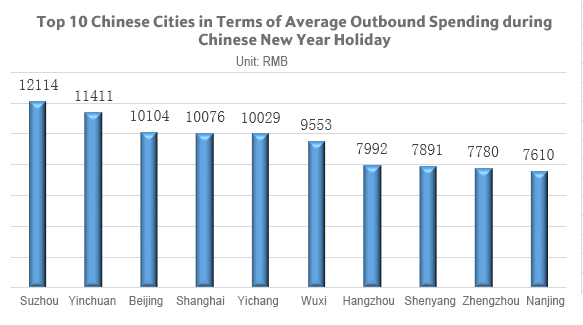 As for the age groups, most travelers were born in 70s and 80s, especially the 80s, accounted for 32%, according to another report by UnionPay and Ctrip.
Now, China is considered the world's fastest growing tourism market and playing a key role in the sector's development. According to a report released by the China Tourism Academy and the online travel service Ctrip, outbound visits by Chinese residents hit a record high of over 130 million in 2017, up 7 percent compared to 2016, making China the world's biggest tourists source country. Outbound travelers spent nearly $116 billion last year, a year-on-year increase of 5 percent.
If you are willing to know more about Chinese outbound market, you're welcome to
contact us
. We are more than happy to give you an indepth analysis and assist you to promote in Chinese travel market.