New first-tier cities such as Changsha (+235%) and Xi'an (+323%) saw a surge in outbound tourists, and Vietnam became a dark horse destination, receiving more than 4 million Chinese travelers in 2017.
Ctrip, the largest outbound service provider in China and China Tourism Academy, an institute directly under China National Tourism Administration, jointly released the "2017 China Outbound Tourism Travel Report".
129 million trips: China has become the largest source of outbound tourists in the world
With increasing disposable income, fewer visa restrictions, better exchange rates and more flight connections, the love for outbound travel still remains in China. The number of outbound trips has reached 129 million in 2017, up 5.7% from 122 million in 2016
China has become the largest source of inbound tourists for many countries such as Thailand, Japan, South Korea, Vietnam, Russia, Maldives, Indonesia, North Korea,
the UK
and
South Africa
. However, less than 10% of China's population travel overseas and only 10% own a passport. This reflects huge future potential for the outbound market.
Chinese still prefer group travels but tailor-made and thematic tours are becoming popular
According to the report, Chinese tourists still prefer group travels, especially travelers from second, third and fourth-tier cities and regions. However, independent outbound travels are becoming a trend. For example, among millions of outbound tourists organized by Ctrip, half select group tours and half go for independent tours.
In addition to group and independent travels, more and more Chinese tourists select tailor-made and private group tours. According to Ctrip statistics, Ctrip's tailor-made travel and local guide platform has served millions of tourists in 2017. This platform has witnessed an annual increase of 220%.
Females and those born in the 1970s and 1980s are the main travelers
Based on the gender and age data, the report estimates that in 2019, 41% of outbound tourists will be males while 59% will be females, an increase of 18%.
The age of "New first-tier cities"
New first-tier cities have seen great numbers in outbound travelers. In 2017, Chengdu surprisingly overtook Shenzhen and ranked third in the number of outbound tourists (an increase of 75%). Other cities such as Changsha (235% increase) and Xi'an (323% increase in tourist numbers) were dark horses and have witnessed a surge in the number of outbound tourists.
The report lists the top 20 departure cities for Chinese outbound tourists in 2017. This list also includes 10 new first-tier cities.
Global increase, decline and dark horses
Thailand and Japan remain to be the two hottest destinations.
Italy
is the 14th most popular destination in 2017 and the 6th fastest growing destination for Chinese outbound tourists. Turkey has made a strong comeback in tourist in 2017 with a year-on-year growth of more than 300%. Due to the APEC meeting, Vietnam became a dark horse destination, receiving more than 4 million Chinese travelers in 2017.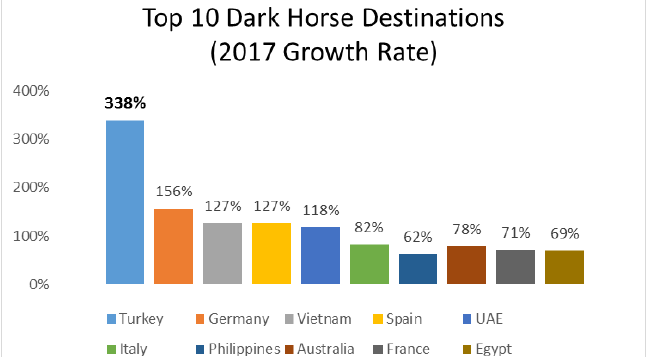 More than just sightseeing and shopping
30% of Chinese outbound tourists chose islands as their travel destination. According to vacation orders received by Ctrip, the 10 most popular islands in 2017 were Phuket, Bali, Nha Trang, Boracay, Sabah, Okinawa, Maldives, Krabi, Koh Samui, and Saipan.
Amusement parks are also popular choices especially for parent-child trips.
Improved Security: Upgrade in outbound tourist services
Ctrip's Global SOS system have successfully helped to provide assistance for travelers in all areas from medical assistance to translation to evacuation from the Las Vegas Incident, Bali volcano eruption and Japan earthquake. The "Global SOS" program has been widely accepted by users due to being a 24/7 service that is convenient and flexible.