Chinese travellers splurged the most on tax-free shopping last year, accounting for 27% of spending as they increased transactions by almost a third, according to Global Blue.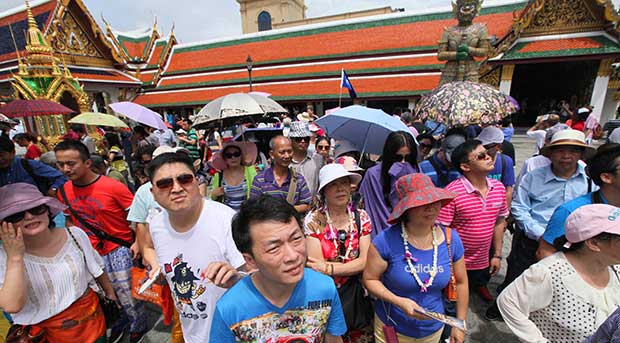 Chinese tourists visit Wat Phra Kaeo in Bangkok. Thailand's largest tourist bloc,
the Chinese spent more worldwide in tax-free shopping than travellers from any other country,
according to tax-refund operator Global Blue.
Russians were the second-biggest spenders with 17%, though they made the most transactions, while Indonesians placed third with 4%, Global Blue, the world's biggest operator of tax-refund points, said in a study released July 15.
"The Chinese are easily the most-numerous and highest- spending globe shoppers," said Global Blue. "If the last decade is anything to go by, the amount spent will continue to increase, albeit at a slower rate than recent years."
Total spending by Chinese tourists increased 20% last year after tripling between 2009 and 2012. France is their favourite destination to spend in, ahead of Germany and Singapore, while fashion is the most important category, according to the study.
The number of Chinese outbound trips, excluding Hong Kong and Macau, will reach 60 million this year, from 53 million in 2013, and swell to 77 million by 2016, Global Blue estimates.
The figures are based on tax-free shopping transactions refunded by Global Blue and subsequently approved by customs, not the value of refund forms issued by retailers, which is greater, according to the study.
Global Blue estimates the total tax refund market is worth about 48 billion euros in the 37 countries where it operates.