I. Dropping Heat at the Acropolis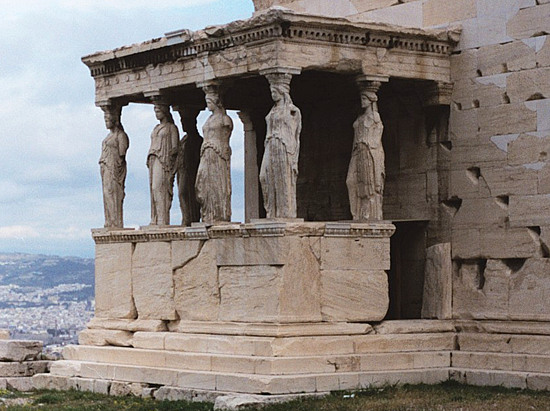 I'm at the top of the hill when the coffee kicks in and I realize I have to find a restroom, and fast. I follow the sign down an ancient stone stairway next to the Parthenon and the Alter to Augustus. There was no seat on the toilet, but I was greatly relieved to find toilet paper inside the plastic case. So there I was, crouched like a monkey after an explosive bowel-movement, and it occurs to me this is the very place where the great thinkers of Western History must have dropped heat. Socrates. Plato. Aristotle. The big hitters. But is wasn't long before my thighs got tired and the struggle to stay balanced over the porcelain became my overriding concern.
The birthplace of Western Civilization, the Acropolis can be seen from almost anywhere in Athens. It looms over the McDonald's billboard at the end of Athena Street where we stay our first night in Greece.
I'm thankful for Ashley's company from the moment she walks off the plane at Chicago's O'Hare airport, where I left my Gortex jacket by mistake like an unconscious offering to the gods. We push the two single beds together, but they slide across the linoleum floor, creating a perilous ravine.
To kill some time while waiting for the Ferry we check out the meat market, the skinned torsos, glossy sheep looking back with beautiful blue eyes. They hang in rows by the hundred with baskets of bovine hooves.
"I think more Americans should see their meat like this," says Ashley, "we are so disassociated from what we eat."
It's not so easy to flag a cab, but a cabbie named Bagelis picks us up and we lurch through Athens traffic on our way to the ferry terminal. He listens to our plans and says, "Santorini is not so good in the winter. And twice as expensive. Why not go to Aegina? It's only half and hour away by Hydrofoil."
Advice from cab drivers, as a general rule, should be held in suspicion, but this tip turned out to be a blessing, and we were glad we followed it. An hour later we are bouncing over the waves on a Hydrofoil for Aegina, the island where Nikos Kazantzakis wrote "Zorba the Greek."
"Greece," says Bagelis, "is not the richest country in the EU, but we have the highest quality of life anywhere in Europe. You will see."
II. The Island of Aegina

"It's Greece, you can't catch hypothermia here," says Ashley, shivering on the patio, her jacket pulled around her shoulders. She's wearing shorts, intent on getting a suntan on her legs despite the goose-bumps. She's in denial.
I order the calimari and it arrives as two whole squids. When I poke one with my knife and a blue liquid dribbles out. Ashley's eyebrows rise before she remembers that a squid is like an octopus, and will squirt a cloud of blue ink behind it to confuse predators. If I was the predator in this situation, I certainly had the upper hand. The calimari was delicious, and we washed it down with cold Heinekens.
"I think I got a little tan!" says Ashley. "There are certain things that HAVE TO HAPPEN."
Many things have to happen on this trip. We were heading to Crete to meet Ned and Elizabeth, who have decided to get married on the untouristed south coast. Ned and I were roommates at CU Boulder, and have had many adventures together since then. (see How to Get to Alaska) He started running sea-kayak tours in Southeast Alaska and has been living in Haines for the last 7 years, building Deishu Expeditions into the première tour company in Southeast Alaska. I was happy to hear that he and Elizabeth, who have known each other since their childhood (she was the Spanish Instructor's daughter at Hotchkiss, the boarding school Ned attended) were going to get married. I met Elizabeth 10 years ago, our junior year in college, and liked her instantly. I remember she gave me her book, "Catch a Fire - a biography of Bob Marley," which I though was a very cool gift, and I was touched by her compassion, which seems to wrap its arms around everyone.
Ned called a few months ago to tell me.
"We want to have it in Greece, barefoot on the beach."
"Excellent. I'll be there."
"You know.... you're the man."
"Well, thanks! I've never been a Best Man before."
"No, you misunderstand. You duh Man! We want you to marry us, perform the ceremony. This is the plan, we meet on Crete and spend a week driving around the countryside in a big car drinking Ouzo until we find someplace on the beach that will cook us a whole lamb and serve us as much wine as we can drink."
Ned and Elizabeth had talked it over and decided that they wanted me to perform their wedding. I'm not ordained in any way, but by Alaska State Law your friend can marry you. I was honored that they chose me, and became determined to do a fine job. The next day I went to the Boulder Public Library, took out 6 books and began to pour over vows, looking for something to read on the beach in Greece. (Their parents weren't altogether overjoyed about a non-religious wedding, and Ned's Dad asked that I be ordained a Catholic. This would not occur.)
III. The Captain's House


The ruins of an ancient dock stretch into the blue Saronic Gulf like the backbone of a submerged dinosaur. Aegina was important in the fight for Greek independence - it offered over 130 ships to the cause.
At night, it's cold. We huddle over the space-heater, eating pistachios and drinking Amstel.
When we get off the boat in Hydra we're approached by a grandfatherly man we would later know as Captain Loulos, the former Mayor of Hydra, who leads us up through the network of roads to his home which he has renovated into a bed and breakfast. It's a sweet place that looks down over the entire harbor. We take the corner room. There are no motorized vehicles or bicycles allowed on Hydra, and donkeys haul everything, including tourists.
The Captain's house has fine wooden floors, high ceilings, ornate tiles and a lemon tree in the back yard.
A blissful nap, wake up to a symphony of churchbells and children yelling on the field below. We sit in the fortressed harbor watching the light ease out to sea while we drink beer.
At dinner I order things with tentacles, octopus salad, calimari. When I bite down into the octopus I hear a crunch - it's a grain of sand. The pain in my tooth keeps me awake most of the night. I shudder at the idea of a dentist, but, thankfully, the pain is gone the next day.
A walk up to the cemetery and then back down through the maze of winding paths, offering views of the harbor and tiled rooftops. Stray cats are everywhere.
Another exquisite lunch at Chistina's and Manolis, an fine local Taverna and a 'must- stop' if you're on Hydra. Lamb, roasted potatoes, Greek salad, feta cheese. I order an Amstel and think of my Father, who turns 70 years old tomorrow. He told me his best memories of Greece were of ducking into a Taverna after a hot, summer walk and drinking a cold Amstel beer.
We feel somehow graced by the Captain, who gives us a tour of his renovations. There's no sign out in front - so I wonder how he finds people. He might just pick them out and invite them from the dock, as he did with us.
The churchbells ring all over town, a melody that hangs in the air long after the bells stop. Ask for toast and sometimes you'll get a ham-and-cheese sandwich, which is excellent.
We buy ferry tickets to Athens, where we'll catch an overni