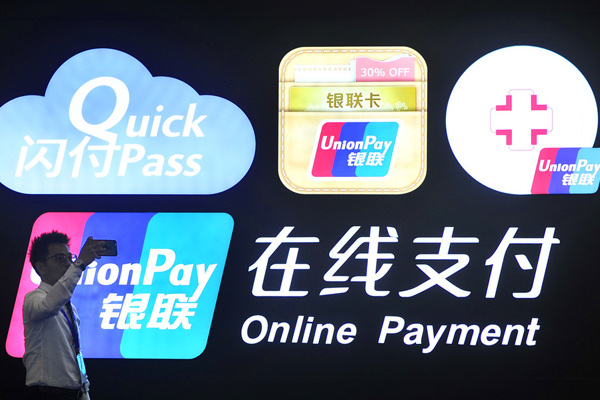 Finland is not a well-known tourism destination globally, let alone in China. Yet, in 2016, it received 265,000 Chinese tourism visits, 5,000 more than the number of Chinese visitors to Britain.
Last year, Chinese visits to Finland rose to 432,000.
One factor driving this growth is the convenience of the Chinese payment methods on offer.
From taxi rides to hotel bookings, from restaurant payments to luxury shopping and even for rides in the snow on a sled pulled by huskies, Chinese tourists are able to use either UnionPay or Alipay.
Alipay launched its service in Finland in December 2016, and it is now accepted at more than 2,000 points of sale. To use it, a Chinese shopper only needs to scan a QR code with the Alipay mobile app to make payment instantly. Chinese users pay in yuan, while retailers receive payment in their local currency.
UnionPay, a card association similar to Visa and Mastercard, first became available in Finland in 2010. Its cards can also be used for cash withdrawals at ATMs in the country.
"Convenient payment services sound simple, but they can encourage immense spending growth," said Alexander Yin, chief financial officer at TGC, the parent company of ePassi, the Finnish payment terminal provider that works in partnership with Alipay.
"Finland is often the first stop for Chinese travelers heading for Scandinavian countries. Traditionally, Chinese shoppers were reluctant to spend too much money in Finland because they preferred to save their cash for later stops. But now they can spend as much as they like, without consciously calculating if they have enough cash left," Yin said.
After Finnair included Alipay in its in-flight payments system in January last year, shopping on direct flights between Finland and China doubled.
Mari Rouvi, communications manager at Finnair, said. "Chinese travelers prefer their own payment options over Western credit cards."
Last year, Santa Claus Hotels in Finland accommodated 6,500 Chinese visitors, a 20 percent year-on-year rise. "We have learned how to cater to Chinese tourists' needs," said Jussi Perkkio, director of sales at the group's hotels, which accept both UnionPay and Alipay.
Mobile payment was already a trend in Finland before the arrival of Alipay, but Yin said Alipay's innovation has accelerated expansion of the payment process.
"Collaborating with Alipay opened my eyes to a new world. We are now learning lessons from Alipay to implement in ePassi services," Yin said.
On Alipay's discovery platform, built within its mobile app, users can find detailed information, product descriptions and pictures from Finnish merchants.
Another function is the "merchant circle", which bundles together traders whose businesses are near one another. After a purchase is made at one shop, a user will receive vouchers for other nearby outlets to encourage continued spending.
The merchants' circle at the popular Santa Claus Village in the Lapland region of Finland has more than 20 outlets, including restaurants, gift shops, a Santa photo studio, rides with huskies, and hotels.
For Finnish merchants, another benefit of using Alipay is the ability to analyze Chinese user data, which is not available if Chinese shoppers make purchases with cash.
"Data on products that are popular among Chinese shoppers help Finnish retailers to better focus their marketing efforts, and to consider expanding e-commerce or physical retail outlets to China," Yin said.