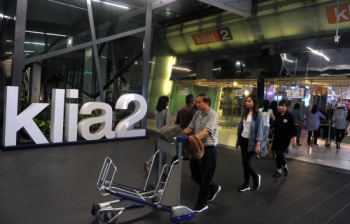 The China Helpdesk located at the KL International Airport (KLIA) and klia2 has entertained over 24,000 tourists from China up to June this year, said Tourism, Arts and Culture Minister Mohamaddin Ketapi.
He said the desk which was established in September last year provided assistance to tourists from China in matters pertaining to visas, flight details, airport facilities and exciting tourist destinations in the country.
"The initiative is aimed at addressing the communication issues between Immigration Department officers and tourists from China," he told the Dewan Rakyat today.
He was replying to a question from Datuk Dr Jeffrey Gapari Kitingan (STAR-Keningau) who had wanted to know whether there was a party assigned to assist foreign tourists especially from China who were unable to speak English upon their arrival at the airports.