According to Sally White's report, the booming cruise industry is heading out into high tech waters to meet the demands of a millennial audience.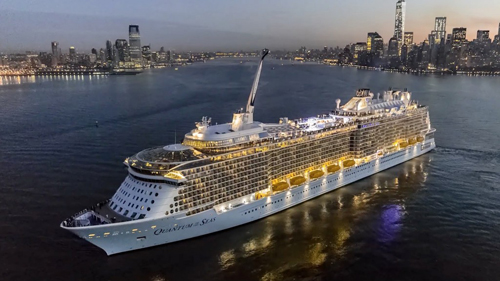 Cruise seems to have nary a cloud on its horizon! Here is one travel sector to turn the rest green with envy! Growth is now described as 'fast' rather than the 'steady' of a few years ago, with 2017 forecasts for company earnings including rises of 25%. As the industry pulls out all the digital stops, passenger numbers are expected to top 24 million next year and Cruise Market Watch says they have been rising at an annual rate of around 12%.

"It doesn't (yet) have the right demographic for robots and AI, it's playing a balancing act with privacy and personalisation and it's battling costly and lengthy lead times for new products. Yet the (cruise) industry is putting some of its travel counterparts to shame, at least in terms of the vision these brands have for smart technology in their businesses," commented the marketing specialists at Drum global media platform.

As outlined by Frank Gillett at international tech researchers, Forrester Research, cruise liners are in the throes of a digital revolution. Not just the 55 new ships scheduled for 2016-20 (at a cost of $25 billion), but revamps of the existing fleet. He described it as " ... a designed experience and it is contained, like an amusement park. The Disney Magic Band is designed like that too. You control the entire space and have the ability to design experience into space with sensors, etc."
Examples, which so impressed Drum's researchers, include Mediterranean specialist MSC Cruises. It has partnered with Samsung to provide smart technology and is repositioning its brand to reflect its investment in innovative experiences. This is not cheap - the cost per ship to update technology for hosting a tech-enhanced Cirque Du Soleil show is £20million.

MSC's innovation is not only consumer facing - such as screens, mobile and tablet technology. Screens are currently used to inform passengers of excursions, trips and itineraries and the future will incorporate customer data and preferences to enhance the information. MSC also is also upgrading its 'back-end' services, such as medical and operations technology, to make the ships more 'frictionless'.

Royal Caribbean is going the hi-tech route, too - its Quantum of the Seas ship does have robots: robotic bartenders! Two ships in planning will be similarly equipped robotic servers, as well as with AI-powered 3D experiences.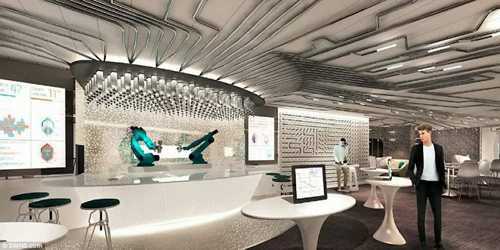 Features such as smart check-in using mobile technology, enabling passengers to monitor the progress of their luggage, are now routine on cruise liners!

Innovation is not confined to tech, the cruise industry is reaching new ports around the globe. Cuba is now open for business, but the major new growth is in the Far East - both passengers and destinations. Last year Asia experienced the most growth in ocean cruise passengers, recording a 24% increase at 2 million passengers. Indonesia and Singapore are leading the march of Far Eastern nations determined to capitalise on the cruise boom. The Indonesian government has relaxed rules that previously barred cruise companies from starting or finishing voyages in the archipelago, paving the way for more sailings among the islands.
Boom times

Most staggering of all, of course, are the Chinese numbers. Cruise capacity in the Chinese market is set to grow by more than 220% over the next five years, from 1.3m passengers in 2015 to 4.1 million by 2020, according to the US- published 2016-2017 Cruise Industry News Annual Report. This pace is based on known new buildings going to China and known ship transfers from the North American and European markets. On an annualised basis, that makes the rise 75% this year, 26% in 2017, 20% in 2018, 9.7% in 2019 and 10% in 2020. (But, if you can be sure of anything, it is that those numbers will increase! The Chinese themselves are already saying it will be 4.5 passengers in 2020 and they are constructing new cruise ports, lines and ships.)

This market is booming! It looks well set to overtake Euromonitor's forecast that it reach $76bn by 2019, up from $60bn this year.

And the profits are flowing - Pan-European TUI's underlying operating profit from cruise ship operations rose by 60% to €130m in the latest financial year. Yet it is tiny when compared to Carnival with its P&O Cruises, Cunard, Princess Cruises and Holland America. (The group has 101 cruise ships, with a further 15 scheduled for delivery between 2016 and 2020.) The stock market is expecting Carnival's earnings this year to rise by 48 per cent with a further increase of 13 per cent (conservatively) pencilled-in for 2017.

The industry is funding a veritable building bonanza with both major lines and niche players adding new hi-tech ships. Companies will be able to cut operating costs and increase on-ship sales to boost profits further. By offering the latest technology and new products they also hope to attract first-time cruisers, especially high-spending millenials. Cruise companies do not like disclosing information about their customers, but a report on the North American market by the Cruise Lines International Association gave an estimated age of passengers as 49 in 2014.

Millennials in mind and choppy waters

With its research on millennials in mind, Carnival has announced the introduction of an army of anthropomorphic robots on to its Costa Cruise ships to interact with travellers. They were part of a €1m-plus deal with SoftBank, which has developed the 'Pepper' robots that can read human emotions. It has also installed Bluetooth technology on one of its ships that enables passengers to locate each other and staff to tailor messages based on where travellers are.

Going in, too, are three-storey IMAX cinemas for 'a world where consumers want to take their TV, movies and music wherever they go'. And it has fitted one of its ships with a membrane dome ceiling that can be penetrated by ultraviolet rays, so cruisers can build a tan without getting wet from sea spray. Hoteliers must be eating their hearts out!

Vulnerabilities remain, of course. While the mega cruise liners are seemingly sitting targets for terrorists, they have so far been relatively unscathed by attacks. Perhaps, as media reports suggest, this is because shipping lines are hiring military contractors to provide security for ships travelling through dangerous waters, and, it rumoured, to pre-empt threats from terrorist groups.

Another hazard is financial and coming from environmentalists with a growing focus on the air and water pollution caused by these floating towns. This summer Royal Caribbean launched the world's largest cruise ship — Harmony of the Seas - which cost $1.5bn and can carry 9,000 passengers. One problem is that there seem to be few controlling environmental regulations. Past sins have been catching up with Carnival, the world's largest cruise operator, and its Princess Cruises Lines. It has just been fined $40m after admitting illegally discharging polluted bilge waste.

However, understandably, the cruise industry believes that in 2017 onwards it will continue to take a growing share of the holiday cake. Cruise is no longer all about buffet foods, bingo, cabaret singing and lectures from marine biologists!