Today's Global Chinese Travelers Seek Arts and Culture
Brief:
Younger travelers who are eager to explore the world and experience authentic local destinations are particularly inclined to seek out arts and cultural experiences.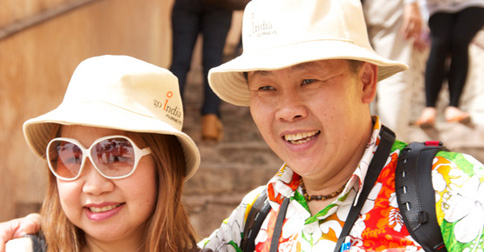 The typical Chinese tourist of today is quite different from the Chinese tourist of five years ago. Not content to ride on the standard tour bus and visit sites determined by well worn pages of a conventional guide book, visitors from China are increasingly creating their own itineraries and are demanding more local, native, cultural and distinctive arts experiences.

These skillful travelers are progressively more interested in a thorough and extensive experience, focused on a particular destination, rather than a superficial bus tour with little time for in depth exploration.

Los Angeles Tourism and Convention Board President & CEO Ernest Wooden commented "we find that 42 percent of Chinese travelers visit our cultural institutions such as The Getty Center, LACMA and The Broad because history, heritage and iconic masterpieces appeal to them very much."

Younger travelers who are eager to explore the world and experience authentic local destinations are particularly inclined to seek out arts and cultural experiences. Amrita Banta, managing director at Agility Research and Strategy, commented "Travel experts agree that this new generation of Chinese travelers is more adventurous and wants to experience a new culture. The younger ones go out and are a lot more experimental. They do not have the inhibitions of their parents."

"Chinese millennial travelers are seeking a much deeper connection with a destination when they travel, and museums usually capture the cultural spirit of a city," says travel blogger Ana Coppola. "I can travel through history and acquire a much deeper understanding of the city in one afternoon at a museum."

Kai Zhao, a Chinese tour operator from TTS Travel, remarked "the younger generation is really interested in arts and cultural destinations that are popular on social media such as Griffith Observatory, Madame Tussauds Hollywood and Los Angeles County Museum of Art."

Unlike museums in China, which are usually run by local or national government, many museums in the U.S. and Europe are owned and curated privately. "Touring a private museum, whether it is a collection of vintage cars or costumes, is like having a conversation with an interesting person," says Will Wang, former travel editor at Esquire China. "Each object on display reflects the curator's or collector's unique personality and opinion about the world."

As a result, museums across the globe are seeing increased interest and visitation from Chinese tourists. This expanding demand is presenting arts and cultural destinations with an opportunity to capture the hearts and minds of a new generation of museum and arts patrons.

For example, Museum of Modern Art (MoMA) in New York saw their visitation from China grow by over 200% in the past five years. Last year, MoMA welcomed 49% more Chinese travelers than the year before.

In addition to heightened visitation, museums are also benefiting from elevated sales at gift shops courtesy of high-spending Chinese tourists, as well as corporate and independent donations from Chinese companies and individuals, whose interest in giving back to the arts and participating in global arts initiatives has been steadily accelerating.
¡¡¡¡Source: TravelDailyNews Asia-Pacific
¡ñ Relevant Information
Recommended Destinations,Tourist Attractions & Incoming Service Providers
E-marketing, Workshops, PR Events, Special Campaigns in China
Chinese will Get 10-year Multiple-Entry Business and Tourist Visas to Argentina
Most Cost Effective E-marketing to the Entire Outbound Travel Trade:
Weekly Newsletter Summarizing News and Key Events Related to Outbound Travel From China ,
Customized E-shots Featuring New Clients or New Activities From Existing Clients
Fam Trips and Hosted Buyers:
Professionally translating;
innovatively designing