Participants will compete for the prize to the most popular blogger and to the best content generator .Registration is now open from 4 to 18 December.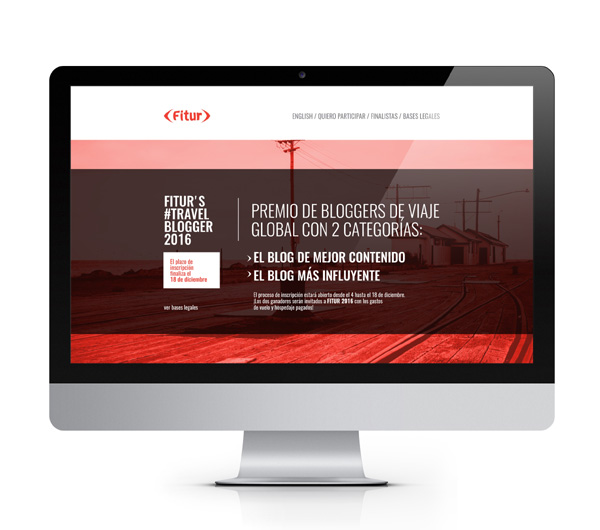 FITUR
, the International Tourism Fair organised by IFEMA between 20 and 24 January at Feria de Madrid, is launching the call for the Travel Blogger 2016 competition, which will be staged for the fourth time to serve as a worldwide platform for bloggers to publicise their tourism and travel blogs.
All those interested in participating can register from 4 to 18 December on the
http://travelblogger.es/ webpage
, sending in the link to their blog and a representative post. Each competitor will also have to decide which category they choose: blog with best content quality, blog with widest dissemination and influence among its followers, or both.
At the contest's past edition, which opened up participation to candidates from around the world, more than 500 bloggers registered, duplicating the number of people registered over those of previous years. For the next edition, the Organisation expects the numbers and quality of contestants to increase given the proliferation of these formats and their increased professionalization, which has led to the influence of bloggers becoming increasingly important in the tourism sector.
The finalists in this competition will be announced on 22 December after the selection made by the FITUR social media team. When choosing, the jury will take into account aspects such as content quality, design, image, diffusion, use of social networks and the renown of the blog and its writer. Everyone who is shortlisted for the first phase will receive an accreditation certificate and an honorary emblem which they may use to promote their space.
The Travel Blogger Award to Best Content will then be announced, followed by the Award to Most Popular Blog, where the winner will be chosen by the followers of FITUR through their votes on Facebook and Twitter. As for the prizes, one per category will be awarded, consisting of an expenses-paid invitation (flight from the capital of the country of origin and accommodation) to FITUR 2016.