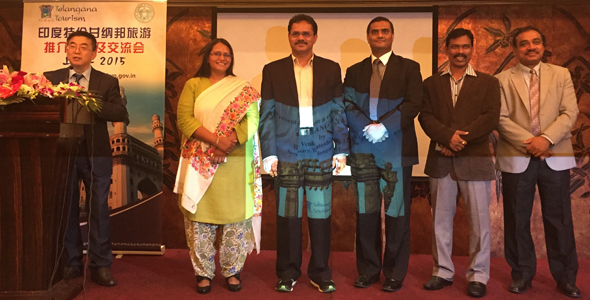 A delegation from the newly formed state of Telangana, India recently went all out to attract visitors from China. Led by Mr. B. Venketesham, Secretary of Youth affairs, Tourism & Culture Department, the delegation held tourism roadshows in Beijing and Shanghai, for the purpose of introducing its varied tourism resources and the latest visa and flights information to the Chinese tour operators and media.
Mr. B. Venketesham shared the tourism resources at the event. As China, India is an ancient civilisation. " So the Heritage and Culture tourim is highly recommended to Chinese visitors," Mr. B. Venketesham said, "the Islamic architecture of the palaces and monuments is marked by arches, minarets, and domes which give the design an aesthetic and modern glance simultaneously, and a special program conducted called 'Heritage Walk' takes the visitors through the charming history of the city."
In recent years, Telangana have been engaged in impoving the tourism facilities and service. For example, Hyderabad, the capital of Telangana, made many direct air connections with London, Dubai, Doha, and is connected with all major cities in India by air, rail and road; Hyderabad Metro project will be completed (in stages) by 2017; Westin, Hyatt and other luxury Hotels & Resorts are arriving... All of these are believed to help Talangana tourism develop to a further step.
" We hope more and more Chinese visitors will come to Telangana!"Mr. B. Venketesham said at the end of the event.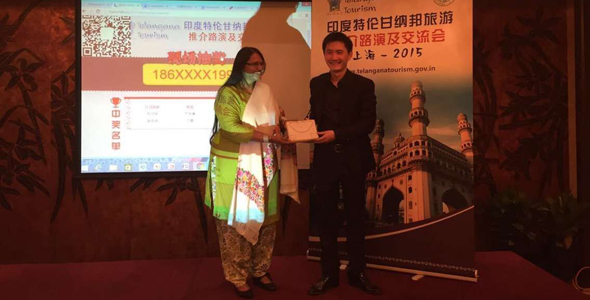 One of the lucky winners received the prize from
Ms. SMT SUNITA M.BHAGAWAT, Director of Telangana Tourism Department
Ms. SMT SUNITA M.BHAGAWAT, Director of Telangana Tourism Department, and Mr. Harikrishna Mamidi, Director of Telangana Cultural Department, Mr. Prakash Gupta, Consul-General of India in Shanghai, well as Dr Adam Wu, COO of CBN Travel & MICE and World Travel Online, also presented at the event. They also expressed confidence of the young state.