Good news from Guangzhou after the success of Cambodia Tourism Roadshow in Beijing, more than 160 Chinese travel trade professionals and medias in Guangdong Province praised highly to the event.
On August 28, 2014, Cambodia Tourism Roadshow came to a successful conclusion in Guangzhou. More than 160 Chinese tour operators and well-known medias are attracted to the promotion event in Guangzhou, and communicated with over 20 Cambodian local incoming providers face to face during the event, which would help Chinese tour operators to develop and plan new travel programs and itineraries to Southeast Asia. Mr. Li Jinmao, Vice Chairman & Secretry-General of Guangdong Province, attended the event and delivered a welcome speech.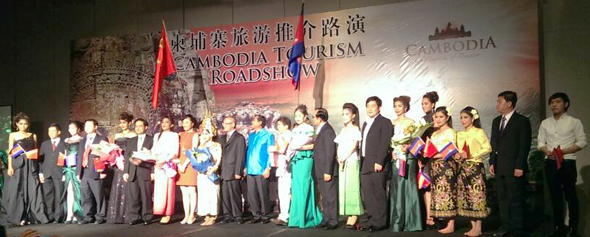 Group photo of speakers and actors in Cambodia Tourism Roadshow held in Guangzhou
China became the second largest tourists source country to Cambodia
 
Based on the UNWTO's statistic, in 2013, China received 56 million international tourists, and recorded around 98 million outbound to the world, including 9 millions to the 10 ASEAN member states. Chinese tourist expenditure is more than 122 billion US dollars, ranked No.1 of the top world expenditure.   

In 2013, Cambodia witnessed over 4.2 million international arrivals with an increase of 17.5%, in which more than 460 thousands of Chinese tourists increased 39% compared to 2012, ranked No.02. For the first six months of 2014, Cambodia received 2.2 million of international tourist arrivals, increased 5.2 % in which more than 260 thousands of Chinese tourist with an increase of 16% compared to the same period of 2013, ranked No. 02.
  
H.E. Dr. THONG KHON, Minister of Tourism of Cambodia said: "We expect to receive in 2014 around 4.6 million, in 2015 around 5 million, and in 2020 around 7.5 million of international tourists, 2 million of which will be Chinese tourists."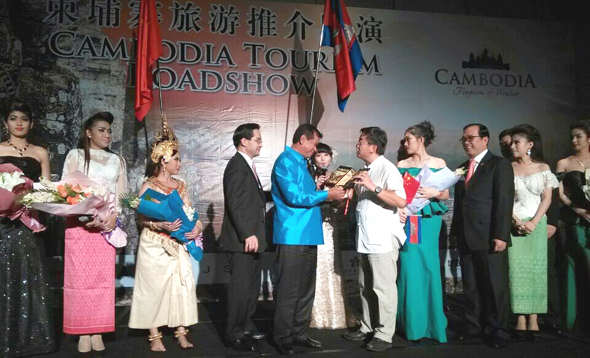 As moderator of the Roadshow Dr Adam Wu (Right), Chief Executive Officer of China Business Network (CBN)
presented a Chinese souvenir to H.E. Dr. THONG KHON (Left), Minister of Tourism of Cambodia

Cambodia put efforts to improve the quality of tourism products and services
  
Adjacent to Thailand, Laos and Vietnam, Kingdom of Cambodia has many popular destinations, such as Phnom Penh, Siem Reap and Sihanoukville. Besides the famous Angkor Wat, one of the Eight Wonders of the world, Cambodia also has many places worth visiting, such as, exploring Lake Tonle Sap, the largest freshwater lake in Southeast Asia, appreciating the Khmer smile in Bayon temple, admiring the spectacular sunset in Bakheng Mountain, relaxing in the charming seashores of Cambodia, etc. 
"To promote the sustainable development of tourism, Ministry of Tourism will put effects to improve the quality of tourism products and services in order to keep international travelers satisfied." Mr. So Visothy, Director of Marketing and Promotion said.

To attract more travelers from China and the world, Ministry of Tourism of Cambodia also makes five plans, including tourism products quality improvement, training of human resources, tourism and transportation facilitation, tourism market promotion.
| | |
| --- | --- |
| | |
| Cambodia Tourism Roadshow attracted lots of Chinese travel professionals and medias in Guangzhou | H.E. Dr. THONG KHON, Minister of Tourism of Cambodia, gave interviews to the media after the event |
Convenient flights are provided to attract tourists and investors
  
With the good Cambodia-China relationship and long-lasting friendship, Cambodia plans to have more direct flights between China and Cambodia, and to receive more and more tourists and investors from China in order to develop Cambodian economy.
At present, there are direct flights between China and Cambodia, including that from Beijing, Shanghai, Guangzhou, Kunming, Hong Kong, Macao and Taipei to Siem Reap and Phnom Penh.  
Mr. Chea Keat, Deputy Director of Councils for the Development of Cambodia said: "Connectivity is crucial for tourism development. Today, there are many tourism development projects in the coastal zone, which are really noteworthy while convenient air transportation will bring us more investors."
Relavent News:
2014 Cambodia Tourism Roadshow was kicked off in Beijing