With great support of
China Business Network
(CBN) and
World Travel Online
(WTO), Cambodia Tourism Roadshow was successfully held in Shanghai on May 5. It was the 3rd time that Cambodia had organized the Cambodia Tourism Roadshows following previous year successful celebrations in Beijing and Guangzhou, aiming at promoting the world class tourism destinations "Cambodia-Kingdom of Wonder" to Chinese tour operators, media for getting widely aware of Cambodia diverse tourism potentials. This roadshow was a platform gathering hotels, resorts, airline companies of China and Cambodia to seek business partnership and expand their markets, in which there were 23 Cambodian tourism companies and over 200 Chinese companies.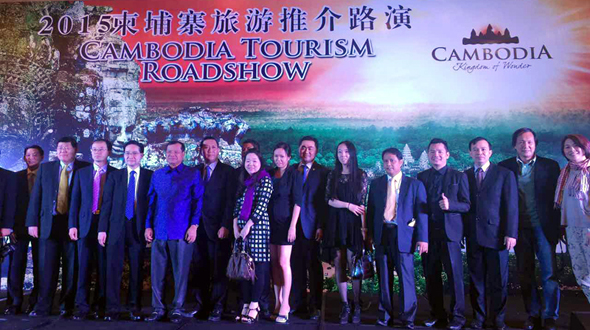 Consulate General of Kingdom of Cambodia in Shanghai, Shanghai Tourist Board and
Shanghai Municipal Government gave great surpport to the Cambodia Tourism Roadshow
In 2014, Cambodia welcomed approximately 4.5 million international tourists, and received approximately 560,000 Chinese tourists (ranked the 2nd), increased by 21%, considered in a moderate lower rate compared to the total Chinese outbound (around 100 million) and Chinese tourists to ASEAN countries (around 9 million). Cambodia is projected to welcome approximately 5 million international tourists in 2015 and 7.5 million in 2020, in which there will be around 2 million Chinese tourists.
| | |
| --- | --- |
| | |
| H.E. Dr. THONG KHON, Minister of Tourism of Cambodia delivered an opening speech | Speakers of Cambodia Tourism Roadshow |
H.E. Dr. THONG KHON, Minister of Tourism of Cambodia expressed that Cambodia Ministry of Tourism has been preparing Tourism Strategic Plan for Chinese Market which is scheduled to be launched in the 2nd semester of 2015, including promoting the use of Chinese languages in various tourist destinations and resorts, enhancing training development for Cambodian-Chinese tour guides, cooperatively enhancing air connectivity with Chinese airlines to Cambodia, and enhancing promotion in all forms to Chinese market, to attract more Chinese visitors to Cambodia.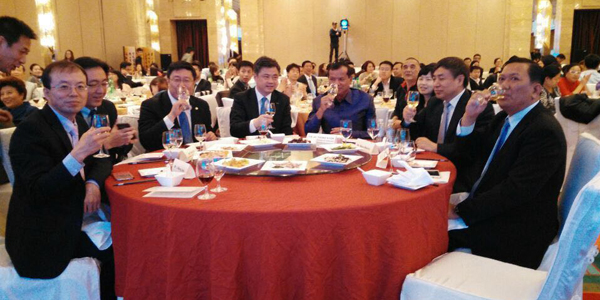 Mr. YANG Jinsong, director of Shanghai Tourist Board(L4) and
Mr. WANG Weimin, Chairman of CITS Group Corporation at the dinner of the roadshow
Mr. WANG Weimin, Chairman of CITS Group Corporation, Mr. PENG Hui, Vice President of China Duty Free Group Co., Ltd, and Ms. YU Ningning, Chairman of CITS Limited(Head Office) prensented at the roadshow by themselves to surpport the event. China Duty Free Group Co., Ltd has deeply cooperated with Cambodia Ministry of Tourism and set up first duty free shop in Siem Reap last year which are very popular with tourists from both China and the other countries. It has become a must-visited shop in Cambodia for the international visitors and become a highlight of Cambodia tourism.
| | |
| --- | --- |
| | |
| H.E. So Visothy, Under Secretary of State of Cambodia Ministry of Tourism introduced the rich tourism resources of Cambodia | Numbers of Chinese tour operators and medias attended the roadshow |
Along with the growing Chinese visitors and investors to Cambodia, it is important to know Cambodia for those who wanted to develop Cambodian market, thus, H.E. So Visothy, Under Secretary of State of Cambodia Ministry of Tourism presented the Cambodia tourism resources and potentials that travelers can not only visit Angkor Wat, but also experience Cambodian culture, smiling people, beautiful beaches, Eco-tourism destinations, others natural and cultural sites.

Mr. Chea Keat, Deputy Director of Councils for the Development of Cambodia(CDC), demonstrated the investment potential and opportunity in Cambodia, and encouraged Chinese investors to invest in Cambodia, especially the noteworthy development projects in the coastal zone.
Chinese tour operators have face to face meetings with Cambodia incoming service providers
Currently, there are 40 flights per week between China-Cambodia and there are 8 airline companies, including Cambodia Angkor Air attending this roadshow.
To make Chinese tour operators experiencing the authentic Cambodia, Cambodia Ministry of Tourism bring exciting performance and local food. Excellent musical and dance performances by famous Cambodian singers and actress, and local cuisines cooked by Cambodian chief cook who repeatedly won the golden medal really a feast for the guests.
Cambodia exotic performance and local chief cook


All guest were dancing with the Cambodia actresses