Numerous renowned travel agencies of Shanghai came to Croatia and Slovenia in group to make investigation while UNLINE was the appointed ground tour operator.
Since its Shanghai office was founded at the beginning of this year,
UNLINE
, as the leading tour operator in
Croatia
and the south east Europe, has been continuously receiving Chinese tour groups. Recently UNLINE, jointing with the famous Turkish airlines, have successfully organized a FAM Trip to Croatia and Slovenia, those all are senior members from the famous international travel agencies in Shanghai which include Shanghai CITS, Shanghai China Women International Travel Service, ETI Holidays, Ctrip, Caissa Touristic, U-tour, JinJiang Tour, Shanghai Spring International Travel Service, Shanghai Airlines Tours, Turkish Airlines. This investigation aimed at developing new travel markets and new travel projects in Europe for satisfying the "new taste" of Chinese people.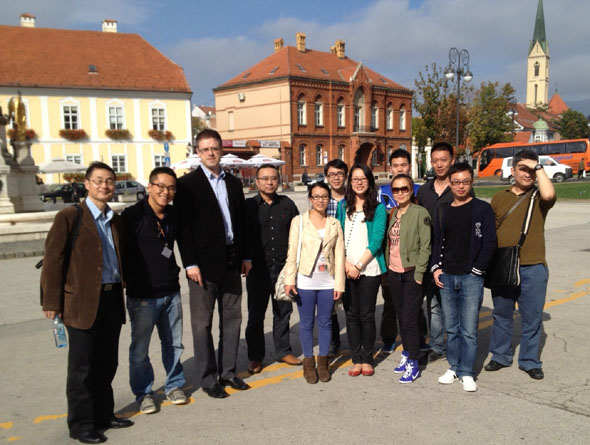 The FAM trip group visited Croatia and Slovenia

In consideration of the facts that Chinese tourists are unfamiliar with Croatia and Slovenia and most of visitors came to these two countries in their first time, UNLINE chose many famous attractions for them, such as many world heritages: former royal holiday resort – Opatija, one of the ten most beautiful falls in the world-- Plitvice Lakes National Park(also named as 16 lakes national park), ancient city Dubrovnik, medieval city Split, Diocletian's Palace, ancient city Trogir, the capital of Croatia Zagreb, the location of UNLINE ' head office Pula, the smallest church in the world with only 36 steps length which established in 3000 years ago—Jesus cross church Zadar. While in Slovenia, UNLINE chose the largest, longest and most frequently visited attractions-- Postojna Cave, the capital of Slovenia—Ljubljana and the ice lake Bled Lake by retro chip Pletna.

Members visited

the famous Roman Theater in Pula

Members experienced Zadar' s history and culture
Members v

isited Bled Lake by the retro ship Pletna

Members

visit Bled Island
Acorroding to the feedbacks of delegation, it is known that the attractions that UNLINE arranged for delegation are very captivating and will be attractive for Chinese tourists. They feel confident of promoting Croatia and Slovenia tourist rout. They plan to organize tours in next spring.
The best way to know about a country is through its culture, while Chinese tourists are very interest in it. Therefore UNLINE arranged some activities which can well reflect the local culture, such as visiting one of Croatia villages -- Pakovo Selo to experience Dalmatia people' traditional custom and habits. The members of delegation indicated that these national activities are very interesting and they will consider of arranging the activities into trips.
Accommodation, diet guide and transportation are the important indicators in traveling, therefore acorroding to the schedule, UNLINE took delegation to visit the local hotels in order to provide some references to the travel agencies. The combination of Chinese food and local delicacy not only take care of the habit of Chinese people but also provide the exotic foods. The members of delegation are very satisfied with it. They also make high marks on the Chinese tour escort, local guide and driver: "They are very enthusiastic and positive, very consideration and impressive, and provided good service."
Delegation also visited the head office of UNLINE, and had a brief but important meeting with the senior members of UNLINE.
Members v

isited the head office of UNLINE

Members met Turkish Airlines leadership
The senior market development manager of Shanghai CITS, Mr. Xujingqiu, expressed that he was very beneficial from the investigation which is helpful to the promotion. He also spoke highly of Ms Liujinjuan who is UNLINE Shanghai Office Representative:"Tina help the members of delegation a lot, we are really appreciate and we are looking forward to cooperating with UNLINE. "
About UNLINE

UNLINE founded in 1990, concentrating on designing and arranging travel routes of Croatia and the countries of South East Europe for tour groups and Individual travelers. UNLINE also provides aboral business invitation. It is highly recommended by Croatian National Tourist Board.
Related News in Chinese:

优蓝旅行社成功组织上海众多知名同行考察克罗地亚和斯洛文尼亚