Australia has this week become the latest nation to announce plans to try to tap into China's growing outbound tourism market -- and the move makes perfect sense, too.
An estimated 78 million Chinese are expected to travel overseas this year -- up 16 percent year on year -- and while the majority of them will be targeting traditionally favored destinations such as the special adminsitrative regions (SARs) of Hong Kong (28.32 million mainland Chinese visitors in 2011) and Macau (19.77 million in 2011), China's rising wealth means more tourists are also looking further afield.

Australia alone estimates that a successful marketing campaign across mainland China could see 900,000 Chinese visiting the country annually by the end of the decade -- up from 536,000 in 2011 -- bringing in A$9 billion (seven billion euros) in revenue at the same time.

Shopping remains the activity of choice

Brian Au Yeung, manager at the Hong Kong-based Window-Discovery Tours Ltd, says the growing presence of Chinese tourists comes in two forms and the tourism world is fast adapting to their specific desires.

"First there's short haul, where the tourist looks for more shopping and simple relaxation," says Yeung."Then there are the long-haul tourists, which are still not that common, as visas are difficult to come by and because these trips are time consuming. But they have a high social status, and are admired or respected by friends, and are becoming more sought after."

A report released in April by the National Tourism Administration claimed that shopping remained the main reason Chinese traveled and that one third of Chinese tourists said shopping was their highest expenditure when they did travel. "Luxury is important on these long haul trips, in terms of service and of shopping, which is the main activity every Chinese tourist wants to do," says Yeung.

A recent example of the highest end of luxury being offered to Chinese tourists was the around-the-world-in-80-days travel package offered in March by the country's largest internet travel service Ctrip at 1.01 million yuan (126,183 euros). The company claimed it had sold 15 tickets within 17 seconds of opening up the offer.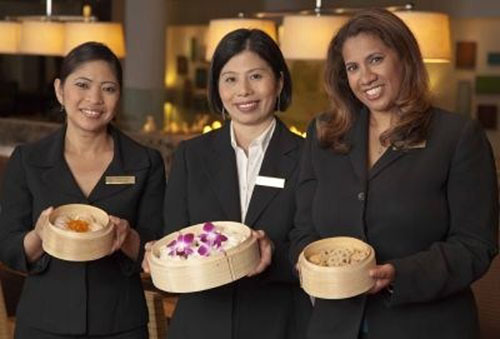 Hotel chains begin to tailor luxury to suit

"For rich Chinese travelers, everything -- from hotels, to flights to the service they expect in restaurants -- has to be luxurious simply because they have the money now to spend," says Yeung. "It is the same with business travelers- - they want to experience high-end luxury because the trip is not being paid by themselves."

The world's largest hotel chains are quickly catching on with both the Hilton and Starwood chains over the past 12 months introducing services specifically catering for Chinese guests, such as more Mandarin-speaking staff, Chinese tea and television stations in-room and the likes of daily dim sum and noodles on menus.

"The more Chinese people are travelling the more the tourism industry is seeing to their specific needs," says Yeung. "There are more Mandarin-speaking staff in hotels and also in the luxury shops such as Louis Vuitton and Gucci because their number are rising so rapidly."