Chinese Vice President Meets with Malta Leader on Bilateral Ties
Chinese Vice President Xi Jinping Meets with Malta Leader on Bilateral Ties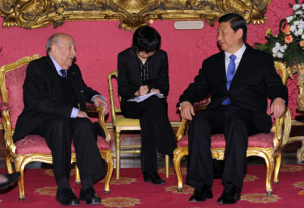 Chinese Vice President Xi Jinping (R) meets with Maltese Acting President George Hyzler (L) in Valletta, capital of Malta, Feb. 21, 2009.


Visiting Chinese Vice President Xi Jinping said here on Saturday that China is willing to make joint efforts with Malta to further promote the development of the traditional friendship between the two countries.

Meeting with Acting Maltese President George Hyzler in the capital city Valletta, Xi said that Sino-Maltese relations have been developing very well in recent years and the two countries understand and support each other in major international and regional affairs.

The two nations are "old friends and good friends," the Chinese vice president noted.

During the meeting, Hyzler said there has been a good cooperative relationship between Malta and China. Xi's visit to Malta shows that China is attaching great importance to bilateral relations, Hyzler added.

The Chinese vice president is on the last leg of his six-nation trip. He has paid official visits to Mexico, Jamaica, Colombia, Venezuela and Brazil, and will wind up his two-day visit to Malta on Sunday.
Xinhua News
Please
contact us
in case of Copyright Infringement of the photo sourced from the internet, we will remove it within 24 hours.