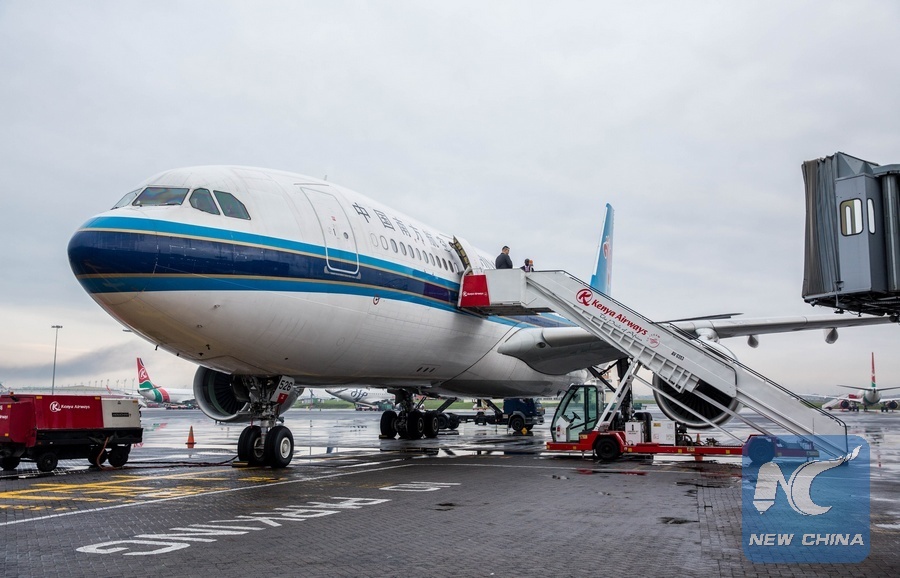 China Southern Airlines on Wednesday launched a direct flight between Nairobi and Changsha, the capital city of China's Hunan Province.
Judith Nashipai Kamai, supervisor of Nairobi station at China Southern Airlines told a media briefing in Nairobi that the airline already operates two weekly flights linking travelers between Nairobi and Guangzhou.
"We now have four weekly non-stop flights between China and Kenya and this will help to boost business and tourism links among the two countries," she said when the inaugural Changsha-Nairobi flight arrived in Nairobi.
During that flight, over 230 passengers from the southern Chinese city were aboard the maiden flight.
As per the new schedule, the airline will fly from Nairobi to Changsha on Wednesday and Sunday while non-stop flights between Nairobi and Guangzhou will be on Monday and Friday.
Nashipai noted that Changsha is an industrial city that is home to factories that produce goods that have huge demand in Kenya.
"So we expect the flight to be very successful," she added, revealing that China Southern Airlines also plans to begin flying to other cities in east and west Africa.
The Chinese airline also has a code sharing agreement with Kenya Airways to allow seamless connectivity for passengers to other destinations in Africa.
According to Judith Kamai, the airline ferries on average 8,000 Chinese travelers per month to Kenya.
Abel Gogo, airport manager at Kenya Airports Authority said that the direct flight between Nairobi and Changsha will open up new opportunities for Sino-Kenya cooperation.
"The additional flight by China Southern Airlines will also enhance Nairobi as a regional aviation and commercial hub," Gogo said.
He noted that people-to-people exchanges will be enhanced as China Southern Airlines increases its frequencies to Nairobi.
He added that Kenya's economy is likely to benefit when more additional foreign airlines begin to fly into Kenya.
The KAA official noted that they are currently in discussion with a number of Chinese airlines.
"We are currently in talking with Cathay Pacific Airways and we expect their first flight to Kenya to happen at the end of 2019," he added.