On April 27, 2018, President Xi Jinping met in Wuhan with Prime Minister Narendra Modi of
India
, who was in China for an informal meeting. President Xi Jinping and Prime Minister Narendra Modi also jointly visited an exhibition of fine cultural relics at Hubei Provincial Museum.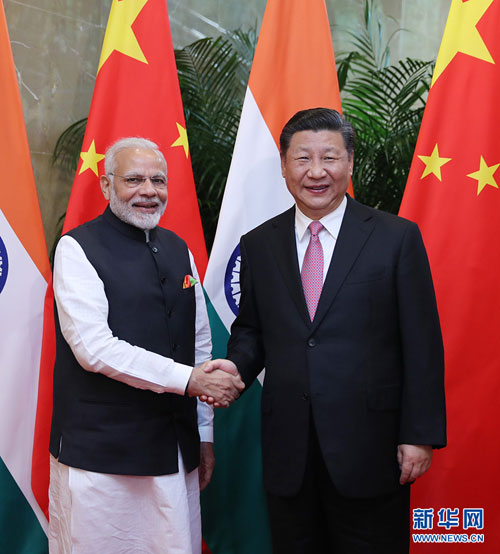 Xi Jinping welcomed Narendra Modi to visit Wuhan. Xi Jinping pointed out that in the past 3 years, I have achieved mutual visits with Mr. Prime Minister, and we have met many times on multilateral occasions, established sound working relations, and reached much important consensus, which have sent positive signals of China-India friendship to the outside world and demonstrated the strong willingness of developing mutually beneficial cooperation and achieving common development of China and India, the two major emerging economies. The great cooperation conducted by our two great countries could produce global influence. It is hoped that my meeting here with Mr. Prime Minister will open new chapters of China-India relations.
Xi Jinping stressed that we should grasp the general picture of bilateral relations from a strategic perspective to ensure that bilateral relations always proceed in the right direction. We should constantly strengthen the friendly relations between the two countries to make the relations always flow forward like the Yangtze and Ganges rivers. China stands ready to work with India to establish a closer partnership of development, in a bid to promote all-round progress in exchanges and cooperation between the two countries in various areas.
Narendra Modi thanked President Xi Jinping for inviting him to Wuhan to hold this informal meeting, which is of historic significance. The maintenance of frequent high-level exchanges and strategic communication between India and China is conducive to enhancing mutual understanding and deepening cooperation and conforms to the common interests of development and prosperity of both countries and the region. The Indian side is willing to make joint efforts with China in this regard.
While visiting the exhibition of fine cultural relics, Xi Jinping pointed out that Jingchu Culture is an important part of the long-standing Chinese civilization and has a pivotal position in the development history of Chinese civilization. China and India are countries with a splendid history and culture, and the cultures of both countries share many similarities. China and India should conduct exchanges in wider areas and at deeper levels, jointly devote to the revival of Eastern civilizations and jointly advocate respect for diversity of civilizations, in a bid to push for harmonious coexistence of different civilizations.
Narendra Modi expressed that India and China are both countries with ancient civilizations, and share many similarities in the historical development of their civilizations. Cultural exchanges between the two countries enjoy a long-standing history. The two sides should increase mutual understanding, give play to the wisdom of the two countries and work together to deal with global issues and challenges.
Member of the Political Bureau of the Central Committee of the Communist Party of China (CPC), Member of the Secretariat of the CPC Central Committee and Director of the General Office of the CPC Central Committee Ding Xuexiang, Member of the Political Bureau of the CPC Central Committee Yang Jiechi, State Councilor and Foreign Minister Wang Yi and others attended the above activities.