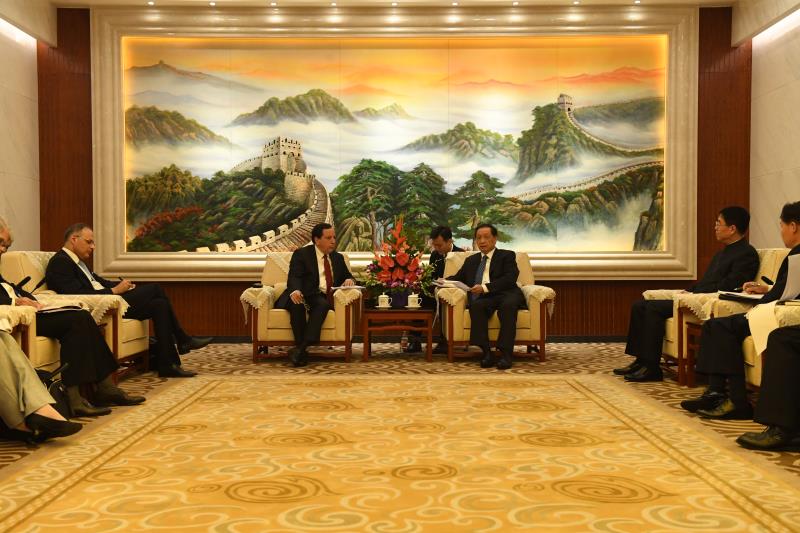 On July 20, CNTA Chairman Li Jinzao had a meeting with Khemaies Jhinaoui,
Tunisian
Minister of Foreign Affairs, and his party in Beijing. The two sides had in-depth exchange of opinions on deepening tourism cooperation between the two countries. Also present at the meeting was CNTA Vice President Du Jiang.
Li Jinzao welcomed Khemaies Jhinaoui and his delegation. He said that China and Tunisia had maintained good economic, trade, and tourism cooperation for quite a long time and tourism had been playing a growing role in promoting people-to-people communication between the two sides. Early this year, Tunisia launched visa-free policy for Chinese tourists. China appreciates it much and hopes relevant Tunisian authorities can continue to take steps to make it easier for Chinese tourists to visit the country. Li expressed full recognition and support for the suggestions offered by the Tunisian side for promoting bilateral tourism cooperation and hoped that Tunisia would pay closer attention to the security of tourists, ensure safety of Chinese visitors, and provide tourism products that better meet their needs and better facilitates their visits, so as to push bilateral tourism cooperation up to a new level.
Khemaies Jhinaoui provided basic information on tourism in Tunisia. He said that Tunisia attached great importance to the Chinese market, would like to have closer cooperation with the Chinese side, and would strive to attract more Chinese visitors to the country by enhancing tourism talent training, launching more facilitation measures, and providing tourism products that better meet the needs of Chinese tourists.
Also present at the meeting were Tunisian Ambassador to China Mohamed Dia Khalid and officials from the CNTA Department of Tourism Promotion and International Liaison.