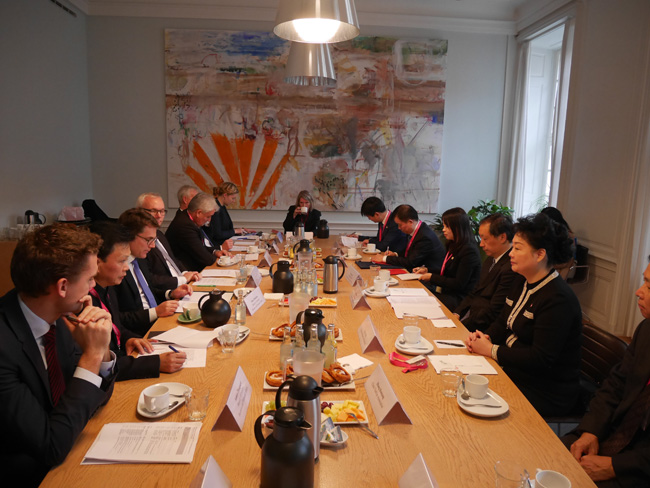 On the morning of December 5, local time, CNTA Chairman Li Jinzao who was leading the Chinese delegation to the closing ceremony of China-Denmark Tourism Year in Copenhagen, Denmark, held a meeting with Danish Minister of Industry, Business and Financial Affairs Mr. Brian Mikkelsen. The two exchanged views on the tourism year program and how to facilitate bilateral tourism cooperation, in the company of Chinese Ambassador Deng Ying.
Li said, "Hosting the China-Denmark Tourism Year is a consensus reached between Chinese President Xi Jinping and Danish Prime Minister Mr. Rasmussen. In the past year, thanks to the concerted efforts of Chinese and Danish tourism authorities and professionals, we have successfully hosted the opening ceremony of the Tourism Year, "Enlighten Copenhagen", the Denmark Tourism Day and Tea Road marketing activities in Denmark, greatly boosting our tourism cooperation, people-to-people bond and mutual political trust."
Mr. Mikkelsen appreciated the efforts China made for the Tourism Year and said his government was preparing for more visitors from China and would encourage and support more Danish tourists to visit China by promoting the abundant historical, cultural and natural resources of China.
Ambassador Deng noted that the success of the Tourism Year once again highlighted the role of tourism as a bridge for people-to-people exchange, an engine for economic cooperation and a popular foundation for mutual political trust.
At the meeting, Li also introduced the World Tourism Alliance, a newly-established international tourism organization initiated by China, to Mr. Mikkelsen who spoke highly of the active role China played in stimulating global tourism development and looked forward to seeing more and more Danish tourism companies join the Alliance.